New Faculty Onboarding at Community College of Denver
March
2019
Learning Abstracts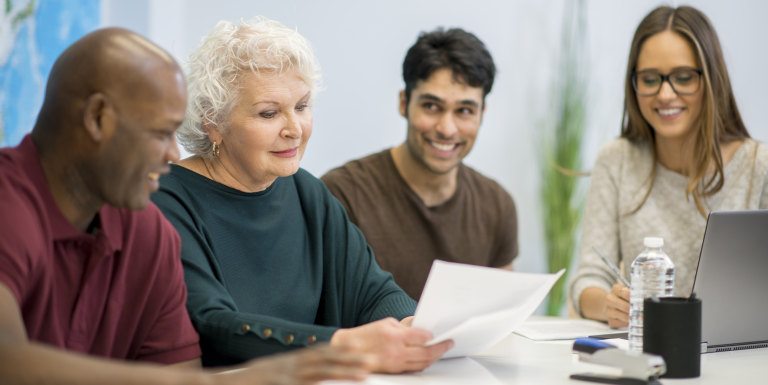 In 2016, the Instructor Residency Program (IRP) launched at the Community College of Denver (CCD) as an innovative option to onboard and support new science, technology, engineering, and mathematics (STEM) instructors, including adjuncts. The program integrates learning theory and effective practice for engaging and serving the diverse student population on the downtown community college campus. The IRP at CCD, a Hispanic Serving Institute, is designed as a hybrid program to help instructors increase their effectiveness when working with underserved students in STEM. It was originally adapted from the Denver Teacher Residency by Dr. Terry Williams, Biology Chair, as professional development and onboarding, but was modified for higher education and community college needs specifically. The IRP uses three main components to accomplish its goals: education literature, discussions among colleagues, and reflection on shadowing and observations.
Onboarding Process
New full-time and adjunct instructors are enrolled in the IRP their first semester of teaching as part of the onboarding process. At many community colleges, adjuncts often work at multiple institutions, have second jobs, and fill the majority of teaching positions. This can be a scheduling challenge for professional development. Creating the IRP as a hybrid course helps to overcome scheduling conflicts. All faculty receive professional development credit and adjuncts are also compensated for their time.
The program is designed to shape understanding of and practice applications in curriculum, instruction, and assessment and to provide mentoring and shadowing with senior STEM faculty. Additionally, it offers a hands-on process that complements CCD's New Faculty Orientation courses offered through the Teaching and Learning Center. Through the process of proper onboarding, the IRP increases instructor confidence in STEM classrooms and laboratories by providing a clear understanding of departmental expectations. The goal of this onboarding, combined with outreach and the building of professional learning communities, is to establish early job satisfaction, commitment, and involvement, resulting in low employee turnover rates, especially for adjunct instructors. These specific needs and challenges were at the forefront when developing the IRP modules.
Design of Six Modules
Instructors take part in six two-week moderated modules in CCD's learning management system over the course of their first semester. After reading short articles on research literature, watching short videos, and listening to podcasts, instructors participate in discussion forums with fellow colleagues, forming a professional learning community from the day of hire. Additionally, participants shadow a mentor in their classrooms and labs. Five observations are required, but this can be customized based on instructor teaching experience and participant/mentor availability. Finally, participating instructors submit reflective papers on insights gained from observations conducted during each module. The reflections provide the big picture and insights from shadowing, as well as make connections to their own classrooms and experiences.
Module One: Developing A Teaching Philosophy. This module presents an introduction to establishing a teaching philosophy in the STEM field. The module focuses on the role of the instructor and the impact on student retention. The goal of this module is for the instructors to develop a teaching philosophy, including their concept of teaching and learning. Examples of teaching philosophies from STEM fields are provided along with podcasts and education literature on this topic.
Module Two: Equity Pedagogy and Inclusion. This module presents an introduction to equity pedagogy and inclusion, although this topic is woven into each module as well. The goal of this module is for new instructors to discuss and observe the impact of inclusion techniques and creating a sense of belonging in the STEM classroom specifically. An example of an inclusive syllabus and a self-assessment of universal design is provided in addition to education literature, podcasts, and videos.
Module Three: Curriculum Theory and Planning. This module presents an introduction to curriculum theory and backwards planning for courses. The goal of this module is for instructors to discuss and observe the impact diverse content and backwards planning have on student achievement. Information on free STEM interactive simulations such as PhET Interactive Simulations and a course planning template are included in this module, as well as articles and videos on educational research.
Module Four: Instruction. This module is an introduction to how pedagogical practices can support a positive identity development in STEM. The goal of this module is for faculty to discuss and increase active learning and to learn about its impact on student performance and engagement. Particularly for new instructors, exposure to research-based resources such as Desmos and PhysPort were considered priorities when developing this module. These websites provide online tools and activities designed for STEM faculty. Links to these websites, a group work app, podcasts, videos, and articles on this topic are also included in this module.
Module Five: Assessment. This module is an introduction to the different types of assessments, including authentic and formative assessments, and the purpose of each. The goal of this module is to facilitate discussion and observation of the valuable information gained from frequent feedback and checking for student understanding. This module focuses on how students learn and includes resources on STEM specific Classroom Assessment Techniques.
Module Six: Student Development. This module is an introduction to student behavior and development. The goal of this final module is to facilitate discussion and observation of the areas outside of the cognitive domain, specifically student development and affective needs. Content presented suggests instructors play an important role in the stories that students create about themselves. The module includes one student's digital story of her experience as a STEM student, peer mentoring videos from current STEM students, and education literature on topics such as cultivating students' sense of belonging and community building activities for the first day of class. Finally, additional sections include further reading and optional professional goal writing.
Education Literature, Podcasts, and Videos
The education literature, videos, and podcasts selected for the IRP had to be specific to STEM and for the challenges and needs of higher education at the community college level. Many of the instructors are content experts, but expressed that they had very little education in pedagogy. Therefore, research and resources from Stanford's Jo Boaler, University of California at Berkeley's Math Assessment Project and Science Education Resource Center, were included. It was important to initiate conversations about teaching and learning from the very start from experts in STEM and in pedagogy.
Discussion Forums: Talking About Teaching and Learning
Participants in the IRP are required to participate in online discussion forums. These discussions follow a period of shadowing and mentoring (see below) and revolve around teaching issues and situations that may occur in a STEM community college classroom. There are six separate discussion forums, one covering topics in each module. After reading the education literature, listening to podcasts, and watching videos, participants post answers to questions and reply to fellow colleagues. In addition, an Alumni and Mentor Section: Continuing the Conversation and Muddiest Point, was added to the discussion forums. As mentioned, instructors have other commitments, such as teaching at other institutions and holding office hours, so the discussion forums is available anytime. This is an online space for IRP participants, IRP alumni, and mentors to ask questions, conveniently share resources, and communicate with colleagues. It is meant to serve as virtual mentoring and an online learning community, enabling knowledge sharing and collaborative problem-solving at any time. The discussion forums complement the face-to-face mentoring component, which includes shadowing and classroom observations.
Shadowing and Reflection Component
In addition to discussion forums, participants shadow a senior faculty mentor and complete a reflective paper focusing on insights gained through these concrete experiences. It is a collegial experience and not evaluative. Participants will observe for a minimum of one hour, five times within the semester. Having a mentor allows for relationship building rather than working and learning in isolation. Through this experience, the participants have the opportunity to observe the module topics in action. Additionally, in labs, instructors observe the areas such as prep time, taking note on how the equipment is organized, set up, and distributed to students, thus alleviating stress in their future labs. Also, discussions afterward with their mentor include recommendations for procedures and possible challenge areas for students. This academic onboarding program is designed to increase instructor confidence in the classroom and laboratories by providing a clear understanding of expectations and protocols for safety, particularly in labs.
Feedback gained through engagement with several IRP cohorts and the analysis of post-IRP survey responses led to the development of two additional IRP components. These new components include reflective practice groups and coaching.
Reflective Practice Groups
As a result of survey feedback, face-to-face reflective practice groups have been added to the IRP as an extension to the program's discussion forums. These collegewide groups create a learning community of full-time faculty, adjuncts, advisors, and staff about teaching related issues, solutions, and resources. One-hour meetings are held every other week where participants first write about a higher education-related issue, then share with the group. The facilitator then finds a common theme for the meeting's discussion. The goal is to focus on a shared way to understand a new practice or a collaborative solution to an ongoing challenge. The facilitator establishes a safe place to share these experiences by stating guidelines and expectations at the start of each meeting. Participants are free to share any concerns or challenges in this space. Topics might include engaging students, social-emotional learning, research-based instructional methods, equity, and inclusion strategies. It enables collective wisdom to improve planning, preparation, the classroom environment, instruction, or professional responsibilities. Cross-discipline projects have stemmed from these meetings as needed, including assessment alignment and writing across the disciplines.
Coaching Option
Coaching was added to the IRP to support new instructors and to maintain sustained adoption of the professional development of this program. The process is non-evaluative and personalized, as opposed to a one-size-fits-all approach. It centers on trust and relationship building through conversations, including listening and questioning techniques. These positive conversations are determined by the person who requests coaching and focus on planning, reflection, and problem-solving related to how to accomplish personal and professional goals. Coaching places the emphasis on improving the individual's own practice.
Next Steps
The IRP has been in place for three years. Participants have found it to be innovative for STEM and higher education pedagogical professional development. The goal is to implement this ongoing learner-centered professional development collegewide, embedding mastery of instructional approaches and learning communities into the entire HSI institute. This will create an infrastructure to sustain professional development in the future. Finally, an IRP 2 is currently being developed, in the same model, but serving as professional development for mid-level faculty.
Melissa Kitterman is the HSI STEM Grant SoTL Coordinator at Community College of Denver in Denver, Colorado.
Opinions expressed in Learning Abstracts are those of the author(s) and do not necessarily reflect those of the League for Innovation in the Community College.