Moving Beyond Placement to Preparation: EdReady to Support Student Success
September
2021
Learning Abstracts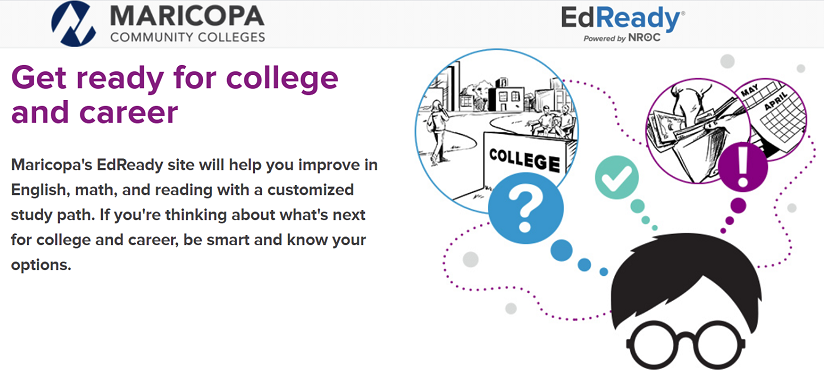 Community colleges across the U.S. have traditionally used standardized test scores to determine student readiness for placement into college-level courses. Unfortunately, research "shows that these placement tests are poor predictors of student grades in college-level . . . courses, resulting in inappropriate placements for as many as a third of test-takers (Ganga & Mazzariello, 2019, p. 2). This misplacement can result in additional time and financial burden for students striving to complete their college education.
Alternative measures have been found to better indicate appropriate course placement. Scott-Clayton and Stacey (2015), for instance, report that using high school GPA led to fewer mistakes in course placement and higher success rates in college-level courses. According to Ganga & Mazzariello (2019), "combining high school GPA with other measures — including state graduation tests, SAT or ACT scores, writing assessments, high school transcript information, years since high school graduation and noncognitive assessments — yields more predictive power."
Implementing Multiple Measures
In spring 2019, the Maricopa County Community College District (MCCCD) began using high school GPA as a districtwide measure for course placement after several years of experimental use by mathematics faculty for math course placement. The addition of high school GPA led to the utilization of ACT, SAT, and GED scores as part of multiple measures placement available for all MCCCD students. Traditional, standardized placement tests are still available for students who do not meet the requirements for placement with other measures.
Multiple Measures and COVID-19
In response to the COVID-19 pandemic, MCCCD also began using EdReady as part of its multiple measures for placement. During this time, traditional English, math, and reading placement tests were not available to students. EdReady, an online readiness system developed by The NROC Project, was chosen as the placement alternative for several reasons. As an online system, EdReady can be used by students from any device at any time, removing the need for students to come to a physical location to take a placement exam. Additionally, EdReady, unlike the traditional placement test, is a low-stakes assessment which allows students the opportunity to improve their initial score.
EdReady as a Placement and Academic Preparation Tool
Maricopa EdReady includes five placement assessments: College Algebra; College Reading; Critical Reading and Critical Thinking; EdReady English; and Quantitative Reasoning, Algebra, and Statistics. Figure 1 is the student view of the Maricopa EdReady site showing each available placement assessment. The placement assessment content was determined by English, math, and reading faculty to ensure alignment with course learning objectives.
Figure 1: Maricopa EdReady Assessments Dashboard

EdReady begins with a diagnostic or knowledge inventory. Based on this diagnostic, a personalized study path is created for each student to work on skills needed for college-level course success. The system identifies a path based on the areas in which a student scores less than 50 percent. Students work through practice tests, examples, and videos to increase their knowledge base. When ready, they have the option to complete unit and topic tests to assess their new knowledge. Students see their progress and improvement as they move through the system. Individualized study plans allow students to close knowledge gaps, improve assessment scores, and qualify for enrollment in college-level courses.
EdReady and Course Placement at MCCCD
As of June 2021, Maricopa EdReady has been used by over 30,000 students across the district. The statistics in Table 1 indicate how many initial diagnostic assessments have been completed and how many students improved their initial scores by working through personalized study paths.
Table 1: Maricopa EdReady Placement Statistics April 2020-June 2021

MCCCD Marketing collaborated with the Developmental Education department to create a Maricopa EdReady web page that includes a video about how the system works and how students can use it for placement into English, math, and reading courses. The video focuses on the opportunity for students to build their skills through EdReady and place into college-level courses, saving them time and money. The Maricopa EdReady page also provides EdReady placement charts that identify the EdReady assessments and scores needed for placement into college-level courses. Figure 2 is the Maricopa EdReady math placement chart.
EdReady is second in use as a placement measure at MCCCD after high school GPA. The EdReady system has been instrumental in increasing the percentage of students placed into college-level courses, which has steadily increased from 71 percent in 2018 and 75 percent in 2019 to 83 percent in 2021. Simultaneously, developmental course placement has decreased from 29 percent in 2018 to the current rate of 17 percent. EdReady has also helped to decrease the equity gap in placement into college-level courses by students of color. Table 2 shows the percentage of MCCCD students in developmental coursework by ethnicity in fall 2019 and fall 2020.
Table 2: Maricopa Developmental Course Placement by Ethnicity Fall 2019 and Fall 2020

The Future of EdReady at MCCCD
In addition to using EdReady as a placement measure, MCCCD faculty have begun to explore the system as a way to support students in English, math, and reading courses. One college is creating resources that can be used across departments to provide all students no-cost academic support. Faculty in disciplines with intensive math content are investigating the use of EdReady to support math proficiency. EdReady Math Pathways provide an opportunity to build math skills within career pathways such as paralegal, computer information technology, early childhood education, and business.
As we continue to use EdReady to build academic skills for district students, we are also collaborating with our high school partners to provide EdReady as a resource for students as early as ninth grade. Providing access to EdReady early in high school will help to build students' academic skills and create a college-going mindset for those who may not see college as part of their future. A pilot of EdReady Math at a local high school is planned for spring 2022.
Efforts are being made to increase awareness of EdReady as a placement option within MCCCD for the 2021-2022 academic year. Training for employees is being developed to build understanding around multiple measures in general, and the use of EdReady specifically, for course placement. This online training will be a part of the Maricopa Employee Learn Center and open to all district employees. Presentations for early enrollment and recruitment events were held during the summer to prepare incoming students for use of multiple measures and how to utilize Maricopa EdReady for course placement.
References
Scott-Clayton, J., & Stacey, G. W. (2015). Improving the accuracy of remedial placement. Columbia University, Teachers College, Community College Research Center. https://ccrc.tc.columbia.edu/media/k2/attachments/improving-accuracy-remedial-placement.pdf
Ganga, E., & Mazzariello, A. (2019). Modernizing college course placement by using multiple measures. Columbia University, Teachers College, Center for the Analysis of Postsecondary Readiness and the Education Commission of the States. https://www.ecs.org/wp-content/uploads/Modernizing-College-Course-Placement-by-Using-Multiple-Measures.pdf
Dr. Rosslyn Knight is District Director of Developmental Education for the Maricopa County Community College District in Maricopa County, Arizona.
Opinions expressed in Innovation Showcase are those of the author(s) and do not necessarily reflect those of the League for Innovation in the Community College.