Moraine Valley Community College STEM Center Creates Community Resource for Authentic Experiences in STEM Disciplines
February
2020
Learning Abstracts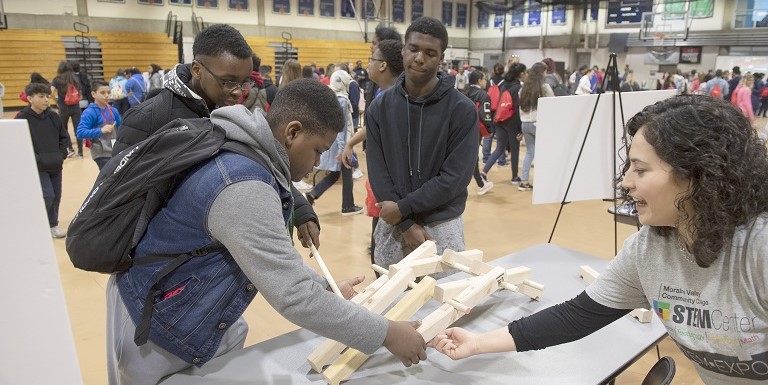 Trying to find the new STEM Center at Moraine Valley Community College in Palos Hills, Illinois, won't be easy. The virtual center has no bricks and mortar, yet has become a valuable resource for many in the community, including Moraine Valley faculty and students as well as local K-12 teachers and students.
The concept for the center began in spring 2016, when Dr. Paula DeAnda-Shah, Associate Professor of Developmental Mathematics, reached out to her colleagues on campus to discuss designing and offering cross-disciplinary science, technology, engineering, and math (STEM) programming for Moraine Valley students and community members. With a growing emphasis on the importance of STEM fields came a desire to create focused STEM curricula that would provide students with authentic experiences. As this advisory group brainstormed a programming format, a common theme emerged—Moraine Valley needed a STEM Center.
The group was awarded an Innovation grant from the Moraine Valley Foundation in spring 2016. A year later, the college approved funding for a position to support the work of the STEM Center. "The STEM coordinator position was created because of faculty interest in providing coordinated STEM opportunities to our current students and our future students in local school districts," said Dr. Ryen Nagle, Dean of Science, Business, and Computer Technology. He explained,
The general idea of [the STEM Center] is to bridge these disciplines in a school setting like they are in real-world research and industry. Separate areas of our college had great ideas and projects related to the STEM disciplines, and we hoped bringing these ideas together under a leader and advisory group would expand and enhance the available resources to our students and community.
As DeAnda-Shah had already started doing much of the work of organizing the group and its activities, it made sense for her to apply for the position of STEM Coordinator, a role she has held since January 2018. "I wanted to serve in [this role] because I was eager to learn more myself," said DeAnda-Shah. A first-generation student who began her postsecondary training as a journalism major, she realized she missed being in math classes. After taking Calculus 2 as an elective, she decided to change her major to mathematics.
As the STEM Center's coordinator, DeAnda-Shah has realized how much she enjoys making things with her hands. "It's made me wonder if I would have enjoyed engineering or other careers that apply mathematics" she said. She continued,
I'm now living vicariously through the role I am in, exploring diverse areas of STEM alongside the students. I love that part of my position. And, since I am a developmental mathematics professor, I can connect students at all learning levels to STEM at Moraine Valley.
As DeAnda-Shah sees it, the STEM Center has four main goals:
Create cross-disciplinary discussions and STEM-related activities with other faculty on campus.
Maintain a website to connect community members with STEM opportunities.
Offer a STEM Expo to seventh grade students in the district each year.
Form a STEM Club for Moraine Valley students.
STEM Center Website
The STEM Center website, created in 2016, is a central entry point for all things STEM at the college. Users can find information about the annual STEM Expo, the Engineering Pathways program, STEM clubs on campus, upcoming events, and industry median pay. Website users can also send questions or connect with Moraine Valley on STEM opportunities available to the public. DeAnda-Shah, who is responsible for providing content for the website and responding to inquiries, is surprised by the number and kinds of emails she receives, including those from librarians, parents who homeschool their children, K-12 educators and companies that want to participate in the expo, and families looking for STEM offerings for their kids. Building out the website to include even more STEM resources and events continues to be a primary goal for the advisory group, as is building a more intimate and collaborative community of STEM faculty and students at Moraine Valley.
STEM Expo
The STEM Expo, held every spring for the last three years, has had a big impact on the community. The expo is free to seventh grade students in the college's district, and interest is growing each year. The first expo was a grassroots effort led by faculty in 2017, with 600 students in attendance. That number grew to 900 students in 2018, and 1,000 in 2019.
Participating schools are asked to bring 60 to 70 diverse students: those who are and are not interested in STEM fields. Groups of 20 students each are assigned one of 12 tracks to follow throughout the morning. Each track consists of four sessions with a different STEM focus, two of which are attended by every student: sustainability keynote speaker Joey FineRhyme and the Exploration Zone. FineRhyme is a raptivist who uses freestyle rhymes to inspire audiences to "green our world." Kids join him on stage to pedal bicycles that generate enough electricity for him to power the sound system. Participating teacher feedback indicates that he is engaging and, as one educator put it, "perfect for the age group."
The Exploration Zone is an exhibit-style area where students can participate in fun, hands-on experiments and activities. In the Zone, each student goes to the Creation Station to make a STEM project, such as bristlebots and catapults, that they can take home with them. Outside organizations and corporations, including a local children's museum, forest preserves, and high schools that bring students from their STEM-related clubs, host tables for students to visit or sponsor an activity.
The other two sessions in each track are led by faculty volunteers or representatives from outside groups such as Argonne National Laboratory or energy company ComEd. The topics range from flying drones to LEGO robotics and visiting the cadaver lab on campus. Students can create memes, build batteries, and tour the college's Nature Study Area. In 2019, they built and tested motorized cars made from mousetraps, plastic wheels, and a battery.
"All sessions are hands-on because we want students to feel, touch, and do. Our faculty volunteers bring their expertise and . . . choose topics they feel passionate about," DeAnda-Shah said. Neil Kirkpatrick, Assistant Professor of Biology at Moraine Valley, is on the STEM Center advisory group and volunteers at the expo every year. His favorite part of the day is seeing the participants get excited. He said,
It's definitely a lot of work to prepare and present to so many students, but it's worth it to see the excitement and joy in learning they have. I can't say enough good things about the expo. It's great for the college, it's great for the students to experience so many STEM-related activities, and it's great for the teachers to gain more knowledge about STEM.
The response to the STEM Expo has been very positive; 100 percent of participating seventh grade teachers have indicated that they will bring their classes back the next year. "The teachers tell us they are so happy this is an option for their students, and it is the highlight of their year," DeAnda-Shah said. One attendee remarked,
Magnificently done. This opened the door to so many different fields for my students. They could not stop raving about everything they got to experience and learn. They were so excited to try different STEM components. They were impressed by the campus, the presenters, and the overall experience you gave them.
STEM Club
The expo has created a pool of faculty members DeAnda-Shah can turn to for help when requests for outreach activities come in through the website and from students in the STEM club, which DeAnda-Shah advises. "Over 100 Moraine Valley students serve as volunteers at the expo, and they learn from and enjoy the activities along with the participants. I wanted to offer similar opportunities to our students as well, so I really pushed for the student component of the STEM Center," stated DeAnda-Shah.
DeAnda-Shah organizes on-campus STEM experiences for club students, such as visiting the animal and plant rooms and developing LEGO robotics, and recruits faculty members to speak to club members about various STEM topics. Often, those connections between students and faculty lead to mentorships in which students co-present with faculty at future expos.
DeAnda-Shah hopes the STEM Center will continue to grow. "The work we do with the community supports our faculty, which supports our students," she said. Nagle added,
A lot of good work has been done with the STEM Expo and the STEM Club, but I think all involved believe there is more to be done—supporting STEM student research, supporting STEM outreach events beyond the yearly expo, and finding a physical space for the STEM Center are all ideas for the future. As the STEM Club and STEM Expo mature, new STEM initiatives will emerge so the college can serve students in the STEM disciplines and help develop them for the high-skill, in-demand jobs that will support our district's communities.
In future, the next time someone comes looking for the STEM Center, they may find a place with a front door.
Jessica Crotty is Assistant Director of Communications at Moraine Valley Community College in Palos Hills, Illinois.
Opinions expressed in Learning Abstracts are those of the author(s) and do not necessarily reflect those of the League for Innovation in the Community College.