Microsoft OneNote: Enhance Learning and Increase Productivity
February
2018
Learning Abstracts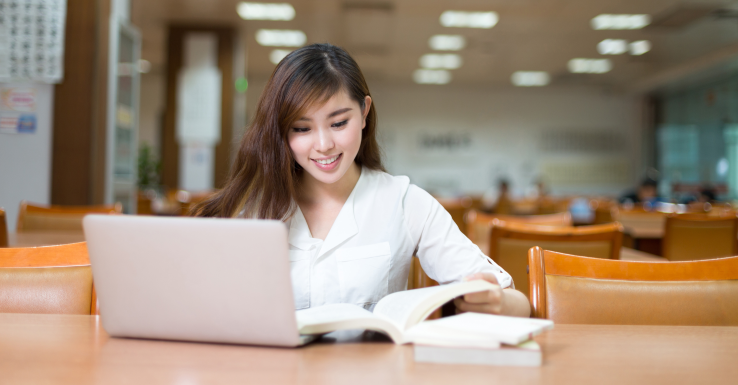 OneNote is a powerful application to facilitate lesson review, student engagement, digital learning, note-taking, collaboration, and assignment submission. Adopted at scale, the application can be very powerful beyond a single classroom (Armstrong, 2015). For example, some institutions have adopted the application to provide visibility into lessons covered in courses using the sharing feature, while other instructors have used the tool to facilitate lessons in a more engaging manner by integrating various multimedia, sometimes built directly from within the application. There are a number of different uses for OneNote and Microsoft offers its OneNote for Teachers site as a quick guide to assist teachers, students, and administrators with using OneNote in the classroom (Microsoft, 2015). This manuscript explains the problems, process, lessons learned, recommendations, and next steps associated with using Microsoft OneNote to enhance the teaching and learning experience.
Using OneNote in a Capstone Course
OneNote was used in a four-credit System Analysis and Project Management capstone course at Prince George's Community College. The course provides a structured approach to analysis, design, and development of computer information systems, including a team project and research assignment. This capstone course in the computer information systems A.A.S. and information science A.S. programs is taken near the end of students' program of study. The use of OneNote was intended to address three key problems associated with the course, which included the following:
Students needed a modern and interactive tool to assist with reviewing and understanding concepts related to systems analysis and project management.
Students used technology throughout the program and in their personal lives, but lacked digital literacy in productivity software applications.
Students lacked sufficient funds to spend on printing costs associated with assembling the final project.
As both Manager of Technology Training and Multimedia Development and adjunct faculty at Prince George's Community College, the instructor approached the problems with both enterprise technology goals and course goals in mind. This approach included considering course learning outcomes as well as institutional information technology goals related to maximizing the technology portfolio and cutting costs. Furthermore, as a Certified Microsoft Innovative Educator working at a Microsoft institution, the instructor examined the repertoire of applications available to faculty and students that could help solve the instructional problems. While some students initially struggled with using OneNote and associated Microsoft 365 applications, they ultimately gained digital literacy and content mastery, and saved money as well.
Using OneNote to Enhance Learning
First, the instructor created interactive lessons that used Office 365 apps such as Forms to help students take low-stakes quizzes to assess proficiency, self-created audio to further explain certain concepts, and images to show examples of certain documents with which students needed to become familiar. Using the tag feature in OneNote, the instructor was also able to embed tags that flag questions and important content and create checklist items.
Figure 1. Tagging Items in OneNote
Using OneNote to Enhance Productivity
OneNote is a productivity tool for consolidating, organizing, and presenting lessons. Although PowerPoint can be a powerful tool for presenting content, people sometimes tune out during PowerPoint presentations. Instead, all learning resources can be combined efficiently in the various tabs within OneNote. OneNote can also be used during in-class sessions or online courses to present content in an engaging manner.
Figure 2. OneNote for Engaging Students with Digital Media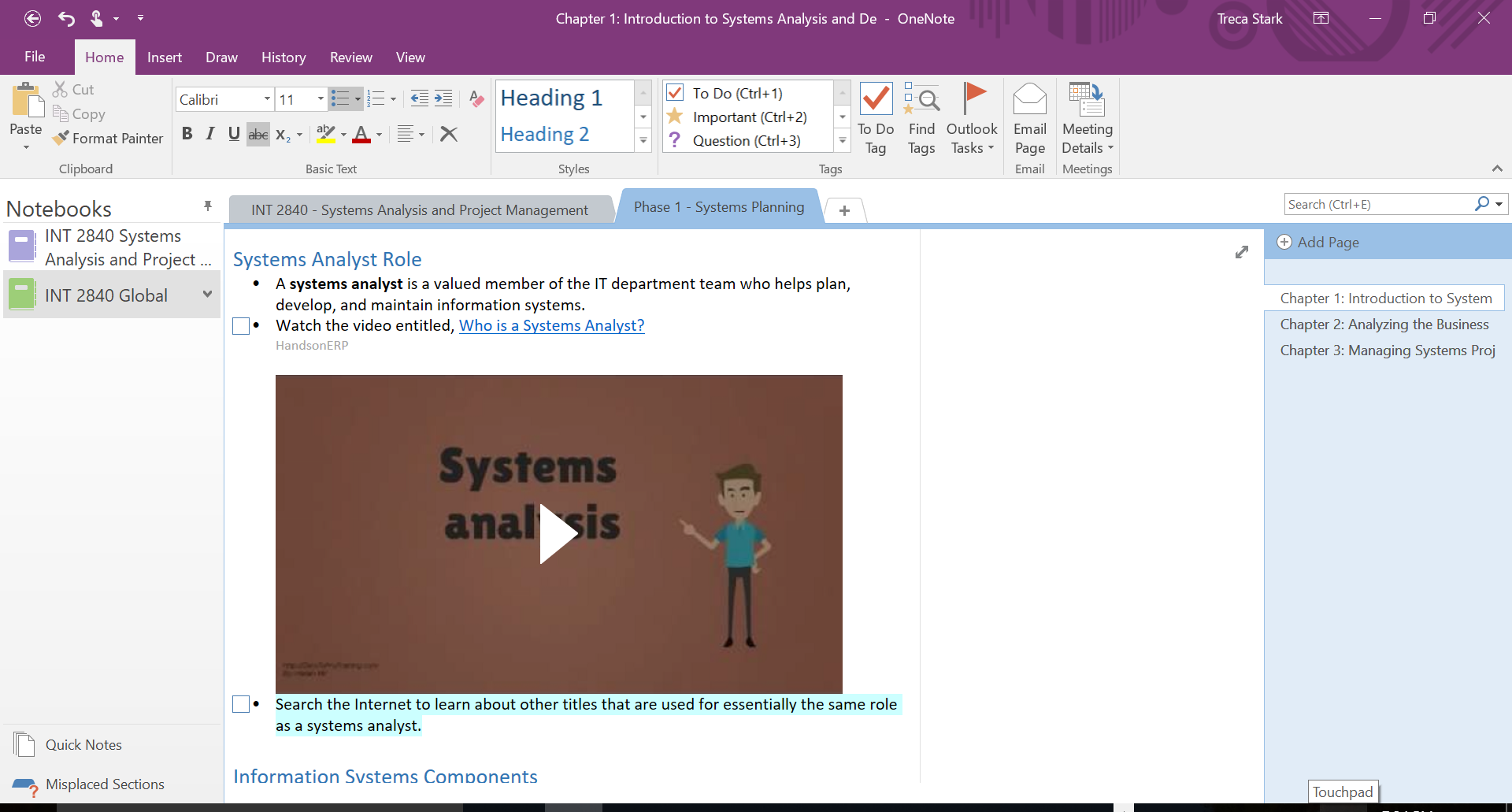 Using OneNote to Transform Learning
The SAMR – Substitution, Augmentation, Modification, and Redefinition (Figure 3) -- model can serve as a framework for understanding how OneNote transforms learning. SAMR is:
A model designed to help educators infuse technology into teaching and learning. Popularized by Dr. Ruben Puentedura, the model supports and enables teachers to design, develop, and infuse digital learning experiences that utilize technology. The goal is to transform learning experiences so they result in higher levels of achievement for students. (Shrock, 2017, para. 1)
In the model's various levels of transformation, substitution is the lowest and redefinition is the highest.
Figure 3. SAMR Defined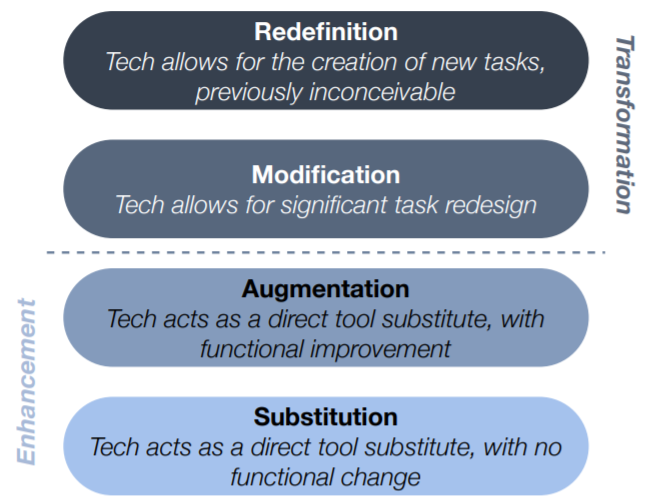 By Ruben R. Puentedura, 2009, As We May Teach: Educational Technology, From Theory into Practice.
While students were provided guidance before using OneNote, they had further liberties to use the application to go beyond substitution and augmentation, such as simply moving from a physical binder to a digital binder. They moved to modification and redefinition by communicating and sharing their content in new ways with audio, video, links, enhanced graphics, and other types of interactions. For example, they could integrate video or audio to communicate content, and they could link to documents created in cloud-based versions of Microsoft Office. They could also link to other items hosted in their OneDrive accounts, such as work breakdown structures created in Microsoft Project, workflows created in Microsoft Visio. Students moved into redefinition by using the tool to allow interaction with the products they created as a part of the assignment: a new website home page and a new online admissions application form that considered accessibility and usability guidelines.
Lessons Learned and Recommendations
Spend More Time Helping Students Learn OneNote
Many students are not as tech savvy with productivity applications as they may be with social media; they can struggle with design and layout of content. Although OneNote tutorials, demonstrations, and in-class practice time were provided, students struggled with thinking creatively about how best to utilize OneNote to display content. Indeed, many students were unaware that OneNote could be used for task management in personal, academic, and workplace settings. Therefore, along with providing tutorials, the instructor should create a few challenge activities that allow students to explore the various features of OneNote. These activities should have requirements for creativity, design, and content layout. Providing time for students to share what they have learned could help better prepare them for the final project.
Give Yourself Time to Prepare
Faculty need lead time to build lessons and to determine how to use OneNote in class. This was the instructor's first time teaching this course, and given her predisposition to teaching with digital learning tools, finding ways to engage and support student learning with technology was important. Furthermore, the instructor wanted digital learning tools that provided data on areas where students were struggling. This meant creating low-stakes quizzes and assessments in Microsoft Forms and embedding them in OneNote. Preparing these kinds of lessons takes time, so advance planning is necessary.
Next Steps
Having recently explored Universal Design for Learning (UDL), the instructor partnered with the college's instructional designer to determine how to ensure that this course and its digital elements are designed to benefit most students, regardless of ability. Microsoft OneNote and several other cloud-based Microsoft products have accessibility checkers and translation tools that assist with this effort. Furthermore, English is a second language for many of students so the instructor and instructional design staff are looking for ways to better support all students.
Next, the instructor evaluated how students responded to using OneNote in the class, as a tool to enhance learning and to facilitate submission of their final projects. Qualitative comments provided by students included: "Prior to this class, I saw the OneNote application, but did not know what to use it for," and "My knowledge of how to use the cloud-based office apps (Word Online, Excel Online, and PowerPoint Online) as a tool for sharing has increased." Due to the nature of the assignment, students had to use web-based versions of Microsoft products, in conjunction with OneDrive, to link to documents in OneNote. They were required to use cloud-based applications like PowerPoint Online or Sway to deliver their final presentation. Students fumbled with formatting in the online versions as well as with the design and layout of content in general, as many were more focused on careers other than design or front-end development. However, in the end they believed that their proficiency had increased.
The instructor and instructional designer plan to present findings in other outlets including at the College Professional Development and Enrichment Day, to the Center for Faculty Innovation, and to key stakeholders in the Teaching, Learning, and Student Success area. Ultimately, with initiatives, like use of open educational resources, on the horizon, the college's Technology Training and Multimedia Development team of instructional designers/developers, multimedia technologists/trainers, and coordinators will be vigilant in determining if this tool can support other digital learning efforts.
This topic will be discussed at a roundtable discussion at the Innovations Conference on Tuesday, March 20, 2018. See the event program for details.
References
Armstrong C., & Llorin J. (2015). Using shared Microsoft OneNote "binders" to create a school environment for sharing, continual formative assessment, & information organization. In: T. Hammond, S. Valentine, A. Adler, & M. Payton (Eds.), The impact of pen and touch technology on education. Human–Computer Interaction Series. New York, NY: Springer.
Microsoft. (2015). OneNote for teachers. Retrieved from https://www.onenoteforteachers.com/
Puentedura, R. R. (2009, February 4). As we may teach: Educational technology, from theory into practice [Web log post]. Retrieved from http://www.hippasus.com/rrpweblog
Shrock, K. (2017). SAMR and Bloom's. Retrieved from http://www.schrockguide.net/samr.html
Treca Stark is Manager, Technology Training and Multimedia Development, at Prince George's Community College, Maryland.
Opinions expressed in Learning Abstracts are those of the author(s) and do not necessarily reflect those of the League for Innovation in the Community College.