The Library of Tomorrow
October
2022
Learning Abstracts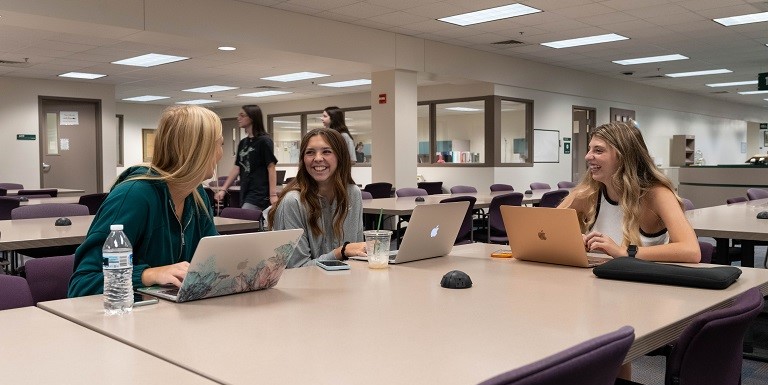 Community college libraries must keep pace with 21st century needs. Gone are the days when librarians shushed students and one could hear a pin drop in library spaces. Gone are the days when print periodicals and books were the only resources available. Today's students come from all backgrounds and have diverse needs. Librarians are continually evaluating those needs and evolving library services and programs to meet them. Academic libraries—especially those at community colleges—need to meet the students where they are. A crucial element of the Library of Tomorrow is creating space for all.
The Library of Tomorrow is the heart of the campus, with a well-designed, welcoming space that meets student needs and fosters a sense of community and belonging. The library should also provide interactive learning opportunities for small group work, Zoom meetings, and instruction, with easy access to technology. In addition, tomorrow's libraries must have quiet spaces where students can study undisturbed.
The librarian of tomorrow is well trained in the use of technology to assist students, faculty, and staff for face-to-face, hybrid, and online learning at all campuses and off-site learning facilities. For example, they need to be able to help faculty identify open educational resources (OER) for their review and possible adoption. Librarians must also be flexible innovators committed to meeting the community's needs in creative ways. Furthermore, librarians should be embedded in research-based classes to provide just-in-time resource and writing assistance.
In order to accomplish this vision for the future, Delta College is reimagining its library to include technology support to assist students with resource utilization and librarians who are innovators in meeting student, faculty, and staff needs.
Library as a Student Technology Center
The library at Delta College is the heart of the campus and strives to be a flexible space for student needs. It is a welcoming, comfortable space where students can meet for study groups, with access to white boards or smart rooms with technology, or use a quiet space for individual study. Some need Zoom rooms to participate in a synchronous class without disturbing others, as many students do not have the space to do this at home. The space is conducive to learning and studying, with desktop and laptop computers, electrical and USB outlets, and moveable furniture.
Technology is a barrier for many students. Student technology challenges include lack of access to needed devices such as laptops, slow or nonexistent Internet access, and shared technology with others in their household. The library provides PC and Mac computers for student use at the main campus and downtown centers. In addition, a new laptop lending program which began in fall 2022 provides 10 laptops for students to check out and use on campus, and 20 more laptops available for semester-long loans. Students use laptops to attend their online courses or work on group projects.
Delta College currently has downtown centers in Saginaw, Midland, and Bay City. Both the Saginaw Center and Midland Center are staffed by a librarian one day per week in their respective Learning Commons areas. As student demand increases, expanded coverage will provide increasing support to the centers. Staff at all centers can help students obtain virtual assistance from the library when a librarian is not available in person. Students can request print materials from the main campus, and books are delivered to the centers and placed in lockers several times per week. Students can also return material to the downtown centers.
Librarians are developing a partnership with the eLearning department, Information Technology department, and Tutoring Center to market technology services, including seamless access to assistance through tutorials, workshops, and drop-in assistance. Examples include using specific software or programs for assignments. Services will be available both in person and virtually.
Librarians as Innovators
Faculty have the option to embed librarians into the learning management system (LMS) for both face-to-face and online courses with research or writing components. Librarians will be designated in the course so that students recognize their role. This provides librarians with just-in-time access to assignments to help them assist students at their point of need. Librarians can engage in outreach within the course by hosting discussion forums on the research-based assignments. According to Hayes, Henry, and Shaw (2021), "research study after research study has shown that providing library resources at the point-of-need provides a more effective and engaging learning experience" (p. 37).
The library at Delta College offers online asynchronous library research modules in e-learning for English, communications, history, and nursing courses as well as a new self-enrolling course on the basics of library research. These courses help the library to expand its reach by introducing students who may not be able to come to campus to the library's 24/7 resources. The online research modules allow librarians to pursue the flipped classroom model so they can spend more time in the classroom working face-to-face with individual students.
Textbook affordability is an issue for many students. Librarians review course textbook lists and research alternative access to textbooks such as unlimited access e-books that multiple students can use simultaneously. This also involves outreach to faculty, making them aware of e-book alternatives or requesting that they provide a physical copy for the library reserve collection. Some faculty will give the library enough copies of the textbook for every student in the course to check out a copy for the semester.
Librarians assist faculty by researching and curating OER textbooks and ancillary materials. Delta's library maintains an OER guide with links to resources, professional development opportunities, and statistics. Librarians assist faculty in using software such as PressBooks to create or adapt textbooks.
Library Research Guides (LibGuides) can be directly integrated into the LMS using Springshare's LTI tool. Hayes, Henry, and Shaw (2021) note that,
By embedding library resources via LibGuides right inside their online course, librarians are reducing barriers and roadblocks to accessing high-quality and relevant resources. Students don't have to hunt around on the library website or scroll through long A-Z lists to find the right resource. Their cognitive load, the act of processing information before actual learning can occur, is reduced so real learning can occur more quickly and effectively (Little, 2010). (p. 37)
A Delta College strategic focus is to ensure that students in the 30 most heavily enrolled courses receive additional assistance focused on successful course completion and retention during the following semester. The library currently offers services for 29 of the top 30 courses, including library instruction, tutorials created for specific courses or assignments, and research guides created for the course in conjunction with instructors. Assigned textbooks may be available on reserve, in an unlimited simultaneous-user e-book format, or as an OER text. Courses may also house lab kits in the library for students to check out. Our plan is to create a more robust collection of textbooks for the Reserve Collection for the top 30 courses that have print textbooks and to encourage the curation of OER and purchase of e-books.
Students enrolled in computer and mathematics courses have been supported by the opportunity to check out Raspberry Pi kits and graphing calculators from the library's reserve collection for years. Library staff have recently partnered with faculty from departments such as electrical technology, biology, chemistry, geology, and lifelong wellness to provide lab kits in these areas as well. Students registered in online courses can check out a lab kit for the semester. Items can also be delivered to the downtown centers or mailed to students' homes upon request.
Librarians support dual enrolled and early college courses whether they meet at a high school, the main campus, or a downtown center. Information literacy sessions are made available for many of the courses; librarians are happy to collaborate with faculty and work with any subject.
Delta College librarians are updating resources through the lens of diversity, equity, and inclusion (DEI) in a continuing effort to develop collections that educate and inform the college community. Physical and digital displays highlight important resources and celebrate diversity. The library is also now fine free, and the college has waived the rental fee for graphing calculators. In March/April 2022, librarians participated in a Library Journal workshop titled, "How to Build Diverse Collections," and are planning a DEI audit of our collection.
Many students begin college without having had the advantage of a librarian at their K-12 school. As reported in School Library Journal (Lance, 2018, as cited in Lance & Kachel, 2018), "Since 2000, the NCES reports that more than 10,000 full-time school librarian positions nationwide have been lost, a stunning 19% drop" (para. 23). We would like to reach out to area high schools without certified media specialists and investigate the possibility of partnering with language arts departments to teach information literacy skills.
Summary
Community college librarians, like faculty and staff, need to meet the students where they are. The most effective method is for the library to become a gathering space and technology center, and for librarians to become innovators who operate with a point-of-need philosophy. The Library of Tomorrow is the key to student success, and Delta College is well on its way to ensuring that its library is an integral part of the college experience.
References
Carlson, S. (2022). The library of the future: How the heart of the campus is transforming. The Chronicle of Higher Education.
Hayes, M. A., Henry, F. A., & Shaw, R. (2021). Librarian futures: Charting librarian-patron behaviors and relationships in the networked digital age. Lean Library. https://doi.org/10.4135/wp.20211103
Lance, K. C., & Kachel, D. E. (2018, March 26). Why school librarians matter: What years of research tell us. Phi Delta Kappan. https://kappanonline.org/lance-kachel-school-librarians-matter-years-research
Michele M. Pratt, MLIS, is Manager, Library Programs and Services; Anne Wooden Elias, MLIS, is Librarian, Reference/Government Documents; and Dr. Reva Curry is Vice President, Instruction and Learning Services, at Delta College in University Center, Michigan.
Opinions expressed in Learning Abstracts are those of the author(s) and do not necessarily reflect those of the League for Innovation in the Community College.