The K. Patricia Cross Academy: A Practical Resource for Faculty
October
2020
Learning Abstracts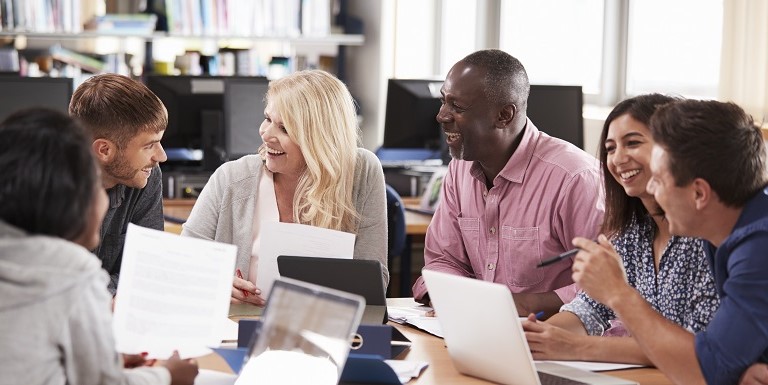 In discussion groups and surveys conducted through the League for Innovation's Faculty Voices Project, faculty told project facilitators that they would welcome meaningful professional development focused on teaching and learning. They readily acknowledged that their education and expertise is discipline based, and that they had little or no training or preparation for teaching prior to joining the faculty ranks. They lamented regular local professional development sessions focused on administrative tasks such as taking attendance, and the limited or nonexistent opportunities for a strategic, long-term focus on cross-college instructional initiatives that improve student learning, retention, and overall success. They described faculty professional development as haphazard, driven more by external trends than internal needs and lacking intentional connection with college goals.
Although this may present a bleak picture of professional development, faculty who are eager to focus on improving or enhancing teaching and learning can access a high-quality resource in The K. Patricia Cross Academy. Founded by two dedicated and innovative educators, Elizabeth Barkley and Claire Major, and launched last year, this free, practical website features proven teaching and learning techniques that are grounded in education theory and research. The Cross Academy honors and continues K. Patricia Cross's legacy of acclaimed work in adult learning and classroom assessment, introducing each teaching technique with a short video that is accompanied by a downloadable instructor's manual. The instructor manuals contain detailed and user-friendly directions, support materials (e.g., templates, variations, samples), and references. With the increase in online and hybrid courses in response to the COVID-19 pandemic, Barkley and Major are regularly adding videos for online implementation, and including an online adaptation section in the instructor manuals.
At this writing, The Cross Academy features 48 teaching techniques that are organized in four different drop-down menus: Teaching Environment (online or on site), Activity Type, Teaching Problem Addressed, and Learning Taxonomic Dimension. Fourteen Activity Types are identified, so faculty will likely find one or more techniques that fit their preferred teaching style. For example, faculty who are comfortable with the lecture format may use activities such as Lecture Wrapper, Guided Notes, and Translate That! to engage students in the lecture and in their own learning. Faculty who want to involve students through group work may try Team Jeopardy, Jigsaw, Triple Jump, or one of eight other group activities. Techniques for project learning, discussion, games, reflection, graphic organizing, writing, problem solving, active/engaged learning, reading, learning assessment, presentation, and reciprocal teaching are also included.
Faculty who are facing familiar problems in the classroom may find the Teaching Problem Addressed menu particularly useful. Faculty may have students who are unprepared for class, do not participate, or lack motivation. Some students might need help with notetaking or listening skills, or with moving from surface to deeper learning. The Cross Academy includes techniques for guiding students through these challenges.
The Learning Taxonomic Dimension menu can help faculty identify activities that align with learning objectives and outcomes and address a range of learning and thinking skills. These dimensions include foundational knowledge; levels of application involving analysis, critical thinking, problem solving, and creative thinking; integration and synthesis; human dimension; caring; and learning how to learn.
The Cross Academy is free and no registration is required; the website notes that it is "a nonprofit program . . . supported entirely by donations from a small group of anonymous donors." Barkley and Major continue to produce new videos and instructor manuals, and are focusing their current efforts on helping teachers improve online instruction.
Editor's Note: The League for Innovation is pleased to be an affiliate of The K. Patricia Cross Academy. The League has a longstanding relationship with our dear friend, Pat Cross, who wrote the first seven of the eponymous Cross Papers and has generously supported their continuing publication through The Cross Papers Fellowship. The most recent of The Cross Papers, Empowering Students and Improving Learning Through Midterm Student Feedback, by Peter Ufland, is Number 23 in the series.
Related Content: Click here to view a recording of the October 1, 2020, League webinar, "Engaging College Students in Active Learning Techniques," presented by The K. Patricia Cross Academy cofounder Claire Major.
Cynthia Wilson is Vice President for Learning and Chief Impact Officer at the League for Innovation in the Community College.
Opinions expressed in Learning Abstracts are those of the author(s) and do not necessarily reflect those of the League for Innovation in the Community College.