Increasing Student Persistence by Incorporating Brain Science Into On-Demand Placement Preparation and Supplemental Instruction
March
2018
Learning Abstracts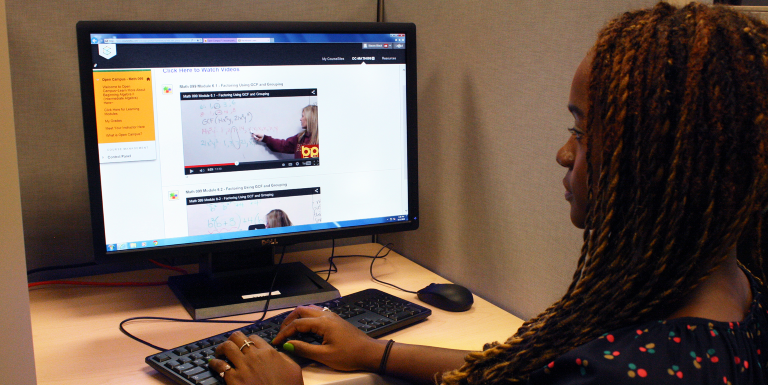 Under-preparedness can pose significant roadblocks to success for students at the starting line of their higher education journey. Nationwide, more than two-thirds of all community college students place into at least one developmental education course in their first year (Complete College America, 2012). Because of frustration about their placement into remediation, "30% never show up for the first course or subsequent remedial courses" (Complete College America, 2012, p. 2). Others "waste valuable time and money in remedial classes for no credit" (p. 3). Bossier Parish Community College's (BPCC) solution was to create a series of free, open-source developmental courses targeting both students preparing for placement testing and those enrolled in credit-bearing coursework.
BPCC's OER concept—Open Campus™—was founded upon the premise reflected in multiple studies that high-need students struggle in purely online courses, yet students are motivated to persist when technology is a function of how they engage outside the formal classroom (Nihalani & Mayrath, 2010; Xu & Jaggars, 2013).
Brain science has long promoted chunking content, spacing, interleaving, and retrieval practice as effective in helping students learn to shift learned content from short-term to long-term memory (Benassi, Overson, & Hakala, 2014). BPCC's mobile-friendly, replicable design features multiple, brief learning videos which allow students to easily locate and review difficult concepts. Auto-feedback quizzes prompt students to practice recalling learned content to build easy wins; brain science is employed in an online gaming structure so players see failure as integral to the learning experience, a concept often viewed as counterintuitive in academia.
Aspects of adult learning theory are built into Open Campus: Adult learners prefer just-in-time support, experiences offering best use of time, how-to demonstrations, and immediate feedback (Knowles, 1973; Fogarty & Pete, 2004). The design also reflects social presence theory, which holds that the number of nonverbal cue systems in an online space determines receivers' sense of connection (Hiltz & Turoff, 1978). Finally, learning content aligns with students' patterns of mobile behavior, as students are accustomed to employing smartphones for 24/7 access.
Learning Technology Innovation: Students' Need for On-Demand Learning
User analytics revealed that 30 percent of BPCC's underprepared, under-resourced students access learning content through mobile devices including smartphones and tablets. As a result, the college began aligning supplemental learning content with mobile use to accommodate 24/7, portable access. BPCC's app design blends brain science concepts, long used in online gaming environs, and traditional learning management systems (LMS) ubiquitous in U.S. higher education systems.
BPCC contracted to design and test its hybrid mobile application with basic, deep-structure gamification features of chunking content, leveling, promoting repetition, and brief challenges in the form of multiple choice quizzes for small wins and manageable losses. Students were able to quickly track their progress through leveling and rudimentary badging. The team conducted cluster randomized control trials (RCT), designed to meet or exceed What Works Clearinghouse standards, in developmental math and English classrooms both at BPCC and Northwestern State University of Louisiana (NSU) in spring 2017, with statistically significant results (See details below).
Improving Upon Existing Pedagogical Research
The current project iteration is built upon BPCC's open source, desktop model; BPCC's Open Campus incorporates both brain science and simplified deep-structure gaming concepts, adult learning, social presence, and information systems continuance theories to encourage students to extend and engage learning content beyond the traditional classroom space. BPCC staff and faculty created the college's free course initiative with dual primary objectives: (1) to better prepare incoming underprepared students for college-level placement testing and support students  struggling to successfully complete first-year college coursework and (2) to share open, online, general education courses with local high school students preparing for the ACT/SAT, with individuals studying for high school equivalency exams, and with students bridging from community college to four-year universities.
Faculty worked closely with BPCC's education technology team to produce more than 500 brief videos, edit documents, and upload learning materials for three math, one grammar, and one reading course at a cost to the college of less than $23,000. The college has since added eight courses, with math courses remaining the most popular. BPCC houses its original desktop courses on Blackboard's free LMS, Coursesites; free hosting for up to 5,000 students per course has allowed the college to cost-effectively scale its reach to a worldwide audience.
Widening Access to Education
Over 30,000 students have enrolled in the free desktop version since 2013. Of the 16,241 students currently enrolled, 10,471 are enrolled in Basic Math, Beginning Algebra I and II, or College Algebra. Last year, Louisiana Community and Technical College System (LCTCS) adopted BPCC's Open Campus, scaling access statewide across 13 colleges and opening direct access to over 100,000 Louisiana college students. BPCC's mobile app launch through RCT in January 2017 involved 980 students in 42 class sections. A second round of closed trials involves 1,100 students. Combined, more than 2,000 students have been involved in the mobile app closed trials.
Reaching High Schools, Universities, Industry, and Beyond
Career Compass counselors in 28 Louisiana school districts use the courses for ACT/SAT prep for 11,000 high school juniors and seniors each year. LCTCS embeds courses directly through its Canvas portal, opening access for 100,000 college students. Staff from Louisiana State University Shreveport, Grambling State University, and Northwestern State University of Louisiana recommend the courses for students lagging behind.
Educators acrossin eight U.S. states, England, and Belize have formally adopted content. Course videos are housed on YouTube, and, in 2017 alone, users have accessed Open Campus learning content in all 50 states and 177 countries and territories.
Recognition as a U.S. Department of Education Promising Practice
In September 2015, BPCC was awarded a four-year, $1.8M U.S. Department of Education First in the World (FITW) grant to build a fully mobilized and gamified version of Open Campus content through a mobile-friendly, responsive application, free and available through three popular app stores.
Funding also supports the build out of an integrated data platform (IDP) to allow the college to drill down, isolate, track, and efficiently scale data-gathering capabilities within the app and to integrate user data with the college's Banner operating system to track individual and cohort student retention and completion rates. Midway through the grant, the college has completed and beta tested its Phase 1 app in classroom trials, and work has begun on Phase 2, expanding brain science features and gamified functions refined through Phase 1 beta testing.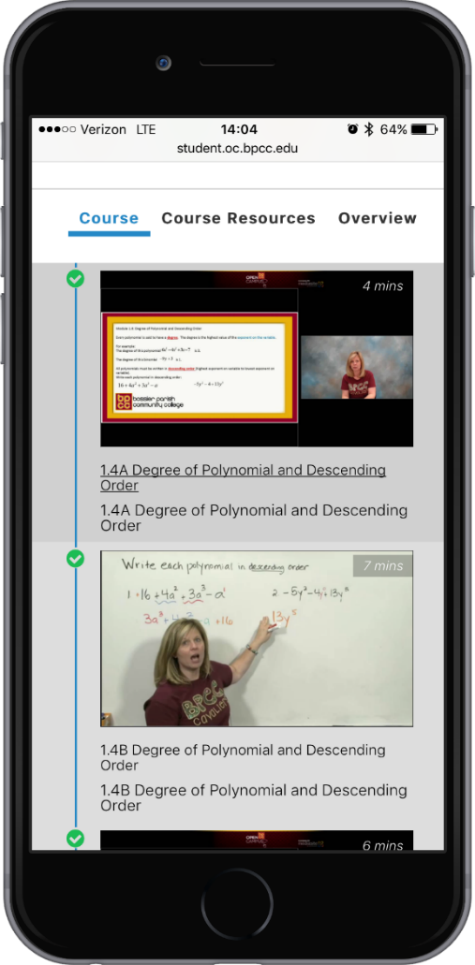 BPCC contracted with Civitas Learning to build the IDP, and, to date, 150 BPCC faculty and staff have been trained in its use. The college has kept to its original grant activity timeline and has experienced only minimal delay. By December 2019, plans are for the Open Campus Phase 2 mobile app to be offered free in Apple, Google Play, and Windows app stores.
Evidence of Improved Student Learning
Strong evidence of improved learning is reflected in data gathered from spring 2017 RCT. Trials in Beginning Algebra I, Beginning Algebra II, and Developmental Writing at BPCC and at NSU involved 980 students. BPCC's independent evaluator (Giani, 2017) reports that, for the three courses,
Students in the treatment group were roughly five percentage points more likely to have passed the course compared to students in the control group (68.7% vs. 64.0%). The treatment group also outperformed the control group in each of the three course numbers. The largest difference was in Math 98, where students in the treatment group were 6.1% more likely to have passed the course compared to the control group. The smallest differences was in Math 99, where treatment students were 2.9% more likely to have passed. For English 99, treatment students were 5.8% more likely to have passed the course. (p. 41).
Before the study, the veracity of BPCC's evaluation plan was vetted by the U.S. Department of Education's evaluation team for the potential to meet or exceed What Works Clearinghouse standards, and implementation was closely monitored by an independent evaluator, funded through the Department of Education's FITW grant.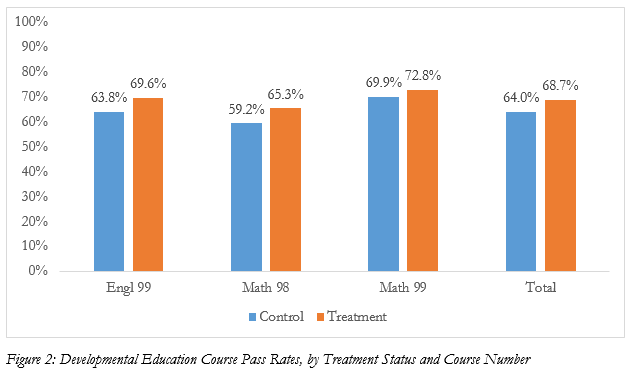 On a broader level, using BPCC's completion and graduation data, entering students using BPCC's Open Campus desktop model have now tested up or out of developmental math courses at statistically significant rates: Compared with Beginning Algebra II, placement rates into College Algebra, averaging 50 percent from fall 2011 to fall 2013, rose to an average of 60 percent from fall 2014 to fall 2016. Additionally, course pass rates for College Algebra—stagnated at 66 percent and 67 percent from fall 2011 to fall 2013—rose to 73 percent, 74 percent, and 72 percent, respectively, for fall 2014, 2015, and 2016.
Significant gains are now indicated in Beginning Algebra II, where pass rates rose from 64 percent to 69 percent, and Beginning Algebra I, where pass rates rose from 64 percent to 70 percent, during the same period. At the same time, associate degrees awarded in spring at BPCC increased 20 percent, while overall BPCC enrollment fell more than 20 percent. To earn an associate degree in any BPCC program, students must achieve proficiency in college-level math and English.
Notable Mentions and National Recognition
Since 2016, BPCC's Open Campus project has received national attention including three consecutive years as a Community College Futures Bellwether finalist. It has been recognized by University Business magazine as a promising practice in higher education: "'Global reach' is not typically a phrase associated with two-year schools, but with YouTube viewership in 182 countries, Bossier Parish Community College in Louisiana is enjoying the kind of exposure campus officials at many institutions can only dream of" (University Business, 2016, para. 1).
The project also received the National Council of Instructional Administrators' Exemplary Initiative Award: "[BPCC's] Open Campus project is an exceptional one with great results and recognition from others in how easy it is to replicate. The impact it is having on Bossier Parish Community College is amazing" (Headrick, 2017).
Other recent recognition for the project includes Reimagine Education Award finalist (2017), University Professional and Continuing Education Association Strategic Innovation in Online Education Award (2017), and National Council on Student Development Terry O'Banion Shared Journey Exemplary Practice Award (2016).
What's Next?
The second round of Open Campus mobile Phase 1 classroom trials ended in December 2017. Progress on Phase 2 will continue as the team works with its contractor to implement design features and functions identified through classroom trials. By mid-spring 2018, the team expects to be alpha testing its Phase 2 mobile design. BPCC intends to continue IDP training and expects to begin formal integration of the project's mobile data into existing college data streams.
Within 12 months, the project's mobile Phase 2 beta testing will be open for BPCC students and placement testers and fully integrated into the college's data streams. The college will continue to provide professional development for its faculty and student services staff on brain science applied to learning and will continue to train math and English faculty on mobile app classroom integration. BPCC intends to continue to share its best practice approach at national and international educational conferences and to submit its results and implementation plan for journal publication.
By year's end 2019, Open Campus mobile Phase 2 will be made available, free of charge, through popular app stores. The college will convert and update its full 13-course series, as well as continue to add free supplemental instruction content across the curriculum. Once the FITW grant is completed, the college expects to offer its design template for rebranding by colleges and universities in need of cost-effective, mobile-friendly Supplemental Instruction. The college is already seeking funding streams for 2019 and beyond, as plans to incorporate augmented reality and, later, virtual reality features into its mobile design.
This research was supported in part by a grant from the U.S. Department of Education First in the World Grant Program. Please contact Allison Haughton Martin for additional information.
References
Benassi, V. A., Overson, C. E., & Hakala, C. M. (2014). Applying science of learning in education: Infusing psychological science into the curriculum. Retrieved from http://teachpsych.org/ebooks/asle2014/index.php
Complete College America. (2012). Remediation: Higher education's bridge to nowhere. Retrieved from https://www.insidehighered.com/sites/default/server_files/files/CCA%20Remediation%20ES%20FINAL.pdf
Durso, T. W. (2016, December). Open campus. University Business. Retrieved from https://www.universitybusiness.com/mox/awards/open-campus
Fogarty, R., & Pete, B. (2004). The adult learner: Some things we know. Thousand Oaks, CA: Sage Publications.
Giani, M. S. (2017). Bossier Parish Community College First in the World evaluation: Second annual performance report. Retrieved from https://drive.google.com/file/d/1XyKE7B4WNDWkhd2FZl2WqCtV08BoH8of/view?usp=sharing
Headrick, D. (2017, July 20). NCIA Exemplary Initiative award. [Letter to Dr. Rick Bateman, Chancellor, Bossier Parish Community College]. Bossier Parish Community College, Bossier City, LA. Retrieved from https://drive.google.com/file/d/1h4mwhBVsab0MdWSs3liP1e--rncKfPb6/view  
Hiltz, S. R., & Turoff, M. (1978). The network nation: Human communication via computer. Reading, MA: Addison-Wesley.
Knowles (1973). The adult learner: A neglected species. Houston, TX: Gulf Publishing.
Nihalani, P., & Mayrath, M. (2010). Mobile learning: Evidence of increased learning and motivation from using an iPhone app. Retrieved from https://slidedocument.org/mobile-learning-evidence-of-increased-learning-and-motivation-from-using-an-iphone-app
Xu, D., & Jaggars, S. S. (2013). Adaptability to online learning: Differences across types of students and academic subject areas. (CCRC Working Paper No. 54). Community College Research Center, Teachers College, Columbia University.
Allison Haughton Martin is Director, Institutional Effectiveness Initiatives, and Project Director, First in the World Grant, Bossier Parish Community College, Bossier City, Louisiana.
Opinions expressed in Leadership Abstracts are those of the author(s) and do not necessarily reflect those of the League for Innovation in the Community College.