Improving Intercultural Communication with d/Deaf, d/Deafblind, and Hard of Hearing Community College Students
November
2022
Learning Abstracts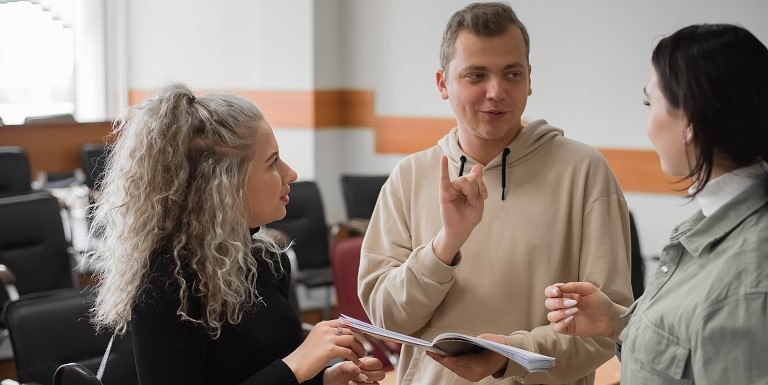 Despite acts like the 1990 Americans with Disabilities Act (ADA) defining and shaping public perception of deafness and deafblindness as only ability statuses, many d/Deaf, d/Deafblind, and hard of hearing (DDBHH) individuals identify themselves as members of their own culture—complete with unique languages, beliefs, values, and customs (Aldalur et al., 2021; Best, 2016; Rose, 2020). Legislation like the ADA has undoubtedly increased access to and quality of educational opportunities for DDBHH students. However, many DDBHH students' educational interfaces are with educators, interpreters, and students who are Hearing (Rose, 2020). Intercultural communication between DDBHH students and Hearing staff and peers is a critical part of developing allyship and a successful, responsive, and integrated pedagogy for DDBHH community college students. This article overviews literature surrounding DDBHH individuals in higher education and derives recommendations for ways to support this community inclusively and adaptively.
Introduction to DDBHH Experiences 
While the word deaf describes a person who does not hear, Deaf has been adopted to describe a person who identifies as a member of a culture defined by use of a language, typically American Sign Language (ASL), with d/Deaf referring to both groups together (Rose, 2020). Similarly, Hearing can be used to identify people within the norms of the majority hearing culture, rather than hearing being used as a neutral standard of what many consider "normal" ability. It is important to note that some d/Deafblind individuals consider Deafblind to be its own cultural group that is separate from the larger Deaf community (Wright, 2021). Instructors should communicate with DDBHH students directly to learn what cultures they do or do not identify as being a part of.
Members of the DDBHH community often experience marginalization that contributes to the shape of their lives. This can occur in addition to the discrimination they may experience from other aspects of their identity—like race or gender—which further increases the stress and challenges they face. It is important that educators familiarize themselves with the terminology and implications relating to these experiences of DDBHH communities.
Audism (Eckert & Rowley, 2013) refers to discriminatory attitudes and assumptions regarding people who are DDBHH as well as assumptions of audiocentricity (speaking and hearing) and of Hearing supremacy. Microaggressions from Hearing students and staff are one of the most common forms of audism DDBHH students face (Carpenter et al., 2020). Linguicism is a similar term to audism, but it regards the specific belief in the superiority of spoken language over sign language. Deafhood, Deaf ethnicity, Deafnicity, and Deaf ethnos are terms that are often used interchangeably in the DDBHH community to describe their practice and acceptance as members of Deaf culture (Eckert & Rowley, 2013).
DDBHH Rates in Higher Education
Garberoglio et al. (2019) reported that over 70 percent of Deaf and hard of hearing (DHH) students have attended a community college, a statistically higher rate than their hearing counterparts. However, as of 2017, 83.7 percent of U.S. DHH adults had successfully completed high school, compared to 89.4 percent of their hearing peers (Garberoglio et al. 2019). Unfortunately, this disparity in outcomes increases as students move into higher levels of education. Over 50 percent of DHH adults enroll in college, but completion rates for associate's and bachelor's degree programs fall to 27.7 percent and 18.8 percent of DHH adults, respectively. Comparatively, 63.9 percent of the Hearing population attempts college, with 43.3 percent completing associate's and 34 percent completing bachelor's degrees. Only 6.6 percent of DHH adults had completed their master's degree and 0.6 percent had finished a doctoral level program, with both rates being roughly half that of their Hearing peers (Gabergolio et al. 2019).
These gaps in education rates are regrettably even larger for d/Deafblind adults, with 73.1 percent completing high school; 40.9 percent completing some college; and 18.2 percent, 12.3 percent, 4.0 percent, and 0.4 percent obtaining associate's degrees, bachelor's degrees, master's degrees, and doctoral degrees, respectively (Gabergolio et al. 2019). In 2018, the National Deaf Center on Postsecondary Outcomes (NDC) identified four root causes for these disparities. Limitations in language and communication access at home and school, reduced social opportunities from communication and accessibility barriers, negative biases and attitudes that lower achievement expectations, and a general lack of professionals who are fully qualified and experienced in DDBHH pedagogy all contribute to the overall inequity of outcomes.
Accommodation in the Classroom
DDBHH students rely on intercultural communication with faculty and fellow students to assist in building support systems and enhancing the accessibility of their educational experience. It is important to introduce accessibility and inclusivity concepts to classes early and often, both in person and online. One effective technique is for educators to expand their syllabus beyond simply directing students to their campus disability office. Instead, explain how assistive technology may be used, provide guidelines for how students can speak in an accessible way for DDBHH students, and give information on what students with disabilities do and do not have to legally disclose (McKinney, 2016). Educators should make sure to use only multimedia material and resources that include relevant accessibility options, such as closed-captions, transcripts, or electronic braille.
Faculty should reach out to DDBHH students prior to the start of the semester to discuss specific needs and additional preferences that may not have already been noted by students' disability service department and familiarize themselves with what support options are available (Carpenter et al., 2020). Having a disability coordinator is rated by many DHH students as one of the most useful resources for their education (Powell et al., 2013); d/Deafblind students commonly report accessing academic resources such as tutoring and academic advising as the most significant barriers that they face (Arndt, 2010), so it is important to raise awareness of and link students to these resources. Hearing staff can also link DDBHH students with willing DDBHH staff to serve as resources, guides, and role models that are more familiar with many of the challenges these students may face.
Participating in lectures is among the areas in which DHH students report having the most difficulties (Powell et al, 2013). This can ideally be addressed by ensuring the presence of ASL or voice interpreters and properly trained one-on-one tutors. In lieu of, or in addition to, these resources, professors may offer written copies of lectures for DHH students to follow along with or use of a university provided speech-to-text device (Hankebo, 2018). Powell et al. (2013) also suggest minimizing facial hair and maintaining a brightly lit classroom for DHH students who prefer to follow lectures through lip reading and body language.
Another helpful approach is for teachers to adopt Universal Design principles in their classrooms. These include always using closed-captioned multimedia sources, allowing flexible seating so that DDBHH students always have visible access to material, minimizing ambient noise, and using digital chat or image boards like GroupMe or Padlet for class discussions (Taylor, 2020). Readability of presentations should take precedence over aesthetic design. Educators should standardize use of high-contrast colors, such as black and white or black and yellow. Any additional accessibility issues outside of teacher control should be brought to administrators, disability services, and DDBHH faculty for consultation and assistance in creating DDBHH friendly spaces.
Many DHH students access accommodations for the very first time when they enter college (Garberoglio et al., 2022). In addition to advocating on behalf of students, it is just as important, if not more so, to help teach and facilitate DDBHH students' own self-advocacy. The National Consortium of Interpreter Education Centers (2012) and the NDC (2019) provide guides to self-advocacy that educators can use themselves or provide to their students directly.
Expanding Learning in the Classroom and Beyond
Robinson and Henner (2019) discuss the idea of "cripping the university," a process of creating welcoming spaces for DDBHH students and faculty that supports critical engagement on questions of power and accessibility regarding DDBHH individuals and those with other disabilities. The best way to work toward accomplishing this and improving accessibility and outcomes for DDBHH students is to involve DDBHH voices as the focal points of conversations and resources. This can include speaking directly to DDBHH students or reaching out to DDBHH staff and other DDBHH resources in your community.        
The NDC is an excellent resource for community college educators, administrators, and DDBHH students. It offers free online training for increasing the accessibility of class and program designs as well as dozens of other free resources, such as guides on captioned media, speech-to-text, interpreting services, classroom accommodations, and community involvement opportunities (n.d.). Many of their staff are, or work directly with, the DDBHH community, importantly lending authentic voices to the discussion. The National Center on Deaf-Blindness offers many similar resources specific to working with d/Deafblind students. Creating a welcoming, inclusive, and accessible space for DDBHH students is a continual process. Information on how to best meet their needs is likely to change and improve, and we encourage educators to be diligent and genuinely curious in expanding their knowledge.
References
Aldalur, A., Pick, L. H., & Schooler, D. (2021). Navigating deaf and hearing cultures: An exploration of deaf acculturative stress. The Journal of Deaf Studies and Deaf Education, 26(3), 299-313. https://doi.org/10.1093/deafed/enab014
Arndt, K. (2010). College students who are deafblind: Perceptions of adjustment and academic supports. AER Journal: Research and Practice in Visual Impairment and Blindness, 3(1), 12-19. https://aerbvi.org/wp-content/uploads/2016/01/aerj-03-01-complete.pdf#page=20
Best, K. E. (2016). 'We still have a dream:' The deaf hip hop movement and the struggle against the socio-cultural marginalization of deaf people. Lied und Populäre Kultur / Song and Popular Culture, 60/61, 61-86.
Carpenter, E. A., Meltzer, A., & Marquart, M. (2020). Best practices for inclusivity of deaf/deaf/hard of hearing students in the synchronous online classroom. World Journal of Education, 10(4), 26-34. https://www.sciedupress.com/journal/index.php/wje/article/view/18704/11475
Eckert, R. C., & Rowley, A. J. (2013). Audism: A theory and practice of audiocentric privilege. Humanity & Society, 37(2), 101-130. https://doi.org/10.1177/0160597613481731
Garberoglio, C. L., Palmer, J. L., Cawthon, S., & Sales A. (2019). Deaf people and educational attainment in the United States: 2019. National Deaf Center on Postsecondary Outcomes. https://www.nationaldeafcenter.org/sites/default/files/Deaf%20People%20and%20Educational%20
Attainment%20in%20the%20United%20States_%202019.pdf
Garberoglio, C. L., Palmer, J. L., Ivanko, T.-N., Kinast, L., & Zito, S. (2022). Supporting deaf college students: Perspectives from disability services professionals. National Deaf Center on Postsecondary Outcomes.
Hankebo, T. A. (2018). Being a deaf and a teacher: Exploring the experiences of deaf teachers in inclusive classrooms. International Journal of Instruction, 11(3), 477-490.
McKinney, C. (2016). Cripping the classroom: Disability as a teaching method in the humanities. Transformations: The Journal of Inclusive Scholarship and Pedagogy, 25(2), 114-127.
National Consortium of Interpreter Education Centers. (2012). Deaf self-advocacy training: Curriculum tool kit (Second edition, student version).
National Deaf Center on Postsecondary Outcomes. (2018). Root causes of gaps in postsecondary outcomes for deaf individuals. U.S. Department of Education, Office of Special Education Programs.
National Deaf Center on Postsecondary Outcomes. (2019). Self-advocacy: The basics. U.S. Department of Education, Office of Special Education Programs.
Powell, D., Hyde, M., & Punch, R. (2013). Inclusion in postsecondary institutions with small numbers of deaf and hard-of-hearing students: Highlights and challenges. Journal of Deaf Studies and Deaf Education, 19(1), 126-140. https://doi.org/10.1093/deafed/ent035
Robinson, O., & Henner, J. (2018). Authentic voices, authentic encounters: Cripping the university through American Sign Language. Disability Studies Quarterly, 38(4).
Rose, H. M. (2020). Sounding sight in an ASL classroom, Review of Communication, 20(4), 316-323. https://doi.org/10.1080/15358593.2020.1819554
Taylor, K. (2020). One-stop lesson planning: How universal design for learning can help students who are deaf or hard of hearing. Odyssey: New Directions in Deaf Education, 21, 48-51.
Wright, S. J. (2021). Deafnormativity: who belongs in deaf culture? Disability and Society, 36(8), 1221-1239. https://doi.org/10.1080/09687599.2020.1787818
Jill Channing is Chair, Educational Leadership and Policy Analysis, and Associate Director, Center for Community College Leadership, at East Tennessee State University in Johnson City, Tennessee, and part-time instructor, English and Humanities, at Truckee Meadows Community College in Reno, Nevada. Benjamin Patterson is graduate student, Clinical Mental Health Counseling, at East Tennessee State University. Stephanie Horvath is doctoral student, Education Leadership, at East Tennessee State University, and Tenure Track Assistant Professor, ASL/Deaf Studies, at Maryville College in Maryville, Tennessee.
Opinions expressed in Learning Abstracts are those of the author(s) and do not necessarily reflect those of the League for Innovation in the Community College.