HyFlex Teaching and Learning: Innovating and Collaborating for Equitable Student Access and Success for Adult Learners
July
2022
Learning Abstracts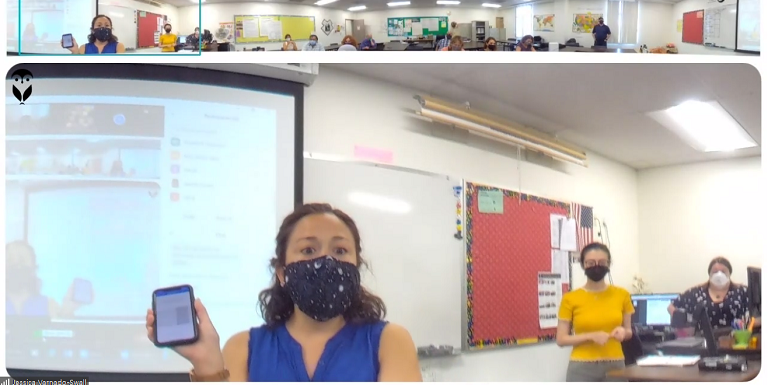 Community colleges across the U.S. report declining enrollment due to the pandemic, changing demographics, and temporary assessment policy changes (California Community Colleges Chancellor's Office, 2021; National Student Clearinghouse Research Center, 2021). In addition, 2019 data gathered by the National Center for Education Statistics (2021) showed that the percentage of students aged 22 or older, or adult learners, is increasing. 
A variety of factors can explain the decline in student enrollment during the pandemic. The increase in technical requirements and digital literacy skills needed to participate in distance education made participating in fully online courses out of reach for some students. Students were sidelined because the digital divide (e.g., lack of digital skills, lack of access to devices and the Internet) and equity issues (e.g., housing, childcare) prevented them from accessing the online courses (California Community Colleges Chancellor's Office, 2021; Cooper et al., 2020). Additionally, some students indicate a desire for more flexible and accessible courses. A recent survey conducted by some of the California Community Colleges revealed that, "There was interest in hybrid courses that included in-person and online instruction" (California Community Colleges Chancellor's Office, 2021, p. 11). Another survey of 400 students from diverse groups, the found that,  
More than half of the focus group participants said they would prefer some form of hybrid educational setting that included online and in-person instruction. Twenty-seven percent of the respondents said they preferred all online instruction, and 18% favored all in-person. The top reasons for preferring all online or hybrid instruction were the convenience and independence that the modalities provided, specifically as it relates to fitting into work schedules. The . . . "need to work full time" was cited as the number one or number two barrier to enrolling in a California community college across all racial groups. (Chancellor's Office of the California Community Colleges, 2021, p. 11) 
Given these insights, higher education leaders at California Community Colleges have been piloting enrollment management approaches, including innovative teaching and learning strategies. 
Need, Problem, and Issue
San Diego College of Continuing Education (SDCCE), the noncredit college of the San Diego Community College District (SDCCD), is one of the largest noncredit providers of adult education in the California Community College system (San Diego College of Continuing Education, n.d.). In 2019-2020, SDCCE had an annual headcount of approximately 38,400 students (San Diego College of Continuing Education, n.d.). However, SDCCE's Enrollment Management Dashboard (n.d.) shows a decline in enrollment for all teaching modalities during the pandemic. For example, active enrollment declined from 21,027 to 18,561 from fall 2020 to fall 2021, representing a 11.73 percent rate of decline in one year (San Diego Community College District, n.d.). The decline in active enrollment would have been greater if not for the addition of two distance education modalities in fall 2021: hybrid (957 enrollments) and hybrid flexible/HyFlex (1,300 enrollments). Not including enrollment in HyFlex courses, overall enrollment was down 3,766 enrollments, or 17.91 percent.
Even before this data was available, SDCCE administration and faculty leaders recognized the inequities in the system and developed a phased return-to-campus approach through an equity lens. Classes were identified for fall 2021 based on the need to learn hands-on technology skills in live in-person labs and classrooms. Program leaders identified the most significant drops in student enrollments and concluded that drops were due to many factors, including an inability to access fully online classes or to be successful in remote education. During a fall 2021 panel of pilot HyFlex faculty and students, a student reported a preference to participate in the on-campus portion of the HyFlex course:
I like going in person to the classroom, but not online because I learn more in person. I have, like, low technology for doing Zoom or whatever. I have another class that's online and I don't go anymore because I got frustrated and confused because of the technology. (Cueva & Sun, 2022, Zoom recording audio transcript 6:48)
Students prefer the flexibility of being able to attend classes in a variety of ways, including on-campus, fully online, or a combination of both (Barbaro, 2021; California Community Colleges Chancellor's Office, 2021). The HyFlex teaching modality is considered an emerging instructional method to serve students (Beatty, 2019), especially those who were most affected by the pandemic.
Process for Addressing the Need, Problem, or Issue
In response to inequities made visible by the drop in SDCCE's most disadvantaged student population and limited student demand to return to campus for in-person classes, educational leaders proposed offering flexible modalities that allow students to participate online or on-site syncronously, on-campus, or in live synchronous web conference classes. SDCCD and labor union leaders, SDCCE faculty and administrators, SDCCE and district classified professionals, and vendors collaborated to pilot innovative HyFlex instruction to increase adult student access and success. HyFlex is a hybrid approach, delivering face-to-face and online instruction co-synchronously (Beatty, 2019; Sanchez-Pizani et al., 2022).
Critical to the successful implementation of a HyFlex modality was systemwide collaboration. During late spring and summer 2021, a team of cross-discipline and cross-district stakeholders designed, developed, and implemented a HyFlex plan consisting of identifying and ordering hardware, piloting technology for instruction, training faculty and instructional staff, launching HyFlex courses, and providing ongoing HyFlex professional development.
The HyFlex development process began with English as a Second Language (ESL) professors field testing two Meeting OWL Pro camera devices in May 2021. One month later, administration, faculty, and technologists observed a classroom demonstration by SDCCE's ESL Technology Coordinator. This demonstration led to District IT and college leaders meeting to discuss HyFlex hardware and software needs, and the college ordering dynamic HyFlex technology with ceiling speakers and microphones and a video camera on the rear wall. Faculty leaders then met, designed, and planned field testing and professional development.
SDCCE installed the permanent HyFlex technology into priority classrooms in July 2021. First, vendors demonstrated the technology at the SDCCE North City Campus while faculty leaders field-tested laptops and tablets to support HyFlex teaching. The SDCCE summer Equity Curriculum team then identified required HyFlex teaching changes, including instructors remaining present during online video streaming, and ensured that there was no sound interference to affect clear audio. Finally, the team determined that IT support was needed for the first few HyFlex class meetings, which were offered in August.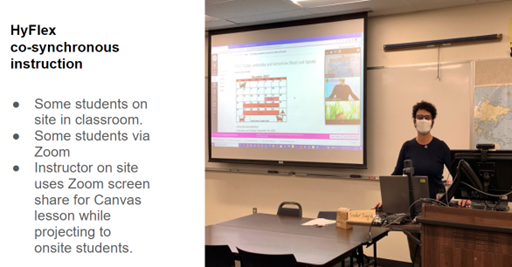 In fall 2021, SDCCE launched 39 HyFlex pilot classes in two programs—ESL and Direct Support Professional (DSP)—and HyFlex faculty noted that students took advantage of the choices and flexibility offered. An ESL instructor reported receiving notices from students who were sick and could not come to class during the Omicron surge in January 2022, but attended the classes online (Greenberg, 2022). A DSP instructor said, "I have a student who starts class at home, rides the bus, and comes to class in person each day. It is hyflex to the max" (Greenberg et al., 2022, Zoom recording chat message 33:22). After successfully implementing the pilot HyFlex courses in the fall, 45 HyFlex classes launched in four programs—DSP, Emeritus, ESL, and Information Technology—in spring 2022.
Impact
During the 2021–2022 academic year, more than 80 HyFlex course sections with over 1,300 enrollments were successfully launched in four educational programs. In addition, more than 40 instructors and 20 instructional assistants gained the skills needed to implement this emerging pedagogy. Student Services leaders noted that the HyFlex courses were some of the first on-campus classes since the pandemic started, thus supporting a soft launch of return-to-campus activities for a small percentage of students and giving employees a chance to acquaint themselves with on-campus practices in the new pandemic-influenced environment.
Lessons Learned
Collaboration was critical and involved all stakeholders and technologists as well as administration from the business office. Multiple components to the Hyflex project needed to be coordinated, including developing a plan, designing the technology, field testing the accrual implementation, and evaluating the program across the institution with iterative processes.
SDCCE has a strong support structure for faculty teaching and learning, but that structure needed to be expanded with the creation of HyFlex faculty champions leading their peers' field testing and training. On-campus HyFlex faculty mentors were critical at the beginning of each semester to provide in-person technology and pedagogy support for faculty. A longer-term support structure utilizing the community of practice framework was also necessary for faculty and staff support.
Student digital equity and literacy supports were also crucial. Students needed instruction to use devices, access the Internet, and download and sign up for various computer applications. SDCCE found small group HyFlex digital literacy orientations for students, one-to-one tutoring for digital literacy during HyFlex class on site, and a four-week online learning skills class contributed to students' success. 
Finally, institutionwide communication ensured that all constituents knew about and understood the utilization of HyFlex teaching and learning at our institution. Communication took place through shared governance committees, academic senate committees, technologists, the Associated Student Body, college administrators, faculty leadership, and the labor union. 
Recommendations
SDCCE recognizes the need to expand and scale student digital equity, literacy, and inclusion support to engage in online, hybrid, and HyFlex classes and will continue best practices with faculty professional development while also streamlining for HyFlex technology models. Additional faculty hands-on practice for each technology model will be offered in future semesters. Furthermore, faculty distance education leadership will identify ways to improve student-to-student interaction during live, synchronous instruction in the classroom and on Zoom. Accordingly, SDCCE hopes to continue to improve Zoom breakout and pair instructional activities.
SDCCE will develop surveys to determine student and faculty confidence levels, additional support needs, and next steps. Data reports with analysis of student success metrics for the HyFlex pilot during the 2021-2022 academic year will also be conducted. In addition, stakeholders will continue to collaborate as HyFlex teaching is built into faculty labor contracts and new technology and software are introduced.
References
Barbaro, N. (2021). The new digital divide: How edtech self-efficacy is shaping the online student learning experience in higher ed. College Innovation Network EdTech Student Survey Series. https://wgulabs.org/wp-content/uploads/2021/07/EdTech-Survey-Report-Summer-2021.pdf 
Beatty, B. J. (2019). Hybrid-flexible course design: Implementing student-directed hybrid classes (1st ed.). EdTech Books. https://edtechbooks.org/hyflex
California Community Colleges Chancellor's Office. (2021). Student centered action & response course section offerings and plans for future instruction. Senate Bill 129 Legislative Report. https://www.cccco.edu/-/media/CCCCO-Website/Reports/cccco-report-course-modality-010621-a11y.pdf?la=en&hash=A202408FDDDD2AE3C70595B76EC774843E0A4DFC
Cooper, S., Hart, C., Kurlaender, M., Rios-Aguilar, C., Rodriguez, F., & Sublett, C. (2020). Turning on a dime: California community college transformation in response to COVID-19. Research Brief. Wheelhouse: The Center for Community College Leadership and Research, University of California, Davis. https://education.ucdavis.edu/sites/main/files/ucdavis_wheelhouse_research_brief_vol5no2_final.pdf
Cueva, M., & Sun, J. (2022, January 11-12). Panel of fall 2021 pilot HyFlex faculty: Effective practices for instruction [Flex training session]. San Diego College of Continuing Education virtual meeting.
Greenberg, I. (2022, May 18). HyFlex pilot: Best practices and recommendations for student access and success [Academic Senate training session]. Grossmont College virtual meeting.
Greenberg, I., Sun, J., & Cueva, M. (2022, January 11-12). HyFlex for student access and success: Recommendations for pedagogy, hardware and software [Flex training session]. San Diego College of Continuing Education virtual meeting.
National Student Clearinghouse Research Center. (2021, November 28). Stay informed with the latest enrollment information. https://nscresearchcenter.org/stay-informed
National Center for Education Statistics. (2021). Total fall enrollment in degree-granting postsecondary institutions, by level of enrollment, control and level of institution, attendance status, and age of student: 2019. Digest of Education Statistics. https://nces.ed.gov/programs/digest/d21/tables/dt21_303.50.asp
Sanchez-Pizani, R., Detyna, M., Dance, S., & Gomez-Agustina, L. (2022). Hybrid flexible (HyFlex) seminar delivery – A technical overview of the implementation. Building and Environment, 216. doi: 10.1016/j.buildenv.2022.109001
San Diego College of Contining Education. (n.d.). About us. https://sdcce.edu/organization/about-us
San Diego Community College District. (n.d.). SDCCE Enrollment Management Dashboard. https://public.tableau.com/app/profile/sdccd.institutional.reseach/viz/SDCCEEnrollment
ManagementDashboard/Overview
San Diego College of Continuing Education (n.d.). 2021 SDCCE Headcount Dashboard (Comparative). Office of Planning, Research, and Institutional Effectiveness. https://public.tableau.com/app/profile/sdce/viz/2021SDCCEHeadcountDashboard
Comparative/HeadcountAnnual
Lead image: HyFlex field testing, August 2021
Dr. Michelle Fischthal, DBA, is Vice President, Instructional Services, and Dr. Ingrid Greenberg, EdD, is Online Faculty Mentor at San Diego College of Continuing Education in San Diego, California.
Opinions expressed in Learning Abstracts are those of the author(s) and do not necessarily reflect those of the League for Innovation in the Community College.