How Do I Do This Online? Overcoming the Challenges of Teaching Virtual Corequisite Composition Courses
December
2022
Learning Abstracts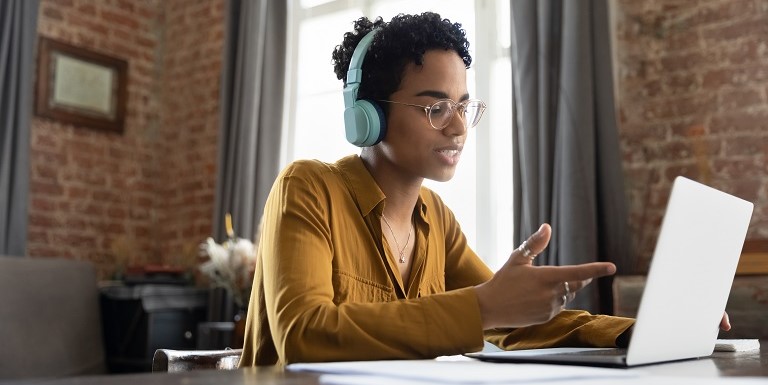 Corequisite English and mathematics courses were born in response to the low retention, success, and persistence rates among developmental English and mathematics students, most of whom never persisted successfully into credit-bearing gateway English and mathematics courses (Bailey et al., 2010). Despite promising initial results with corequisite remediation (Daugherty et al., 2021; Logue et al., 2019; Miller et al., 2020; Ran & Lin, 2019), current scholars have addressed student retention, achievement, and challenges with corequisite composition courses (Carter, 2018; Jacks, 2021; Miller et al., 2020; Miller et al., 2021; Surfus, 2020). Ran and Lin (2019) studied the impacts of corequisite English courses, finding that students placing at the margins of college readiness and taking corequisite English composition courses were 13 percent more likely to pass a gateway English course within one academic year; however, this same study revealed no significant impact on students' overall persistence or degree completion. Although previous literature suggests methods for corequisite instruction (Blaauw-Hara et al., 2020; Jacks, 2021; Miller et al., 2021; Surfus, 2020), there are limited data and curricular models for corequisite composition coursework offered online. The curriculum and instructional delivery model described here address the gap in the literature focusing on online corequisite composition curriculum. This model was developed in response to common challenges that online instructors face, including student engagement, achievement, communication, and online attendance.
What Is Corequisite English Composition Online?
Like its face-to-face counterpart, corequisite composition online is a comprehensive English composition course. The course covers the writing process, rhetorical concepts and styles, and successful college writing skills. Instructors provide the support and resources that students need to develop college-level writing skills. Additional supports and scaffolding are used to assist students who may otherwise not be ready for college-level composition coursework.
Model for Teaching English Corequisite Online
This corequisite composition course includes five modules. Each module includes writing labs, discussions, reflection assignments, and essay assignments. The writing labs provide directed support with targeted skills such as developing thesis statements, writing introductions, and citing and synthesizing source material. The model also provides practice in areas where students commonly struggle, such as evaluating web sources, paraphrasing, and analysis writing. The online corequisite composition course has the same outcomes as English Composition I, and similar major assignments are used. However, key to this method of teaching is providing, through virtual means, the extra support students need.
Begin With the End in Mind
This model is based on essay- and process-centric approaches. All assignments scaffold the essay assignments, and all assignments align with course objectives and outcomes. The course contains a comprehensive introductory module with a letter to students, introductory video, tips for course success, class ground rules, grading standards, introductory discussion, and syllabus assessment. The introductory module sets a collaborative tone for the class's discourse community. I ask students to share something unique about themselves, provide an interesting and appropriate image, and describe their baseline knowledge of reading and writing. Students have multiple attempts at the syllabus assessment to ensure that they are knowledgeable about important syllabus information.
Essay-Centric Approach
Essays are broken down into their parts—brainstorming, writing theses, writing introductions, and researching. Also integrated into writing labs, discussions, and essays are instruction in critical thinking and reading, such as how to use textbooks and reference books. In course design, it is important to consider sequencing of skill development. For example, I sequence skills such as thesis statement, MLA style citation, and introduction writing to scaffold students' learning early in the course.
The focus for each module is the essay, and each essay emphasizes specific course objectives/outcomes. This clear course design simplifies navigation and enables students to understand course content and assignment sequencing. As one student reported, "everything was easily accessible." When designing modules, scaffolding strategies include pre-writing assignments (i.e., freewriting, clustering, brainstorming, listing, and looping); a thesis development and evaluation writing lab; and readings that can be used as sources for essays. Students write an essay on social media and the information age and read texts on related topics, which can be used as sources for essays. Discussion assignments engage students in the essay topic, and students practice citing sources in the discussion assignments. Discussions prepare them for writing each module's essay. Students are also introduced to library research and complete a library orientation activity in which they identify and save library sources, using library databases, for their essay topics. Students additionally complete a web source evaluation activity where they evaluate three sources related to a potential essay topic. I select the web sources and usually select a government source, a scholarly source, and a biased source. Students answer specific in-depth questions to evaluate the web sources and determine whether they are acceptable for a college essay. In writing labs, discussions, and essays, students are consistently given opportunities to cite sources. I have found that teaching students to cite early in the semester can prevent issues with plagiarism throughout the course.
Challenges and Strategies
Online corequisite composition instructors face many challenges as they seek to serve students. Some of the issues that my colleagues and I identified were student disengagement and attrition; students not submitting assignments; students submitting work late; students not buying textbooks; students' unresponsiveness to peer and instructor communication; students' lack of self-regulation skills; and students' learning loss and challenges with online learning related to the COVID-19 pandemic. Although these challenges cannot be eliminated, they can be ameliorated. For example, instructors can create or curate open educational resource videos to explain course content. I use a YouTube video to teach film analysis, then ask students to analyze a film clip that they find on YouTube. Students also find a recent music video and practice analyzing it, identifying specific criteria. By using these topics and exercises that interest students and that provide an element of choice in most assignments, students become more engaged in course content. As one student noted, "What I liked the most about this course was the ability to have a lot of freedom with our essays." Students write an essay on a self-selected topic about social media or the information age. They learn more about the advent of the information age and the ways technology has influenced daily life. Students frequently report that the second essay is the one they most enjoy writing. For the film analysis essay, students choose an approved film to analyze based on criteria that they identify. Students write a traditional argument research essay for their final essay. However, they develop the topic through prewriting about their roles in life. Then, they develop a list of argument topics related to their roles and personal interests. This prevents students from writing about cliché topics that do not relate to their lives.
I collaborate with students to foster a learning community within the course. On the discussion board, I consistently interact with and encourage dialogue among students. One student mentioned, "The thing I liked most about this course was the discussions just because it was nice to hear feedback from other people." Students complete peer reviews on the discussion board so they can see each other's reviews and rough drafts. This, too, enables me to provide feedback on rough drafts and to model providing feedback. Research consistently supports that instructors have the most significant impact on student success (Almaiah & Alyoussef, 2019; Finelli et al., 2018; Petillion & McNeil, 2020). Frequent instructor-student and student-student communication are needed to establish and maintain an effective community of learners. I use frequent announcements, email messages, texts, videos, discussions, direct instructor support through individual outreach, and substantive feedback. Online corequisite composition students need timely feedback on their writing and, in particular, rough drafts leading up to the final essay. Video conferencing, phone, and email are effective means for directly supporting students as they draft. Checking in with students also makes a difference. My students report that they appreciate being able to text me and that I text them back. I use a Google Voice number for texting, but there are numerous other texting applications available.
Significantly, I utilize high-expectation strategies, as these are evidence-based practices that encourage students to work to the best of their abilities (Rubie-Davies et al., 2020; Rubie-Davies & Turner, 2022). Students are expected to read, consider, and use feedback to improve continually and to demonstrate growth as writers. However, instructors cannot simply have high expectations without providing the appropriate tools and resources for students to meet these expectations. I encourage students to use online or face-to-face tutoring. Most students in online sections prefer online tutoring, so I incentivize it by providing small amounts of extra credit for using it. Students must submit tutoring reports and demonstrate that they used tutors' advice in their work to receive extra credit.
To encourage persistence, I use critical and metacognitive thinking assignments throughout the course. Students begin the course by thinking about their reading and writing processes and experiences. They reflect upon individual papers and their work as a whole in the course. They provide assessments of the course and of themselves at the course midpoint. I use this feedback to adjust the course as necessary. I hope that students carefully consider their self-assessments, and if they have fallen behind, that they commit to improvement and seeking resources.
Essentials to Teaching Corequisite Composition Online
High-interest topics and assignments, formative assessments used to scaffold learning, and consistent communication are the most essential elements of successful online corequisite composition courses. Additionally, from the beginning of the semester, it is important to establish and cultivate a discourse community where students feel free to share ideas and to think critically. The discussion board is an ideal place to scaffold learning and to develop community through dialogue. Through instructor engagement and presence in the course, students feel more connected with the instructor and are more apt to engage with peers (Park & Kim, 2020; Sheridan & Kelly, 2010). I found that frequent communication helps to keep students on track and helps them to get back on track as needed. I recommend that instructors use multiple methods of communication to reach students, including texts, phone calls, video conferencing, and emails. Although teaching corequisite composition courses comes with challenges, instructors can utilize thoughtful design to encourage engagement and to provide the additional supports students need.
References
Almaiah, M. A., & Alyoussef, I. Y. (2019). Analysis of the effect of course design, course content support, course assessment and instructor characteristics on the actual use of e-learning system. Ieee Access, 7, 171907-171922.
Bailey, T. R., Jeong, D. W., & Cho, S. (2010). Referral, enrollment, and completion in developmental education sequences in community colleges. Economics of Education Review, 29(2), 255-270.
Blaauw-Hara, M., Tebeau, C. S., Borowiak, D., & Blaauw-Hara, J. (2020). Is a writing-about-writing approach appropriate for community college developmental writers in a corequisite class? Composition Studies, 48(2), 54-73.
Carter, K. S. (2018). In it to win it: An examination of community college developmental students enrolled in corequisite remediation English courses [Unpublished doctoral dissertation]. Texas A & M University.
Daugherty, L., Mendoza-Graf, A., Gehlheaus, D., Miller, T., & Gerber, R. (2021). Student experiences in English corequisite remediation versus a standalone developmental education course. Rand Corporation.
Finelli, C. J., Nguyen, K., DeMonbrun, M., Borrego, M., Prince, M., Husman, J., Henderson, C., Shekhar, P., & Waters, C. K. (2018). Reducing student resistance to active learning: Strategies for instructors. Journal of College Science Teaching, 47(5).
Jacks, L. (2021). Tennessee Promise: Examining student retention strategies and support programs for preventing student departure (Publication No. 2600953929) [Doctoral dissertation, College of Saint Mary]. ProQuest One Academic.
Park, C., & Kim, D. G. (2020). Perception of instructor presence and its effects on learning experience in online classes. Journal of Information Technology Education: Research, 19, 475-488.
Logue, A. W., Douglas, D., & Watanabe-Rose, M. (2019). Corequisite mathematics remediation: Results over time and in different contexts. Educational Evaluation and Policy Analysis, 41(3), 294-315.
Miller, T., Daugherty, L., Martorell, P., & Gerber, R. (2020). Assessing the effect of corequisite English instruction using a randomized controlled trial. American Institutes for Research.
Miller, T., Daugherty, L., Martorell, P., & Gerber, R. (2021). Assessing the effect of corequisite English instruction using a randomized controlled trial. Journal of Research on Educational Effectiveness, 15(3), 1-25.
Petillion, R. J., & McNeil, W. S. (2020). Student experiences of emergency remote teaching: Impacts of instructor practice on student learning, engagement, and well-being. Journal of Chemical Education, 97(9), 2486-2493.
Ran, F. X., & Lin, Y. (2019). The effects of corequisite remediation: Evidence from a statewide reform in Tennessee (Working Paper No. 115). Community College Research Center.
Rubie-Davies, C., Meissel, K., Alansari, M., Watson, P., Flint, A., & McDonald, L. (2020). Achievement and beliefs outcomes of students with high and low expectation teachers. Social Psychology of Education, 23(5), 1173-1201.
Rubie-Davies, C. M., & Turner, H. (2022). Teacher expectations and teacher expectation effects. Routledge Resources Online-Education.
Sheridan, K., & Kelly, M. A. (2010). The indicators of instructor presence that are important to students in online courses. Journal of Online Learning and Teaching, 6(4), 767.
Surfus, D. L. (2020). Associations between developmental English models and college students' completion and persistence (Publication No. 2424771863) [Doctoral dissertation, Walden University]. ProQuest One Academic.
Jill Channing is Chair, Educational Leadership and Policy Analysis, and Associate Director, Center for Community College Leadership, at East Tennessee State University in Johnson City, Tennessee, and part-time instructor, English and Humanities, at Truckee Meadows Community College in Reno, Nevada.
Opinions expressed in Learning Abstracts are those of the author(s) and do not necessarily reflect those of the League for Innovation in the Community College.