Helping More Students Complete: North Carolina's Multiple Pathways to High School Equivalency Program
March
2021
Learning Abstracts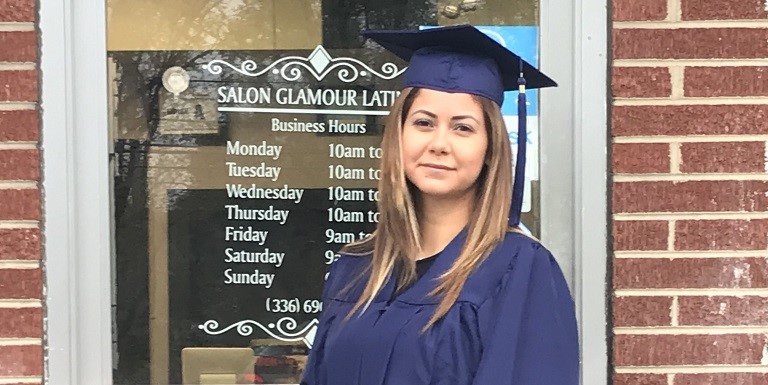 In 2014, the North Carolina Community College System (NCCCS) began studying the creation of alternative pathways to earning a high school equivalency credential. Under the direction of President David Johnson of Johnston Community College, a broad-based group of College and Career Readiness (CCR) administrators and others convened. Their purpose was to chart a new pathway for students to complete high school by combining two or more different kinds of evidence showing documented completion of the five required competencies: English language arts/literacy, mathematics, science, social studies, and technology.
Some students find it difficult to complete all parts of a high school equivalency exam. Others have started and stopped efforts to complete high school several times using different methods, including adult high school and high school equivalency. Some states have explored or created alternative pathways to high school completion. Providing the opportunity for students to mix and match evidence of competence within the required subject areas is critical to getting more students across the finish line.
There are two phases to North Carolina's Multiple Pathways High School Equivalency (MPHSE) project. In phase one, college officials help students complete and/or combine coursework and assessments from various institutions and sources to obtain a high school or equivalent credential. In phase two, which has not yet been implemented, students will be awarded credit toward high school completion by meeting competencies through workplace training, career achievements documented through a portfolio, military training, and other non-course academic learning experiences.
Technology
Northstar is a key piece in the panoply of standardized assessments. Originally created by the Saint Paul Public Library and Saint Paul Community Literacy Consortium, Northstar assesses and addresses important competencies in digital literacy. North Carolina community colleges can purchase a single site or multiple site license to offer the tests and produce individualized certificates of completion when students earn a passing score on six selected assessments (Basic Computer Skills, Internet Basics, Using Email, Microsoft Word, Social Media, and Information Literacy). These assessments are used to demonstrate the required technology competencies: sources of information, technology as a tool, communicating with technology, safety and ethical issues, and applied technology.
Approved Pathways
There are currently five approved pathways for students to use in combination to complete a high school equivalency:
High school courses
Adult high school courses
High school equivalency assessments
Other standardized tests
College courses
The first pathway builds upon students' original high school coursework. For instance, a student may have completed English I through English III, but still needs to complete the equivalent of English IV. This student could complete English IV through Adult High School. For the High School Equivalency Assessment pathway, a student can take the English Language Arts portions of GED, HiSET, or TASC, meeting the college-ready scores given in the MPHSE Operations Manual. Perhaps the student failed English IV in high school, but passed one of the other standardized assessments such as the AP English Language and Composition or International Baccalaureate English assessment, or maybe the student met the college-ready benchmark on the ACCUPLACER placement tests in Reading Comprehension and Sentence Skills to qualify for dual enrollment. Finally, it is possible that the student has passed college courses, either in another country or in the U.S., through dual enrollment or as an adult enrolled at a community college.
Process and Training
The key to the process is flexibility. MPHSE allows the use of multiple assessments, including admissions and placement tests, more than three dozen high school technology courses that have been determined as meeting one or more of the technology competencies, and college courses in any of the five content areas. Each month, assuming there is a candidate for graduation, the student's college presents the case at the standing MPHSE Committee meeting. Each participating college designates a Chief CCR Administrator and an authorized Transcript Evaluator to review documents presented by students and decide if content area credit may be awarded based on the Multiple Pathways option. The committee then determines if the student has met the requirements in the five content areas and, if so, the approved officials upload the materials to DiplomaSender. The NCCCS Liaison reviews the materials and graduates the student. Soon after, the student can order an official high school equivalency diploma. The committee review has so far helped participating college staff to educate each other on how the process should work. In the future, the liaison will review the materials uploaded by local college officials. This will save a step and, ideally, reduce the waiting time for students.
Of the 58 North Carolina community colleges, 22 community colleges have completed the mandatory training for MPHSE. For a college to be eligible to offer MPHSE, the CCR Chief Administrator and the College Transcript Evaluator must complete the MPHSE Implementation training and DiplomaSender training. Once a community college's representatives have completed both trainings, the NCCCS office will set up the institution's account in DiplomaSender.
The Students
The following stories of MPHSE project graduates mirror those of community college students from around the U.S. One student dropped out of high school at the age of seventeen when his girlfriend became pregnant, but later worked with College and Career Readiness staff to put together a realistic plan for completing high school. Another had anger issues and ran whenever he felt pressure building; through the program, he settled down and began making friends, eventually entering an advanced manufacturing program. Another student dropped out of high school as a senior to have the first of eight children. After twenty-two years, Multiple Pathways allowed her to earn her high school equivalency credential. One middle-aged student had passed all parts of the GED except math. After several unsuccessful attempts to pass the math section, she lost her job, which required her to complete high school. She had all but given up, but came back one more time to the college, where she was introduced to Multiple Pathways. She passed HiSET math and the Northstar technology assessments, and is employed once again.
For another recent graduate, obtaining a high school diploma was as important to her family as it was for her. English is not her first language, and she had been taking ESL classes for years at her local community college. Her highest level of education was the sixth grade, and her children were thinking of dropping out of high school. She made them a deal: If she completed high school, they would, too. As she owns a hair salon, her day started with class at 8:00 a.m. every morning before she had to open her shop at 10:00 a.m. Her initial plan was to prepare for and pass the HiSET test, but she struggled with science and language arts. After 15 years of effort, MPHSE allowed her to finally complete high school, something her children are now on track to do as well.
Concluding Thoughts
There are close to a million adults in North Carolina with less than a high school education (United States Census Bureau, 2020). These 940,000 individuals make up more than 11 percent of the adult population, but for some demographic groups the percentage is significantly higher—14 percent for Black individuals, 23 percent for Native Americans, and 37 percent for Latinx individuals. And in each group, the rate is higher for males. The goal of equity will be served if we can provide better access to high school completions for more of our residents.
For more detailed information about setting up a Multiple Pathways High School Equivalency program at your college, or in your state, please contact Brad Bostian.
Reference
United States Census Bureau. (2020). 2019: ACS 1-year estimates subject tables. https://data.census.gov/cedsci/table?g=0400000US37&tid=ACSST1Y2019.S1501
Photo caption: Hermilia Ruiz-Espinoza, MPHSE Graduate
Brad Bostian is Executive Director, Student Success Navigators, at Central Piedmont Community College in Charlotte, North Carolina. Susan Huneycutt is Associate Dean, Arts, Sciences and Education, at Davidson-Davie Community College in Thomasville, North Carolina. Debbie Woodward is Dean, College Readiness and Basic Skills, at Wilkes Community College in Wilkesboro, North Carolina.
Opinions expressed in Learning Abstracts are those of the author(s) and do not necessarily reflect those of the League for Innovation in the Community College.