Game Changer: Using Kahoot! to Promote Active Learning
February
2019
Learning Abstracts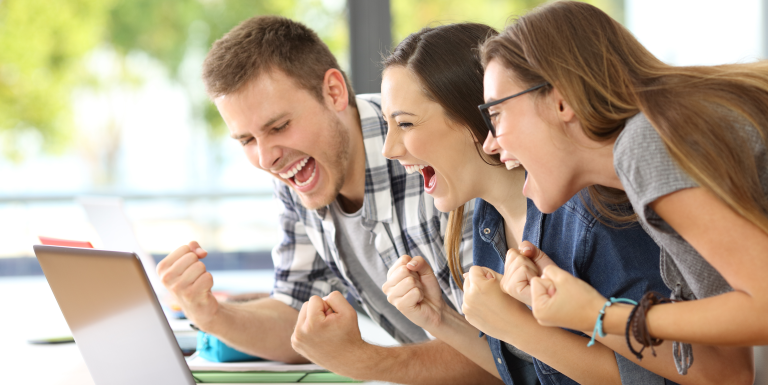 Selecting strategies to engage and motivate students remains a challenge for many higher education professionals. The ability to optimize the instructional period while also appealing to various learning styles and generations in the classroom requires preparation and practice. While some courses are filled with newly graduated high school students, others may include students from multiple generations. The generations represented in the classroom are just as diverse as the learning preferences of students. In addition, each semester instructors enter classrooms to find students absorbed with their technological devices. Efforts to encourage verbal communication are often met with resistance due to a decline in social skills (Reed, 2012). This instructor sought to increase student engagement by using a game that encourages competition and stimulates cognitive development.
Game-Based Learning
DeGrove, Bourgonjon, and Looy (2012) defined game-based learning as "any digital game that can be used in a learning context" (p. 2026). According to Snow (2016), digital games are useful for nontraditional students attending community colleges, universities, and other specialized programs. Instructors have used game-based learning to illustrate a concept, test student knowledge, and keep students engaged (Anderson, Anderson, & Taylor, 2009; Snow, 2016). Hays (2005) recommended that the use of games be critically reviewed to assess if learning has occurred. The integration of games in the classroom can foster learners' cognitive, social, and behavioral skills (Plass, Homer, & Linzer, 2015). As 21st century educators, we must consider that the learning styles of our students are shaped by the accessibility of technology (Coates, 2007).    
Active Learning Process
Every instructor strives to foster an engaging learning environment. This instructor decided to revise how a specific learning unit was presented to students. The course content was previously shared via lecture and the use of a PowerPoint presentation as a visual aid. The instructor tried a different approach to engage students in understanding the various learning styles—visual, verbal, kinesthetic, and multimodal. Student groups were assigned a learning style and instructed to identify the characteristics associated with the learning style, select a spokesperson, and document what they learned about the learning style. Each group had five minutes to collaborate. After each group presented on their learning style, Kahoot! was introduced to the class.
Kahoot! is a game-based platform that allows users to create surveys, quizzes, and discussions to poll students. Users can sign up for a free Kahoot! account, although additional features are accessible with a paid subscription. (For the purpose of this activity, the features of the free account were adequate.) The Kahoot! consisted of four questions—one question related to each learning style—the answers to which would determine which learning styles were preferred by most students. The desire to be the first to respond was evident as each question was displayed. Students' focus, determination, and sheer enthusiasm about the activity were tangible.
Outcome
The use of game-based learning helped strengthen the learning styles lesson. The group work and Kahoot! activity allowed for practical demonstration of varying instructional techniques and incorporated information about how each style differed. After reviewing the questions and responses, the instructor provided a brief lecture to help students understand the importance of identifying their learning preferences. As they continue their academic journeys, they will encounter a variety of teaching styles in their coursework; this lesson helps students to understand how they prefer to learn and to develop strategies to adapt when instructors' teaching styles are not congruent with their learning preference. As students worked in groups and participated in the Kahoot! poll, the following three observations were made.
Classroom Climate
First, the classroom climate changed. Students who were initially reluctant to work in groups and discuss the learning style they were assigned were now talking and smiling. The competition, laughter, and excitement that the collaborative nature of the activity encouraged could be seen in each group. Icard (2014) expressed that the competition Kahoot! creates makes it a meaningful learning experience for students. In this case, eye contact, verbal exchanges, and occasional yells of exuberance when the correct answer was revealed demonstrated students' engagement with the activity. Anderson, Anderson, and Taylor (2009) suggested that game-based learning fosters collaborative learning that can continue throughout the semester. Based on student response to this revised lesson, this instructor plans to use Kahoot! as an end of course review activity; students will have the opportunity to reflect on what they have learned as well as a mental reprieve as they prepare for final exams. In addition, Kahoot! quizzes will be incorporated into the beginning of each class period to review information from the previous class session. This is a great opportunity to assess understanding and expound upon topics requiring attention before moving to new content.
Student Motivation
Second, student motivation increased. Students who are verbal learners quickly adapted to the change in delivery method in order to participate in the hands-on activity. Additionally, the game gave students an opportunity to move around. This activity was piloted during an early Monday morning course—a class time often requiring creativity to engage students. Students who are usually less outspoken were more vocal within their group; body language indicating engagement (e.g., eye contact, learning forward) changed; and the overall demeanor of the students, reflected by the smiles, laughter, and cheering that occurred during and after the activity, improved.
Student Assessment and Self-Assessment
Finally, while a chapter quiz would be due later in the week to formally assess student understanding of the subject matter, the instructor was able to assess and get immediate feedback on student understanding during this activity. Any gaps in content knowledge and understanding could be clarified before students left the classroom. The climate the game created also made it easier for students to ask follow-up questions without the fear of peer scrutiny. Not only could the instructor assess the students, but the students began to assess themselves. The activity allowed students to reflect on their learning preferences; students were able to make the connection between why they often succeed in courses where the teaching style of the instructor reflects their learning preference and why there is a struggle when the teaching style and learning style preference do not match.
Lessons Learned
The first time the instructor used this approach, he discovered that not all students have a mobile phone, iPad, or tablet. If any students do not have a technological device, instructors can put the students in groups during the review portion of the activity to ensure that every student can participate. Additionally, possession of a mobile phone or iPad does not guarantee technical aptitude. Some students had a difficult time finding the Kahoot! website while others struggled to identify where to enter the game PIN to access the Kahoot! site, which resulted in increased wait times to transition to the next part of the activity. Lastly, this activity can help bridge any generational divides that may exist in the classroom by cultivating peer-to-peer collaboration. Students who were having difficulties accessing the Kahoot! sign-in, for example, were helped by other students who understood the process. The instructor found this approach more engaging and memorable for students and end-of-course evaluations revealed that the activity was well received by students. One student said, "He makes class entertaining and that makes me engage better during class." Another student stated, "He incorporates group work so we can interact with others while still trying to get us to understand the concepts."
Recommendations
When using Kahoot! in courses, instructors should (1) allow time for network latency due to Internet connection speeds; (2) check the volume on the device used to ensure that students can hear the music that accompanies the game; and (3) check the technical connections, particularly the projector, prior to class to ensure that students can see the questions and the game's timer.
Additionally, instructors should keep the following in mind:
Technology is not the enemy. When used intentionally, technology can be a great resource to encourage teaching and learning.
Competition is exciting. The desire to win often motivates students to pay attention, think critically, and engage frequently.
Be willing to try something new. Reflect on your lessons to assess how certain content can be presented in a different manner and still achieve the intended learning outcomes.
Changing the Game
Instructors should go through the process of identifying effective student engagement strategies each semester in an effort to continually improve teaching and learning. The appropriate method will vary depending on the course, but the approach should include some form of technology (Schwartz, Barron, & Mauger, 2010; U.S. Department of Education, 2017). For example, the identification of learning style preferences can assist students as they acclimate to new learning environments and gain a better understanding of who they are as academic scholars. Helping students understand learning styles and how to adapt when coursework is not presented in their preferred style will likely improve their academic success. Game-based learning has proven to be an effective approach for this instructor. While some instructors hesitate to use technology in the classroom, instructional technology should be considered as a viable instructional strategy and assessment measure. The desired effects that games such as Kahoot! often result in, such as competition, engagement, and assessment, can serve as a stimulus to foster a playful learning environment in a course (Plass, Homer, & Linzer, 2015). In the example presented in this publication, the exuberance expressed by students not only motivated each group but the instructor as well.
References
Anderson, B. O., Anderson, M. N., & Taylor, T. A. (2009, May). New territories in adult education: Game-based learning for adult learners. Paper presented at the Adult Education Research Conference, Chicago, IL. Retrieved from newprairiepress.org/aerc/2009/papers/1
Coates, J. (2007). Generational learning styles. River Falls, WI: LERN Books.
De Grove, F., Bourgonjon, J., & Looy, J. V. (2012). Digital games in the classroom? A contextual approach to teachers' adoption of digital games in formal education. Computers in Human Behavior, 28(6), 2023-2033.
Hays, R. T. (2005). The effectiveness of instructional games: A literature review and discussion (No. NAWCTSD-TR-2005-004). Orlando, FL: Naval Air Warfare Center Training Systems Division.
Icard, S. B. (2014). Educational technology best practices. International Journal of Instructional Technology and Distance Learning, 11(3), 37-41.
Plass, J. L., Homer, B. D., & Kinzer, C. K. (2015). Foundations of game-based learning. Educational Psychologist, 50(4), 258-283.
Reed, S. (2012, December 13). Certifying soft skills? Inside Higher Ed. Retrieved from www.insidehighered.com/blogs/confessions-community-college-dean/certifying-soft-skills
Schwartz, C., Barron, M. L., & Mauger, A. J. (2010). Using technology to impact student retention at Montgomery County Community College. Educause Quarterly, 33(4).
Snow, B. (2016). The potential for game-based learning to improve outcomes for nontraditional students. Retrieved from www.muzzylane.com/wp-content/uploads/MuzzyLaneResearchReport-1.pdf
U.S. Department of Education, Office of Educational Technology. (2010). Reimagining the role of technology in higher education: A supplement to the National Education Technology Plan, Washington, D.C. Retrieved from tech.ed.gov/files/2017/01/Higher-Ed-NETP.pdf
Dr. Jeremiah E. Shipp is adjunct instructor, academic related, in the Center for Academic Engagement at Guilford Technical Community College in Jamestown, North Carolina.
Opinions expressed in Learning Abstracts are those of the author(s) and do not necessarily reflect those of the League for Innovation in the Community College.