FLEXing Between Course Modalities
April
2019
Learning Abstracts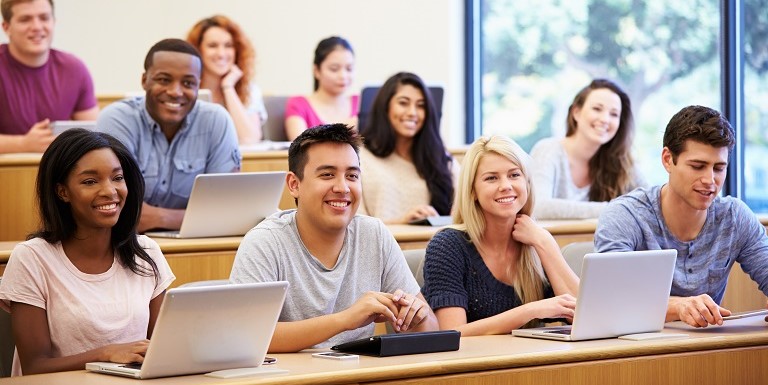 As the world of education continues to evolve, the lines between course modalities have blurred. Traditional face-to-face courses make extensive use of online learning tools, while hybrid courses can range from almost entirely online to almost totally on-campus. At Seattle Central College (SCC), we are taking this further and have introduced what we call FLEX Mode. FLEX Mode provides students the ability to "flex" between online and face-to-face sections of the same course to maximize access to instructional materials, assessments, and interaction in order to achieve a higher rate of success in the course. While other colleges have implemented similar models, most notably Central Georgia Technical College and University of St. Thomas, published material around this framework has focused on benefits and advantages, not process and practices. At SCC, we want to share our process for developing, implementing, and reviewing the model to assist others who may be interested in incorporating similar structures into their college curricula.
Instructional Challenges
FLEX Mode was created in response to multiple, interconnected educational challenges identified through a learning needs assessment of SCC students. The flexibility of online courses often comes with limited student interaction with instructors and peers. In addition, online courses suffer from lower success rates nationally (Ung, 2015). Students in traditional courses may struggle with their rigidity, especially when emergencies arise which require students to miss important class sessions. Still other students shy away from online courses due to anxieties over online learning. Instructors can face similar issues: Emergency situations can mean cancelling classes with limited capability to make that content up, and SCC lacked the infrastructure to empower faculty who were already trying to offer their students the chance to flex.
SCC sought a solution to these challenges using the following identified profiles:
First-generation college students who lack the support structures or familiarity with collegiate requirements and necessities.
Students in online courses who are working on challenging or complex assignments and want to meet with their instructor or classmates for further clarification and assistance.
Students in face-to-face or hybrid courses who need to miss class for an extended period of time due to family emergencies, planned medical procedures, or unexpected events.
Students who want the flexibility of fully online classes, but have anxieties around technology use, or those who feel limited in their interaction with their instructor and peers and want classes in which they can try out the online experience, while having a process to address those anxieties.
Faculty who want to offer more flexibility and direct interaction in their courses, but are constrained by the existing modality definitions and existing workload limitations.
Faculty who must take emergency leave during the quarter and have limited support to continue instruction outside the pre-defined modality of the course.
Research on Existing Strategies
When researching ideas to address these profiles, SCC looked into the Blendflex model at Central Georgia Technical College and the Hyflex model at University of St. Thomas. Both of these models allow students to seamlessly access online and face-to-face sections of the same course as needed, so that students can benefit from the flexibility of an online course as well as the direct instructor interaction of the face-to-face course (Central Georgia Technical College, 2017; Hinck, 2018), a key goal in SCC's own plan for FLEX Mode. Mark Lieberman (2018) summarizes how students at both colleges benefit from the flexibility in the models' structures, but his article does not go into detail about how the two colleges developed their structures, or the steps they took in implementing them.
Intent of FLEX Mode
The intention of FLEX Mode courses is to increase student success and retention by increasing access to instruction while maintaining structures that best support students on their path to graduation. FLEX Mode accomplishes this by aligning existing resources around the student's circumstances and needs, and allowing students the flexibility to adjust their access on a just-in-time basis to meet those needs. The basic framework is simple: Allow students enrolled in an online, hybrid, or face-to-face section of a course to attend or access another section of the same course, as needed, in order to receive support, instruction, and resources via a different modality.
Process and Implementation
The first task in establishing FLEX Mode was creating the framework. SCC's Vice President of Instruction, Bradley Lane, Ph.D., and E-Learning Director, Kevin Bowersox-Johnson, M.Ed., outlined the profiles listed above and created a plan to pilot FLEX Mode, analyze results, and provide stipends for participating instructors.
Next, we formed a pilot team that included instructional designer Yun Moh, M.S., and faculty members from three subject areas with historically wide attendance, diverse students, and which included either instructors who teach the same course in both online and face-to-face or hybrid modalities or who were willing to co-teach with another instructor in a different modality. Four instructors across seven sections of three courses participated in the pilot: business instructor Michael Taylor, M.Ed., MCT; math instructors Maryann Firpo, M.S., and Jane Muhich, M.Ed.; and psychology instructor Melana Yanos, Ph.D.
The team then developed the structure and the language around FLEX Mode. This included an explanation geared toward students to be included in the course schedule, a lesson about FLEX Mode to be presented to students during the first week of the course, and evaluation questions for students to complete near the end of the quarter.
One major consideration throughout the pilot was faculty workload. Allowing students to move between sections and associated content meant an increase in record-keeping for instructors. As the project continued, one solution was to merge the online and on-campus sections into one course shell in the college's LMS, which made tracking students considerably simpler. To guarantee students' privacy and safety, along with FERPA compliance, we developed clear introductory language for students so they would know exactly what to expect and could opt out if needed. For example, a note in the schedule informed students that some online students may attend on-campus sessions and vice-versa, and that students from multiple sections may sometimes participate in shared activities, effectively treating the sections as one enlarged class roster.
Next, we looked at how to pedagogically support students and instructors participating in the pilot. Not all FLEX Mode courses are designed the same; many courses have almost completely synchronized schedules and materials across their modalities, while others have only partial synchronization. As part of this process, the team outlined how and when students could flex. For fully synchronized courses, students could flex between sections completely as needed, and in partially synchronized sections the instructor identified which learning activities could be completed in FLEX Mode and how. For example, one instructor synchronized specific assignments that combined group work and discussion and allowed students to choose whether to work in an online or face-to-face group regardless of their section.
The team revisited the earlier profiles and rewrote them to include both the stated challenges and proposed solutions:
You are a first-generation college student with limited support or who has little familiarity with collegiate requirements and needs. In a FLEX Mode course, you can receive increased academic support by accessing additional instructional resources in various modalities.
You are a student taking an online course. You are working on an assignment and wish you could get the instructions or discuss the concepts with other students, in person, where you can get immediate clarification. In a FLEX Mode course, you can attend a designated on-campus session of that course in order to do just that.
You are a student in a face-to-face course. Due to an emergency, you will miss a significant chunk of the course. You want to access the course so you can follow the instruction and activities during your absence and complete your coursework. In a FLEX Mode course, you can join the online section and continue your coursework without interruption.
You are a student who is hesitant to take an online course. With a FLEX Mode course, you can start in an online section and attend on-campus sessions, as needed, for a safety net.
You are an instructor trying to be as available and helpful to students as possible without over-taxing yourself. Designing and offering your course in FLEX Mode allows students to move back and forth between course modalities within the same course and to complete the same assignments with higher access to your existing instructional resources.
You are an instructor who faces an emergency and must be absent from class. By designing and offering your course in FLEX Mode, you have an existing structure for students to continue accessing course materials and completing assignments while you are absent.
Results of the Pilot
In the three pilot courses, student success rates increased by an average 2.3 percent compared to non-FLEX Mode courses throughout the pilot. Although our sample size and statistical gains are small, they correlate with feedback collected from participating students and instructors. Of the 42 students who participated in SCC's FLEX Mode survey, 29 students (69 percent) stated that they would register for a FLEX Mode course again. Forty-one of those students (98 percent) indicated that they would choose a FLEX Mode class over exclusively traditional, hybrid, or online options.​
Comments collected from students were overwhelmingly positive. One student commented that he "liked the reassurance that if something important came up I could do the assignment in FLEX Mode." Another student remarked that she "liked how the FLEX Mode was an available option if I ever missed class" and "I also really liked how the FLEX Mode gave us the option to submit most assignments online such as quizzes and tests." Instructor feedback has been positive as well. For example, one instructor indicated that her "work life satisfaction level has definitely increased due to teaching in Flex Mode."
Some students, however, expressed confusion over communication and a lack of self-motivation in the combined courses. One student commented, "With my schedule, I could not attend class, which is why I chose to take the online course. It was confusing getting messages every week about FLEX options. I think maybe finding an alternative way where if people want to participate, they can, but if they don't, they do not have to get messages." ​Another student "disliked that it gave me an excuse to not show up for class sometimes. Part of what helps me stay motivated about school is the structure of obligations."
Next Steps and Recommendations
The instructional design team and participating instructors have continued to refine the design of and communication around FLEX Mode classes. This has included incorporating the flipped classroom model in hybrid sections in order to encourage higher student engagement in on-campus sessions while maximizing the value of the online content. The team is also working with faculty to further grow FLEX Mode course availability at SCC and to expand the option to the rest of the Seattle Colleges District.
We recommend that other colleges considering adopting FLEX Mode officially cluster online and on-campus offerings into one class roster with a combined enrollment cap (though still two sections, with appropriate payment for instructors), to help make the data around flexing easier to track. We also recommend working with the college's faculty union, especially when exploring the impact on faculty workload and clarification regarding compensation. Finally, we encourage schools to focus on classes where instructors teach or co-teach the same course in multiple modalities.
As FLEX Mode evolves at SCC, we will continue to share our process, progress, and lessons learned.
References
Central Georgia Technical College. (2017). Online classes. Retrieved from www.centralgatech.edu/academics/online-classes
Hinck, G. (2018, February 1). Interest building around the HyFlex model of course delivery. STELAR. College of St. Thomas. Retrieved from www.stthomas.edu/stelar/showcase/id/hyflex/interest-building-around-the-hyflex-model-of-course-delivery.html
Lieberman, M. (2018, January 24). Introducing a new(-ish) learning mode: Blendflex/Hyflex. Inside Higher Ed. Retrieved from www.insidehighered.com/digital-learning/article/2018/01/24/blendflex-lets-students-toggle-between-online-or-face-face
Ung, J. (2015, May 22). Study: Online community college courses found to be ineffective. USA Today. Retrieved from www.usatoday.com/story/college/2015/05/22/study-online-community-college-courses-found-to-be-ineffective/37403255
Robin Leeson and Yun Moh are both Instructional Designers at Seattle Central College in Seattle, Washington.
Opinions expressed in Learning Abstracts are those of the author(s) and do not necessarily reflect those of the League for Innovation in the Community College.