Faculty Voices on Support for Instructional Improvement, An Excerpt From Untapped Leaders: Faculty and the Challenge of Student Completion
December
2018
Learning Abstracts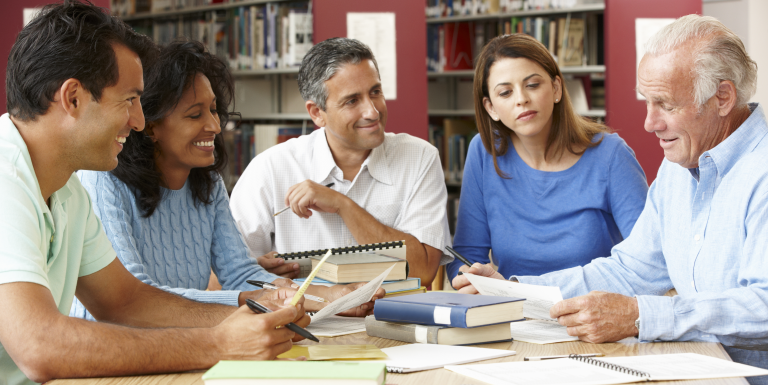 This issue of Learning Abstracts is an excerpt from Untapped Leaders: Faculty and the Challenge of Student Completion, a report on the League for Innovation's Faculty Voices Project. The project sought to engage community college faculty in the national conversation about student completion and to uncover faculty perspectives about what works in the classroom and across the college to facilitate student success and completion. Faculty engagement included two national surveys of community college faculty and 81 discussion groups with a total of 698 community college faculty held at U.S. community colleges and League conferences. Project findings are presented in the report as three faculty viewpoints:
Viewpoint 1. Faculty question the validity of completion data and the definition of completion, and show inconsistent awareness of institutional data on completion.
Viewpoint 2. Faculty find it challenging to manage student completion initiatives within the constraints of current college budgets and staffing models; these challenges become even more daunting due to the dearth of communication and collaboration in the college organizational culture.
Viewpoint 3. Faculty support integration of the three Choicework Discussion Starter programmatic approaches*—increase student accountability, support instructional improvement, and implement guided pathways—to foster student completion, but criticize the lack of resources for developing professional implementation strategies, and they raise caution about cookie-cutter solutions.
The excerpt below presents discussion group themes that emerged in one aspect—support instructional improvement—of Viewpoint 3. Click here to access the full report.
Support Instructional Improvement
Faculty recognize that they need to teach in more engaging ways to foster student completion, but say institutional support for professional development needs to be expanded from current levels. Notably, discussions around instructional improvement were often intertwined with faculty acknowledgement that they do not always know how best to facilitate student learning and success. Some of their discussion points were about fundamental principles of teaching and learning, but faculty also sought help with student accountability—asking questions focused on how they could make students more accountable, more motivated, more self-directed, and more aware of the commitment being a college student requires—and help with guided pathways—asking questions focused on how they could help students access support services, well-designed orientation programs, timely advising, study skills workshops, and opportunities to explore different guided pathways.
Faculty seek a more professional instructional culture, which they see as a prerequisite to instructional improvement and innovation. Faculty raised concerns about the lack of respect for their professional status from students, administrators, and society at large. They said that repeated budget cuts fragment full-time faculty between preparing for multiple classes and sitting on a growing number of administrative committees. One faculty member said the college should, "Clearly include teaching and learning as [the] primary responsibility of the faculty. Currently [there are] wide-ranging responsibilities and expectations." However, faculty also acknowledged limitations in their capacity to teach underprepared students and to deliver effective developmental education courses. They raised questions about the will of all faculty members to define and implement the kinds of instructional improvements that appear to be required. From the faculty point of view, the college community—from administrators and staff to faculty and students—needs to celebrate faculty professionalism in positive, proactive ways. This includes finding ways to reinforce the acts and attitudes of professionalism, such as honoring innovative efforts to meet collegewide goals, take risks, and show openness to change, and establishing an organizational culture that builds faculty comfort with accountability and feedback. In addition, and importantly, colleges need to find ways to include adjunct faculty more deeply in the professional culture.
Faculty are eager to learn new and effective instructional strategies. Faculty were remarkably open about their lack of training in teaching and learning. They admitted they were content specialists and not consistently up to date on education theory and research, and they sought targeted methods to appeal to students and connect with career pathways. One talked about the need to be "continually learning, not just a content expert," and another said, "We need to be innovative in teaching to try to connect with students." Another said, "Active learning is important. We, as faculty, are not necessarily trained in teaching. We're trained in content. We need help. We fail and try again." And another said, "We know so much more about how the brain learns. Teaching hasn't kept up. Students have changed but we're teaching them like their parents and grandparents [were taught]." They readily acknowledged that they were hired for their expertise in their disciplines, and that they had gaps in their knowledge about teaching and learning. As one faculty member remarked, "We say students don't prepare or take responsibility, well, what about us? We need to take responsibility."
Faculty also said they were eager to learn, to try new techniques, and to be more creative and innovative in their own teaching practice in ways that help advance student achievement, but they lack the resources—including time and professional development—to do this adequately. One faculty member described how trying new approaches requires more than prescriptions, but also time to apply the instructional concepts in the classroom and to observe the impacts on student success. Another faculty member described trying "something different by accident. Students started responding to things I did differently, like group work, so I continue[d]. I know data shows this is true, but I had to experience the change in students." To support completion, faculty said they need help to design and deliver student-oriented instruction and to improve connections between their curriculum and employer needs and career paths. They wanted to see more incentives and supports for faculty innovation, such as more professional development options and incentive pay for course development.
Faculty seek more strategic and creative support for professional development, which they see as another prerequisite for instructional innovation. Faculty professional development came up in almost every discussion group, and faculty comments provided some insight into the types of professional development opportunities their colleges provide. Specifically, and frequently, project facilitators heard that professional development focusing on teaching and learning was typically provided in one-time workshops, while ongoing professional development focused on administrative processes such as taking attendance. One faculty member noted that the "one-shot" approach to professional development often "is not about teaching; it's about administration . . . bureaucratic wheel-greasing." Faculty said they are interested in ongoing, sustained professional development related to teaching and learning. They explained that offering a one-time workshop on a teaching strategy with the expectation that it be fully implemented in the current or following academic term is unrealistic, and sought "more support for the entire process of education." They also acknowledged the value of strategic professional development, put by one faculty member as, "Faculty development should not be random, but should be aligned with college goals."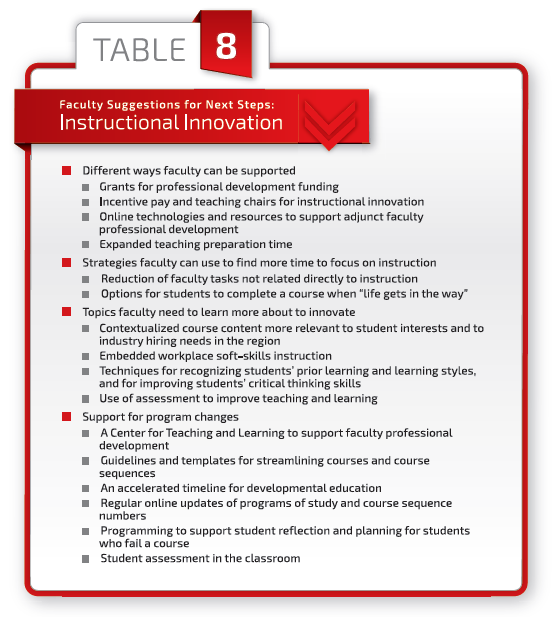 *These three approaches are featured in the Choicework Discussion Starter developed for the project by Public Agenda for use in Faculty Voices discussion groups. These approaches are not exclusive, but are used in the process to launch a broader conversation. A description of the Choicework process can be found on page 12 of the full report; click here to access the full Faculty Voices Discussion Toolkit.