Developmental Education at the Maricopa Community Colleges
May
2020
Learning Abstracts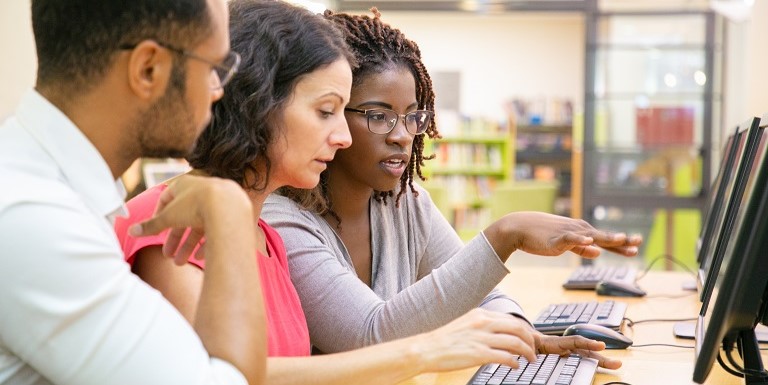 The Maricopa County Community College District (MCCCD) has begun an ambitious redesign of developmental education to support a higher percentage of underprepared students in successfully completing developmentally appropriate coursework and navigating the college experience. The new developmental education model consists of holistic assessment and planning with a suite of support services. All students will have the opportunity to complete college-level math and English courses in their first year at MCCCD, with a goal of 80 percent of entering students being placed directly into college-level courses with appropriate supports.
The anticipated result will be an increase in the number and percentage of students who complete degrees and certificates, and transfer to four-year institutions on time. This initiative is designed to close equity gaps in academic performance, which previously left too many students behind, thus reducing the distance between those at the front of the pack and those at the back. This will be accomplished by increasing opportunities for students who have fallen behind in achieving their academic outcomes without restraining the initiative of those already doing well in school.
MCCCD's Developmental Education Project was established by a team that collaborated with key stakeholders across the college system, including the Developmental Education Council and the Counseling, English, Math, and Reading Instructional Councils. The team, including faculty, staff, and administrators from each of the ten colleges, has already achieved its first milestone by establishing high school GPA and academic achievement in coursework, rather than a standalone examination, as the primary methods for placement into college-level courses across all ten colleges.
In order to help students successfully move through the different course prerequisites and required skills sets, developmental education staff and faculty must identify the different needs and specific skills of the students being served. "The Maricopa Community Colleges are creating an academic culture in which empathy, self-direction, and collaboration are foundational to student success both academically and in the workplace," said Dr. Karla Fisher, Provost of the Maricopa Community Colleges. "This focus on the learner requires us to prioritize academic momentum, providing the individualized suite of wraparound supports needed to accelerate goal attainment."  
To reach this goal, MCCCD has adopted the following shared design principles that aim to provide environments that enhance the skills of students and focus on providing the foundational skills they need to be college- and career-ready.
Access and Success. Developmental education at MCCCD will increase access and success while decreasing equity gaps. As part of the initiative for developmentally appropriate education, the district is looking into equity gaps and providing course sequences to meet the developmental needs of students. All ten colleges provide access to technology, hardware, and software in classrooms, labs, libraries, and learning communities. In addition, there are services in place to provide students with personalized attention that addresses individual academic needs.
Evidence-Based. Developmental education models will follow a process of evidence-based decision-making coupled with iterative improvement at both the college and district levels. Data from the classroom, college, and district will be used to inform curriculum change. Education policy will be informed by the best available quantitative data and narrative reports. New and innovative decision-making models will be customized to meet the needs of individual students.
Ubiquity. Developmental education models will support all students throughout their academic journey and are the shared responsibility of all faculty, staff, and administrators. Efforts to recruit and attract students will begin at the K-12 level and follow students through their community college experiences and beyond. Students from all backgrounds, abilities, and commitments will be included in the effort to ensure that all students meet personal and developmental milestones.
Placement. Placement policies and procedures will be consistent across all 10 colleges and will qualify at least 80 percent of students to begin college-level English, math, and reading in their first semester, with appropriate support. Placement efforts will target students to ensure that they receive the assistance needed to highlight their strengths and aid in areas in which help is needed. The key to placement efforts will be to help students locate any gaps in prerequisite knowledge and skills, provide opportunities, and fill in areas that need to be completed to be successful as they move forward in college and in life.
Contextualized and Accelerated. Developmental education will be offered in contextualized and accelerated models that allow all students the opportunity to complete a critical college-level reading, math, and English course in their first year. These efforts are meant to ensure that missing prerequisite knowledge and skills are addressed from the very start of the student experience in community college and to prevent students from falling behind or moving forward without needed academic credits. For some, this effort will require accelerated opportunities, so that by the end of a student's first year of college, he or she will have caught up with more advanced skills. At the very least, academic progress will occur by building on areas of strength and leveraging areas which still need to be mastered.
Credit Hours. Developmental education models require more effective course sequencing efforts, which are aimed at reducing the number of credits needed and ensuring that the right courses and credits are completed. A student who needs support in all foundational areas will be guided into a 15-credit schedule that includes at least one required program course, thereby making sure that the student is on track to be certified or to earn a degree in less time. Support plans for part-time students will also take into account the foundational knowledge needed in a student's chosen pathway with continued emphasis on completing foundational coursework that earn required college credits.
Cost to Students. Developmental education redesign will be offered at no additional cost to students. In addition, time to completion will be reduced when students are more successful in their coursework, with greater course success and less failure.
Transfer. Developmental education models will maximize credit transferability. Students will enroll in fewer courses that do not earn college credits or that are not related to necessary academic fields of interest. Staff and faculty will work closely with students to make sure they are on the correct path to transfer to four-year colleges and universities, if that is their goal.
Coordination. The Developmental Education Council, Developmental Education Project Team, and appropriate district councils will ensure that there is consistency across colleges and campuses. While students can already take required courses at multiple locations in the system, the developmental education model will be implemented across colleges to create better paths for students to enroll in required coursework and seamlessly fulfill program requirements that meet individual learner needs.
Professional Development. MCCCD will provide the professional development necessary to encourage all faculty, staff, and administrators to deliver personalized academic support to all students in a timely manner. There are peak times of the year when students will need extra support to make appropriate academic decisions regarding courses and learning sequences. The developmental education model recognizes that there are stress points during the academic calendar year and includes strategies to assist students during these times in order to prevent distress and reduce frustration and subsequent dropouts.
Resource
MCCCD Developmental Education Video
Dasi Danzig is the Public Relations and Communications Manager at the Maricopa County Community College District in Arizona.
Opinions expressed in Learning Abstracts are those of the author(s) and do not necessarily reflect those of the League for Innovation in the Community College.