Convergence of COVID-19 and Cries for Social Justice: Transforming Teaching and Learning at ACC
April
2021
Learning Abstracts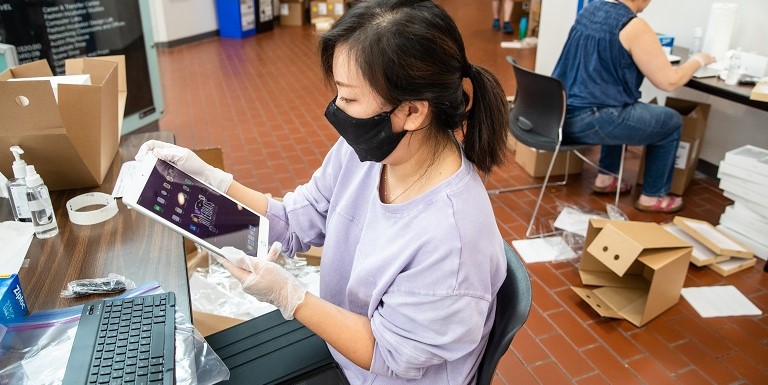 In January 2020, we were busy developing a new Academic Master Plan, continuing student success initiatives, and working across the college to implement evidence-based practices to improve student outcomes in a framework of equity, diversity, and inclusion. Like other colleges and universities around the country, things were moving along at a traditional pace as we managed planning efforts for the future of Austin Community College (ACC).
As March 2020 approached, our work took a significant turn. Throughout the remainder of the semester, we would carefully monitor the onset of a global pandemic that would completely disrupt our teaching and learning environments for years to come. COVID-19 became the catalyst for radical change that seemed to catapult us forward five years within a period of three weeks. ACC's great migration to online learning saw us move approximately 50,000 students, 2,000 faculty, and all support services to fully remote delivery, with concerted efforts to address challenges around equitable access to technology, scheduling, professional development, hands-on course requirements, and safety considerations.
Soon afterward, demands for greater change by educational institutions were prompted by the tragic deaths of Breonna Taylor, Ahmaud Arbery, and George Floyd, as communities across the U.S. rose in protest in response to ongoing racial inequities in our country (McKenzie, 2020). The convergence of the pandemic effect and heightened social unrest emphasized the dire and imminent need for systemic and structural changes within our educational systems.
The term "radical change" is not often used in academia, but COVID-19 and the national outcry for racial equity have brought these change factors to light for educational institutions. Radical change happens quickly and "modifies the essence of social structures or organizational practices" (Gil-Garcia & Hassan, 2008, p. 372). These opportunities have paved the way for transformation that reshapes our institutional systems of practice around equity, diversity, and inclusion and promotes a culture of care.
Culturally Responsive Online Instruction

Figure 1: Communication strategies focused on equity included design of Infograhics
The fast-paced change at ACC involved the rapid and dedicated mobilization of staff resources, technology, digital resources, and extensive support systems. We leveraged programmatic approaches to embedding equity and inclusion in all professional development and faculty-facing services.
From the shift to fully online teaching in late March through the end of the semester in mid-May, we supported faculty by providing new and expanded professional development, support through consultations and mentors, and new approaches leveraging social media and Web resources. In this two-month period, we recorded:
2,512 training registrations for teaching online workshops;
1,593 consultations and 1:1 support sessions conducted by trained personnel;
5,400 interactions in a Keep Teaching ACC! Facebook page;
6,012 total pageviews on the Teaching Online Continuity Guide website; and  
196 mentors supporting 401 mentees in online course conversion.

Figure 2: An early survey of faculty on the great migration to online teaching
included questions on supporting students with a focus on equity and inclusion.
One of the college's early considerations to address the pandemic impact was the provision of professional development and training in online course delivery and design. Prior to the pandemic, we had met our goal of ensuring that all faculty who taught distance education courses completed Quality Matters (QM) professional development. Our new challenge was to provide this opportunity, or a modified version, allowing all remaining faculty to gain the skills in a significantly shortened period of time while ensuring the courses and learning environments provided inclusive learning experiences and equitable outcomes. Through ongoing work to integrate the principles of equity and inclusion in all our faculty development programming, we enhanced the QM training program to focus on culturally responsive teaching practices. Prior to the pandemic, nearly 500 faculty had completed the QM training within a three-year period. An additional 837 faculty and staff have completed the training in the past 10 months.
ACC's proactive efforts to address this need going forward included the addition of QM training to our newly designed faculty onboarding process, which is also grounded in culturally responsive teaching. Beginning with the fall 2020 cohort, all new full-time and adjunct faculty go through a comprehensive onboarding program that includes two days of professional development in QM.
Inversely, our hybrid-designed Teaching and Learning Academy (TLA), already grounded in best teaching practices aligned with Community College Survey of Student Engagement (CCSSE ) equity principles, was revised to expand the focus for online teaching and culturally responsive alternative assessment strategies that could be used online. Faculty participating in the yearlong TLA complete an abridged version of the Faculty Survey of Student Engagement; their students complete a shortened version of the CCSSE.
In collaboration with our Office of Institutional Research and Assessment, TLA faculty receive their student success rates disaggregated by race, ethnicity, and gender for up to five years of courses. Using the data and survey results as well as the teaching practices learned in the TLA, faculty have the tools to transform or add to their teaching practices. One-hundred and fifty-five faculty have completed all or most of the 60-hour program since its launch in fall 2019.
ACC has also created a tiered program that enables faculty to gain varying levels of skill in culturally responsive teaching (CRT). Our equity- and inclusion-focused faculty development opportunities currently include the following:
Technology Access and Innovation
Technology access became a first point of consideration in moving all students, faculty, and staff online. We began to mobilize all available resources and establish a process for redistribution to those in need of computer and Internet access. Early in the planning process, we also worked closely with our Apple® partner and initiated a purchase of 1,000 iPads for students and faculty, in addition to existing hardware we would make available for home use. At a time when this type of resource was growing scarcer and safety protocols caused some delays in shipping, quick action enabled us to have these iPads ordered, delivered, and processed for safe distribution within two weeks. While all other staff were working from home, a group of dedicated hourly and full-time staff returned to campus to clean, process, and package the iPad kits that we would provide to students.
We simultaneously worked with academic areas that had unique curricular needs requiring different types of computers, laptops, or related devices based on the software requirements of the programs (i.e., game development, AutoCAD, information technology). Distribution of devices also became a significant challenge as we focused on touchless, weatherproof hand-off to potentially hundreds of students in a short timeframe. Another key collaboration between instructional services, student affairs, and operations yielded the design of a drive-through device distribution plan that addressed considerations of traffic flow, security, safety protocols (distancing and protective gear), signage, and a walk-up option.
Flexible and Targeted Approaches to Support
The expanded distribution of technology to students emphasized the need for a focused student technology support office. Where previously several areas across ACC provided varying levels of technology support, there was no integrated office or single point of access to training, tech support, or technology checkout. The need for more centralized technology resources for students became apparent. Failure to provide these types of services had the potential to create voids in student workforce readiness, marketability, and preparation for online learning.
Following a model used for faculty, a new team was formed to provide campus-based support for students in the use of academic technologies, including
Training for students on how to use technologies required by their courses;
Technical support for students on academic technologies;
An inventory of computing devices that can be checked out by students;
Access to on-campus computing spaces with staffing that can assist in training and support;
Self-service learning management system (LMS) support via EasySoft; and
Technology FAQ, how-to guides, and troubleshooting instructions.
This team works with instructional designers in the Office of Academic Technology to create training opportunities for students and to prepare documentation and produce training videos for widespread use. Additionally, there is an ongoing partnership between this team and the Faculty Instructional Support Specialists to ensure that the training and documentation is consistent for faculty and students. By leveraging a partnership between the teams, faculty could be trained on how to integrate technology into their courses through the same methodology that students would be trained to use technology.
In addition to existing 24/7 live text reference to ensure equity in access, content, and awareness for students and faculty, ACC Libraries added online synchronous research/reference services and increased online resources to offer 106,000 e-books and 116 curriculum-focused databases.
Support for Planning Efforts
To help us address the impact of COVID-19 and calls for social justice in our Academic Master Plan, ACC hosted The Future of Work Summit—an online event that featured educational consultants, economists, demographers, research scholars, the Commissioner of Higher Education for the State of Texas, representatives from Workforce Solutions, and industry partners such as Apple leadership executives. Sample presentations included "Equity and Opportunity in the COVID-19 Pandemic," by Dr. Nicole Smith, Research Professor and Chief Economist, Center on Education and the Workforce, Georgetown University, and "How Can Community Colleges Achieve Equitable Student Outcomes (and Ensure College Survival) Post-COVID? Guidance from CCRC Research," by Dr. Davis Jenkins, Senior Research Scholar, Community College Research Center, Columbia University.
Emerging themes included helping students find their purpose, making sure to light the fire in the first college semester to give students early momentum, and incorporating equity and inclusion to help students find middle-skills jobs. Nearly 500 ACC employees participated. Proposals born from the Academic Master Planning process leveraged resources to drive greater student equity, learning, and success had broad cross-collaboration by Academic and Student Affairs with initiatives like student advocacy centers, fast-track enrollment, one-to-one device programs, and digital literacy and proficiency skills programs that focused on equitable outcomes through the entire student academic cycle.
The Future of Teaching and Learning
The crisis brought out the best in each of us. Faculty and staff from across our institution worked tirelessly to support our students through the trials of the pandemic and to ensure their success. ACC has reflected on lessons learned and aligned our new Academic Master Plan initiatives and Chancellor's Priorities with the values of collaboration, connection, and caring. Two key Chancellor's Priorities are focused on addressing the convergence of COVID-19 impact and cries for social justice:
Priority 1: Reduce equity gaps in student access and success by increasing diversity and strengthening student programming and training for faculty and staff.
Priority 3: Provide an exceptional online education that is accessible for all students by expanding the scale and quality of ACC Online—Virtual College of the Future.
Our world is forever changed through this unprecedented experience, and educational institutions are primed to help current and future generations of students to remain flexible; leverage technology; and embrace change as an opportunity for growth, improvement, and attainment of critical workplace skills for the future. Forbes Insights on transformational change notes that "successful transformation means more than merely adapting to change; it means rewriting business models or even reshaping your own industry" (Forbes, 2014, p. 2). The convergence of the health crisis, shift to online learning, and need for social justice reform has pushed us to expedite the development of new educational models that will forever change the way we teach and learn. Austin Community College is well on the way to shaping this vision.
References
Forbes. (2014). Transformational change: What works—and what can doom the inititative. Forbes Insights.  
Gil-Garcia, J. R., & Hassan, S. (2008). Structuration theory and Government IT. In G. D. Garcon & M. Khosrow-Pour (Eds.), Handbook of research on public information technology (pp. 361-375). IGI Global.
McKenzie, L. (2020, June 2). Calls for change. Inside Higher Ed. https://www.insidehighered.com/news/2020/06/02/higher-ed-leaders-address-protests-racial-tensions-and-killing-george-floyd
Lead image: Austin Community College staff member follows CDC protocols as she helps to prepare an initial shipment of iPads for distribution to students in March 2020.
Susan M. Thomason is Associate Vice President, Teaching and Learning Excellence, at Austin Community College District in Austin, Texas.
Opinions expressed in Learning Abstracts are those of the author(s) and do not necessarily reflect those of the League for Innovation in the Community College.