Community Colleges in the Now Normal
February
2023
Learning Abstracts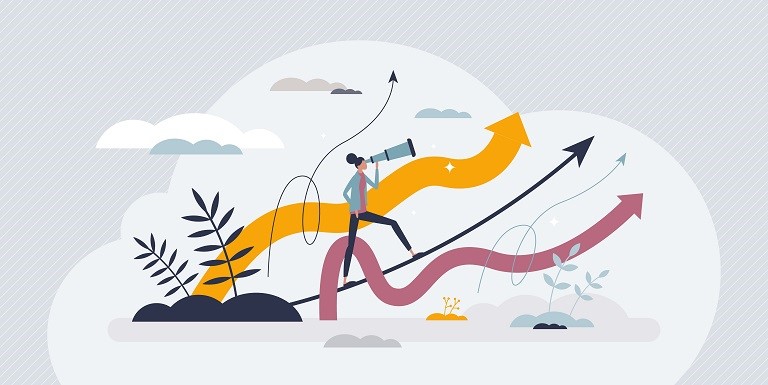 Cuyahoga Community College (Tri-C) has provided high-quality, accessible, and affordable education and workforce opportunities to residents of Northeast Ohio since opening its doors in 1963. The college serves one of the most diverse regions in Ohio in terms of income, educational attainment, and cultural backgrounds. Tri-C continues its work with partner high schools, employers, and four-year colleges and universities to provide open access to credit and workforce opportunities as well as transfer pathways to a four-year degree, all part of the institution's mission to improve the overall quality of life in Cuyahoga County.
Tri-C recognizes its role as an economic driver in the region, and over the years has adapted its programs to create academic and economic opportunities for employers and students by developing new degrees and credentials. Prior to the onset of the COVID-19 pandemic, the region was still transitioning out of a manufacturing-centered economy to one that is increasingly focused on service and knowledge industries; nationally recognized heath care and research institutions; and, more recently, advanced manufacturing companies. By working closely with employers and industries, Tri-C has offered industry-recognized credentials, degrees, and transfer opportunities that provide the regional economy with a highly trained and skilled workforce. The pandemic, however, forever changed higher education, business, and industry. Moving forward, community colleges must strategically address both the challenges and opportunities of a post-pandemic landscape—the "now normal."
Tri-C, as well as all of higher education, must confront new and shifting attitudes toward the value of a college credential, which in large part reflect the societal shifts created by COVID-19. Surveys show that the public's confidence in higher education exerting a positive impact on the country dropped from 69 to 55 percent from 2020 to 2022 (Fischer, 2022). One of a community college's most important pipelines of students—new high school graduates—have in larger numbers chosen not to enroll in college and, instead, to directly enter the workforce after graduation. In a recent survey, 38 percent of this demographic expressed concerns that higher education is too expensive and will plunge them into debt, with 26 percent also noting it is more important to enter the workforce rather than to pursue a degree or credential (Williams June, 2022). These individuals reflect a growing sentiment about higher education and its place in a student's life, with 75 percent of new high school graduates indicating that wider flexibility in courses and scheduling that fit their personal needs would be extremely or very helpful.
Between the ability to find a job quickly in the post-COVID economy; the country's continuing skepticism about the value proposition of higher education and workforce training; and, in Northeast Ohio, as in many parts of the country, a shrinking population, including college-age students, community colleges are facing unprecedented enrollment declines. Nationally, community college enrollment for the fall 2021 semester was down 15 percent compared to two years prior (National Student Clearinghouse Research Center, 2022, as cited in Donaldson, 2022).
This new reality includes more opportunity for individuals to directly enter the workforce or create new types of careers through entrepreneurial and individualized work that is often referred to as the gig economy. More people are taking advantage of these opportunities, preferring to immediately earn money while looking for a better career position, or they may be taking advantage of the flexible hours to support both family and careers or opting to make additional income to supplement their day job. One online staffing resource predicts that the gig economy is expected to expand from 2018's $204 billion impact to over $450 billion by 2023 (Plaza, 2022). With the immediate career and financial benefits the gig economy provides, people of all ages are choosing this path rather than the traditional college degree to career pathway, where the long-term career and financial benefits of earning a college credential are not always immediately clear to students.
This post-pandemic landscape is not all bad news; opportunities abound for community colleges and the students they serve to emerge into the now normal. Community colleges can help drive increased economic development in their communities to allow students to enter family-sustaining wage jobs and careers that lead to success at completion and for years to come. In fact, surveys show that while many Americans feel colleges and universities do not provide positive progress for America, 64 percent find value in some kind of educational opportunity post-high school, and 76 percent of those surveyed believe that such education and training provides a good return on investment (Fishman et al., 2022).
It has long been a mission of community colleges to act as economic engines in the communities they serve, and the now normal provides them with the opportunity to further expand their role in creating sustainable economic growth for employers and students. Community colleges "hold the promise of tomorrow in their ability to build curriculum and programming around the intersection of entrepreneurship and workforce development," which allows their students to "emerge as helpful and relevant members of the workforce . . . poised to boost local economies by diversifying local business" (Winkel, 2019, paras. 5-6). With the ability to quickly adapt and pivot to emerging student and business needs, community colleges must take advantage of their place at the intersection of entrepreneurship, workforce development, and traditional credit degrees to adapt to the post-pandemic world.
One way community colleges can advance economic growth is by redesigning career pathways from basic career skills to short-term entry-level credentials through post-completion skills updating. More community colleges are offering micro-credentials, which provide portable credentials focused on an in-demand job skill, such as communication, critical thinking, problem solving, or empathy, for students to take to any employer. These workplace skills are universal in value to students in all disciplines and careers, although they may traditionally be thought of in a business or science context. However, to support those pursing more entrepreneurial roles, including in the arts and humanities, community colleges have the opportunity to embed these skills throughout their curricula and to extend core workplace credentials in areas including the liberal arts.
Another opportunity to support students and the regional economy is for community colleges to reevaluate and update workforce certificates in light of the changed economy and a deepened relationship with local employers. High-quality industry-recognized certificates can be developed and implemented more quickly and in conjunction with business partnerships. These workforce certificates have long been held to "provide the on-ramp to college education and middle-class jobs" for community college students while, for the existing workforce, they "can be the most effective way to catch up, keep up and get ahead" in a chosen field (Carnevale et al., 2012, pp. 2-3). These are but two ways community colleges can create opportunity within the changed economic landscape to benefit both students and the communities they serve.
Additionally, community colleges can reverse enrollment declines and provide much needed career training and credit courses by adopting new perspectives on enrollment and meeting students where they are. For years community colleges have thought of themselves as an open door to education; however, according to Tom Green, Strategic Enrollment Management Director at Salesforce, "now it's time for them to be recruiters of students" (Kelderman, 2022, para. 2) instead. Community colleges have a unique opportunity to lead higher education through this unprecedented shift to meet potential students where they are, even if they are fully online, while providing the wraparound academic and social support services students need to complete and succeed after graduation.
Community colleges need to adjust what student success means by looking beyond student completion as the defining metric. Over the years, as more states have adopted a performance-based state funding model, and as states and other agencies have measured the efficacy of higher education by the number of graduates it produces, increased emphasis has been placed on completion and graduation rates as the defining measure of student success. Using student career and economic success post-completion as a success metric can help community colleges evolve into agents of change for students, the community, and the institution. Tracking career and educational achievement of students after they leave an institution can help a community college assess its programming and focus on the degrees and credentials that truly lead to a family-sustaining wage in a growing economic sector of the region. Additionally, community colleges can provide returning students and adult learners the opportunity to acquire low-cost career badges and credentials that allow them to advance in their chosen career or move into to a new, emerging industry or business.
Finally, community colleges must help mitigate the disproportionate impact the pandemic had on communities of color through their core mission of diversity and inclusive excellence. Since their creation, community colleges have opened education and training to students who otherwise may not have access, including low-income students, first-generation students, nontraditional and adult learners, students of color, and immigrant populations (Walters, 2021). In this now normal, community colleges have the opportunity to specifically connect with these communities and students to systematically play a role in these changes to higher education. Institutions need to meet these communities where they are, and work to identify the unique challenges and barriers faced by students in underrepresented communities in recruitment, enrollment, academic advising, completion, and other processes. Community colleges must continue to be an important part of local, regional, and national discussions surrounding equity and inclusion at all levels, while committing to constantly evaluating systems and processes to ensure inclusive treatment for all students.
The COVID-19 pandemic forever changed many aspects of higher education, and community colleges must take this unprecedented opportunity to adapt to today's economic, societal, and educational realities. This changed landscape surely presents challenges for higher education. Community colleges, however, have the unique ability to confront this now normal and embrace the opportunities it presents as they continue their mission of providing accessible, high-quality, and affordable education, transfer opportunities, and workforce training in support of improving the lives of the communities they serve. For nearly 60 years, Tri-C has been dedicated to serving the needs of all who live in the diverse, multicultural region of Northeast Ohio; as we confront the now normal with timely and innovative partnerships and programming, we anticipate doing so for years to come.
References
Carnevale, A. P., Rose, S. J., & Hanson, A. R. (2012). Certificates: Gateway to gainful employment and college degrees. Georgetown University Center on Education and the Workforce. https://cewgeorgetown.wpenginepowered.com/wp-content/uploads/2014/11/Certificates.FullReport.061812.pdf
Donaldson, S. (2022, April 15). Community-college enrollment is falling. But these majors are growing fast. The Chronicle of Higher Education. https://www.chronicle.com/article/community-college-enrollment-is-falling-but-these-majors-are-growing-fast
Fischer, K. (2022, July 26). American's confidence in higher education drops sharply. The Chronicle of Higher Education. https://www.chronicle.com/article/americans-confidence-in-higher-ed-drops-sharply
Fishman, R., Nguyen, S., & Woodhouse, L. (2022, July 26). Varying degrees 2022: New America's sixth annual survey on higher education. New America. https://www.newamerica.org/education-policy/reports/varying-degrees-2022
Kelderman, E. (2022, November 1). Community-college leaders wrestle with an uncertain future. The Chronicle of Higher Education. https://www.chronicle.com/article/community-college-leaders-wrestle-with-an-uncertain-future
Plaza, M. (March 1, 2022, March 1). Why workers are flocking to the gig economy in 2022. https://www.wonolo.com/blog/why-the-gig-economy-will-thrive-this-year
Walters, E. W. (2021, August 9). Community college: Advancing equity, diversity, and inclusion in the post-COVID labor market. Diverse: Issues in Higher Education. https://www.diverseeducation.com/print/content/15113633
Williams June, A. (2022, September 28). Some high-school grads say no to college. Here's why – and what might change their minds. The Chronicle of Higher Education. https://www.chronicle.com/article/some-high-school-grads-say-no-to-college-heres-why-and-what-might-change-their-minds
Winkel, D. (2019, July 5). Community colleges as drivers of economic development. NACCE blog. https://www.nacce.com/news/community-colleges-as-drivers-of-economic-development
Karen Miller, Ph.D., is Provost and Chief Academic Officer, and Michael Baston, J.D., Ed.D., is President at Cuyahoga Community College in Cleveland, Ohio.
Opinions expressed in Learning Abstracts are those of the author(s) and do not necessarily reflect those of the League for Innovation in the Community College.