Collaboration With a Middle School Raises Awareness About Often-Overlooked Career Paths
June
2018
Learning Abstracts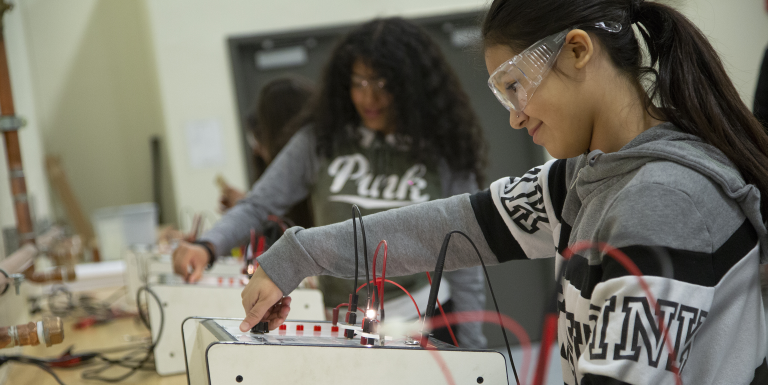 At a new Truckee Meadows Community College (TMCC) program that introduces middle school students to careers in technical science fields, a young teen and her friend lean in to each other, laughing excitedly that they are making a car honk remotely using a tablet. On the other side of the bay, another student eagerly volunteers to tighten lug nuts with an electric torque tool. The TMCC professors and volunteers who supervise the hands-on activities say that the college launched the pilot project—Building Partnerships with Vaughn—because junior high school students are sometimes unaware of in-demand technical career paths that might interest them.
About the Building Partnerships with Vaughn Program
Building Partnerships with Vaughn, now in its second year, introduces students to careers in fields such as Heating, Ventilation, Air Conditioning, and Refrigeration (HVAC/R) or Advanced Manufacturing before they begin high school. Students from Otis E. Vaughn Middle School in Reno, Nevada, attend supervised hands-on sessions, experience directly what technical training is like, and learn about career opportunities in the region.
Two-hour activity sessions are held at TMCC's William N. Pennington Applied Technology Center once every four to six weeks. On each visit, students, who travel to TMCC by buses provided by Washoe County School District (WCSD), learn about a different trade. Students rotate between five different stations; for example, on automotive day, students explore a diagnostic system, where they test the performance of a yellow Corvette, and visit the electrical lab, where they experiment with currents that raise and dim lights. In addition to hands-on projects, students are provided a worksheet booklet to keep notes about what they have learned.
The Nell J. Redfield Foundation Community Outreach personnel at Vaughn Middle School worked in collaboration with TMCC faculty and staff to make this educational partnership possible, said TMCC Access, Outreach, and Recruitment manager Amber Burroughs. In addition, Vaughn teachers and counselors support the project by volunteering to help supervise activities—often participating along with the students.
A training session is held for WCSD staff members to cover the technical science programs offered at TMCC. "Businesses will also come in and talk about jobs at their companies and starting pay," said Technical Sciences specialist Jorge Rubio.
Students Are Engaged, Receive Individualized Attention
Building Partnerships with Vaughn is led by professor of Technical Sciences Wes Evans and instructors at the Center. TMCC technical science majors mentor the junior high students during sessions. Burroughs and Rubio coordinate event planning and organization.
"[The students] receive more individualized help in smaller groups, so they're engaged, learn about the trade, and spend more time with an instructor," Rubio said. "We'd like to increase the amount of girls and diversity in TMCC technical programs, because they'll be able to see that it's totally possible to learn these skills."
Some of the students may discover that careers they hadn't previously considered could be right up their alley. Many young students are not aware that job positions in technical sciences are in demand and pay well, some starting at more than $50,000 per year.
"We'd like to give these students the knowledge that a four-year degree is not needed for a fulfilling and well-paying career—that these are viable options for a good living," Rubio added.
Evans agreed. "We've adopted them in the hopes to introduce them to the trades that are taught here at the Pennington Applied Technology Center," he said. "Faculty from Automotive, Welding, HVAC, and Machining are donating their time to demonstrate what we do here."
An award dinner is held at the end of each series to recognize volunteers from Vaughn and TMCC, thank TMCC faculty, and provide parents an opportunity to learn more about the program. According to Evans, this collaboration between TMCC and Vaughn staff members benefits the teens by expanding awareness of a broader set of educational options.
For more information about the Building Partnerships with Vaughn program, please contact Wes Evans at the Pennington Applied Technology Center.
K. Patricia Bouweraerts is a Marketing and Communications Specialist at Truckee Meadows Community College in Reno, Nevada.
Opinions expressed in Innovation Showcase are those of the author(s) and do not necessarily reflect those of the League for Innovation in the Community College.