Addressing Enrollment Challenges: Recruiting the Adult Learner
July
2020
Learning Abstracts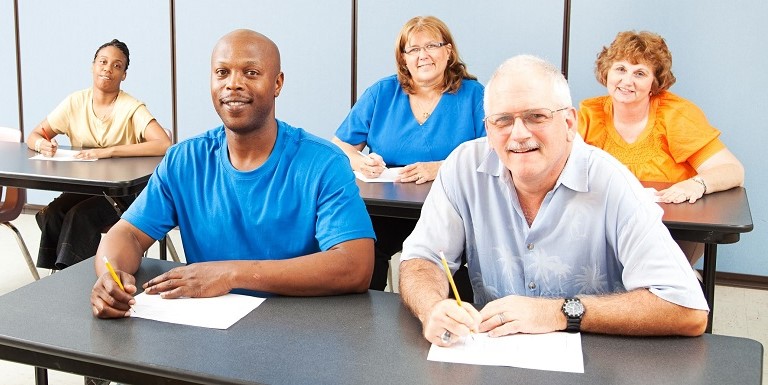 The COVID-19 pandemic has left higher education institutions with many unknowns heading into the fall. With rising unemployment rates and mixed results across the country for summer courses, the uncertainty of enrollment at community colleges will have significant impacts given the steady decline in the number of students coming through their doors. A report by the American Association of Community Colleges (Juszkiewicz, 2017) stated that between 2013 and 2016, community colleges nationwide saw fall enrollment declines of 3.4 percent, 6.9 percent, 2.4 percent, and 2.1 percent, respectively. In spring 2019, enrollment at two-year institutions was down 3.4 percent from the 2018 spring semester (National Student Clearinghouse Research Center, 2019). In order to address current enrollment challenges, community colleges must explore new approaches to increasing enrollment numbers.
While community colleges have been successful in developing programs for populations beyond traditional 18- to 22-year-old financially dependent students, such as high school students seeking dual enrollment opportunities, adults age 25 or older with no or little college education is another group of potential students for whom to create pathways. According to Ritt (2008), there are over 26 million adults in the United States with no high school diploma and over 32 million who have not attended college and are earning less than a living wage. Developing more programs and services to serve adult learners provides a significant opportunity to further the community college mission of equity and access to education, and to address enrollment deficits.
Who Is the Adult Learner?
Community college efforts to find new populations of students for recruitment has become even more important in the COVID-19 environment. Since February, the U.S. "unemployment rate and the number of unemployed persons are up by 9.8 percentage points and 15.2 million, respectively" (U.S. Bureau of Labor Statistics, 2020, para 3). This surge, along with other factors, has led to a more intentional focus on adult learners for admissions and recruitment teams. But who are these students and how are they best served? Adult learners are often responsible for dependents, single parents, full-time employees, financially independent, and lack a high school diploma (Ross-Gordon, 2011). For these reasons, they delay college entry or attend college part time. These students also bring a distinct skill set to college campuses. According to Ross-Gordon (2011), adult learners prefer self-directed learning, bring a variety of experiences that can positively contribute to the learning experience, display a readiness to learn that is task- or problem-focused rather than subject-centered, and show a high degree of motivation. Considering the nontraditional characteristics that adult learners bring to our campuses, a shift in institutional recruitment and retention efforts may be required.
Barriers to the Adult Learner
Services that community colleges provide for traditional student populations may not be effective for or meet the needs of adult learners. Ritt (2008) acknowledges, "Barriers that exist for adult students that make returning to college difficult or impossible to pursue may come in the form of personal, professional, and institutional barriers" (p. 13). Community college research identifies personal barriers to education, such as lack of time, family responsibilities, scheduling and location of courses, work- and family-related activity schedules, past experiences in college, lack of adequate and consistent child care services, financial limitations, and, in some instances, a general fear of returning to school (Ritt, 2008; Frey 2007). The community college must be prepared to address the challenges faced by adult learners by providing focused services to support their success.
Supporting the Adult Learner
Once they overcome the many challenges to enrolling in college, many adult learners come to campuses needing unique supports and services, including remedial instruction in math, reading, writing, and computer usage; assistance with financial aid, stress and time management, study skills, personal support, and the orientation and expectations of the community college; and mentoring that can assist with acclimating adult learners to college activities and offer encouragement and support (Alamprese, 2005). While these services may already be available at our institutions, serving this population could require nontraditional hours and methods of delivery. Not only is providing these support services central to our work, it can be an important component of setting an institution apart from others in efforts to attract adult learners.
Recommendations
Policymaking initiatives, financial consideration, website strategy, degree mapping, prior learning credit, accelerated coursework, and distance education are all important components adults consider when enrolling in higher education (Ritt, 2008; Ross-Gordon, 2011). When developing a recruitment plan, institutions must address these priorities as part of the strategy to increase adult student enrollment. Recommendations for recruiting adult learners include the following.
Identify or hire an admissions advisor who specifically serves adult learners. At many institutions, the focus of admissions advisors is on high school students. An admissions advisor assigned specifically to adults, however, could increase efforts to meet potential students where they are and engage them in conversations about postsecondary education opportunities. This advisor could also reach out to local social service agencies and programs, community centers, and churches with a goal of recruiting adult students. Assigning an advisor as the central point of contact with intentional focus on the adult population could serve as a catalyst to boost adult learner enrollment.
Develop new or modified curriculum geared toward adult learners. There are significant opportunities to develop new curriculum or adjust how current curriculum is being offered at the community college that can have a positive impact on adult enrollment numbers. As alternative delivery formats are often preferred by adults, it is important that curricula focus on accelerated pathways and hybrid and online options. Additionally, agility in developing programs that meet the needs of employers must be considered to effectively address workforce needs and attract adult learners. Promotion of more prior learning credit is another important opportunity for recruiting adult learners. Just as important is understanding that many adult learners may need remediation. Based on the desire for accelerated pathways, it is necessary to consider shorter developmental sequencing or corequisite models. Finally, location and proximity to home play an important role in many adult learners' choice of college. Community colleges should be looking to increase options at offsite locations that lead to credentials.
Ensure that necessary support services are available to address the needs of this population. The needs of adult learners are different than those of traditional college students. Community colleges must, therefore, consider the importance of providing support services for this population. Marketing institutional services such as childcare, tutoring, and counseling during the recruitment process helps potential students understand that supports are available to meet their unique needs and to help them be successful.
Launch a marketing campaign that focuses specifically on adult learners. Most colleges have developed a clear marketing strategy to attract prospective students. It is important to use these strategies to create campaigns specifically for adult learners. Marketing tactics could include traditional print material, social media posts, and online content that includes successful adult learner and alumni testimonials; information about accelerated, online, and short-term credentials that meet workforce needs and/or lead directly to employment; targeted, personalized messaging and marketing to potential students through a customer relations manager system; and direct outreach and community engagement with local business owners, employers, and social service agencies to find new students and develop potential partnerships.
Assisting Adult Learners and Increasing Enrollment
Community colleges often provide the access, affordability, and convenience adults require and, thus, serve as a logical choice for those looking to upskill or seeking a college credential (Frey, 2007). In today's environment, these factors are even more important. Given current trends, it is essential that two-year colleges develop successful strategies to recruit adult learners as a possible means to address declining enrollment. A well-developed recruitment plan, including the promotion of flexible pathways, support services, and policies that address current health and safety concerns, can help institutions attract adult learners, effectively supporting this student population's educational needs as well as improving colleges' enrollment numbers.
References
Alamprese, J. A. (2005). Helping adult learners make the transition to postsecondary education. Washington, DC: U.S. Department of Education.
Frey, R. (2007). Helping adult learners succeed: Tools for two-year colleges. Chicago, IL: Council for Adult and Experiential Learning.
Juszkiewicz, J. (2017, January). Trends in community college enrollment and completion data, 2017. Washington, DC: American Association of Community Colleges.
National Student Clearinghouse Research Center. (2019, May 30). Current term enrollment estimates, spring 2019. Retrieved from nscresearchcenter.org/currenttermenrollmentestimate-spring2019
Ritt, E. (2008). Redefining tradition: Adult learners and higher education. Adult Learning, 19(1-2), 12-16. doi:10.1177/104515950801900103
Ross-Gordon, J. (2011). Research on adult learners: Supporting the needs of a student population that is no longer nontraditional. Peer Review, 13(1), 26–29.
U.S. Bureau of Labor Statistics. (2020, June 5). The employment situation -- May 2020. Retrieved from www.bls.gov/news.release/archives/empsit_06052020.htm
Jonathan Miller is Dean of Students at Northern Essex Community College in Haverhill, Massachusetts.
Opinions expressed in Learning Abstracts are those of the author(s) and do not necessarily reflect those of the League for Innovation in the Community College.