Washington State B.A.S. Degrees: A Roadmap to Successful Implementation
October
2018
Leadership Abstracts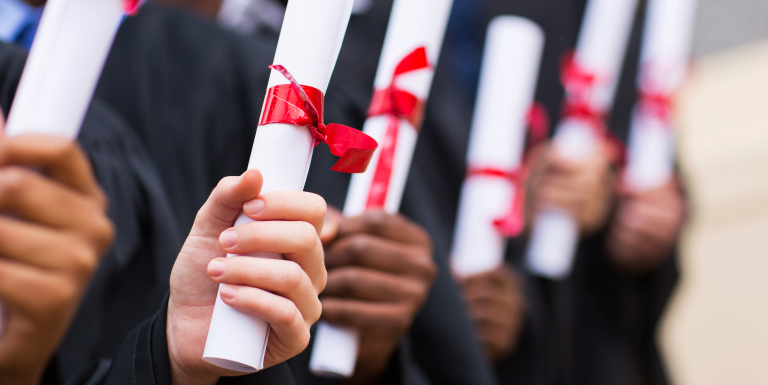 Washington State is home to 34 community and technical colleges. The majority of these institutions are clustered in and around the Seattle metropolitan area, with the remainder strategically located in more rural and sparsely populated areas of the state. Within these 34 colleges, roughly 380,000 students are enrolled (headcount), with an FTE count of roughly 181,000.
Of students enrolled in higher education in Washington State, nearly 60 percent attend community and technical colleges. The credential types available to these students include short-term certificates, certificates, Associate of Applied Science (A.A.S.), Associate of Applied Science-Transfer (A.A.S.-T), Associate in Arts (A.A.), Associate of Science-Transfer (A.S.-T), Associate in Business (A.B.), and Bachelor of Applied Science (B.A.S.) degrees.
The impetus for the development of B.A.S. degrees in Washington State was two-fold. First, community and technical college presidents, community leaders, and industry partners identified an urgent need for extended pathways for applied associate degree holders. Many employers expressed interest in promoting their existing technicians into managerial positions, but without necessitating that their technicians "start over" in order to earn a baccalaureate degree. In addition to managerial roles, employers identified a need for increasingly skilled workers at the technician level, a niche that B.A.S. degrees could fill effectively (Seppanen, 2010).
Second, in many cases Washington State's existing baccalaureate institutions were not able to meet the demand from industry, especially in high-demand and high-growth sectors. In the years leading up to B.A.S. degree development, existing baccalaureate institutions were not able to meet the needs of the booming tech industry, for example, despite large investments by the state over time to increase capacity. Companies began to hire workers from out of the state, leaving Washington residents without access to jobs, or the education required to attain those jobs, in important statewide industries. This de-emphasis on "homegrown" talent disproportionately affected low-income communities and communities of color—two primary constituencies of the community and technical college system. Without an extended pathway, Washington put a ceiling on opportunities for advancement among certain populations within the state. Additionally, the influx of out-of-state workers created a large tax burden for residents as the state's infrastructure needs—roads, schools, transit, and the like—expanded to accommodate the increased population. Community and technical college leaders resolved to meet industry needs while ensuring Washington students had the training and skill pathways necessary for living-wage careers.
Washington State's Applied Baccalaureate Story
A small group of community and technical college presidents, who had learned of B.A.S. degree development in Florida, recognized it as an opportunity for Washington State to expand upper-division capacity and provide an extended pathway for applied associate graduates. The group approached the State Board for Community and Technical Colleges (State Board), the board of directors overseeing the state's 34 community and technical colleges. Concurrently, the group met with other presidents in the system to discuss and gauge interest in the concept.
In early 2004, the community and technical college system conducted a study to examine the impact B.A.S. programs might have on production of baccalaureate-level workers to supply the labor market. At the same time, the State Board and public universities undertook a study to gauge the need for additional capacity and enrollment growth at the upper-division level (Seppanen, 2010). The results of both studies provided the impetus to the college system and State Board to move forward with a bill in the upcoming legislative session.
The community and technical college system worked closely with the State Board legislative committee in the months leading up to and during the 2004 legislative session. The college system was fortunate to have several key advocates for B.A.S. programs, both among college presidents and within the legislature. A strategic decision was made to approach B.A.S. degree development as one strategy within a larger push for expanded upper-division capacity and enrollment growth. Together with B.A.S. degree development, expanded space at universities and increasing university centers on college campuses were chosen as additional strategies to meet this goal.
In 2004, the legislature passed House Bill 1974 authorizing B.A.S. degrees at community and technical colleges and granting authority to the State Board to approve the offering of these degrees. As a next step, the State Board was asked by the legislature to convene a task force of representatives from the community and technical college system to develop an objective and rigorous application process. The State Board developed an application process whereby colleges must show adequate employer demand and a regional skills gap, unmet need by other providers in the region, qualified faculty, a curriculum review by a similar university program, and evidence of conversation with universities regarding pathway opportunities.
The legislature authorized four colleges to offer B.A.S. degrees in an initial pilot in 2005: South Seattle College, Olympic College, Peninsula College, and Bellevue College. The state provided a year of start-up funding prior to the first teaching year, on the advice of other states. Each of the pilot colleges received $260,000 to help with initial costs such as hiring new faculty, developing curricula, and purchasing needed library and laboratory resources. Pilot colleges were funded for 17 to 22 FTEs per program for junior year classes in the first teaching year, and 35 to 40 annual FTEs per program in subsequent years (Seppanen, 2010).
Due to the success of the initial pilots, approval for three additional pilots was granted by the legislature in 2007. Pilot status was removed a few years later following the success of the second group of pilot programs. Since the initial launch, several program trends have emerged, including applied management, information technology, dental hygiene, funeral science, health informatics, cybersecurity, teacher education, and natural resource conservation. All colleges offering B.A.S. degrees are accredited at the four-year level through the Northwest Commission for Colleges and Universities, the same accrediting body that accredits Washington State's universities.
Challenges
Initially, many presidents, legislators, and community members across the state were concerned that introducing B.A.S. degrees would lead to mission creep, detracting from our open-access values and using precious resources to do so. Other concerns included a lack of capacity and hidden costs.
To address these concerns, the task force authorized by the state legislature established a set of guiding principles and commitments, to which the state's community and technical colleges have adhered:
The programs are to serve local students who are not otherwise being served.
Programs are regarded as an extension of the workforce mission, in response to increasing skill requirements of employers.
Colleges selected to offer these degrees must have the capacity to develop and sustain new programs.
Community and technical colleges] offering some applied baccalaureate degrees will remain predominately lower division institutions.
Colleges are to maintain the "open door" philosophy as they add applied baccalaureate programs. (Seppanen, 2010, p. 8)
The guiding principles also direct colleges to consider degree pathways only when employer demand is large enough to employ 15 to 25 graduates per year and where the workforce faculty is already among the strongest and thus poised to develop rigorous upper-division coursework (Seppanen, 2010).
Concern among four-year universities regarding competition for baccalaureate students and saturation of local labor markets was another obstacle to B.A.S. implementation. Many four-year universities initially lobbied legislators to oppose the bill. The State Board and community and technical colleges made every effort to work closely with university partners to address this concern, emphasizing the importance of higher education capacity building in Washington to meet the needs of both industry and resident students. This focus was a significant factor in garnering buy-in from university and legislative partners.
To further assuage concerns, any B.A.S. program application must be approved by the community and technical college system and shared with university partners. The universities also played a role in the approval process until 2012, at which time the Washington Student Achievement Council was created to develop statewide goals for baccalaureate attainment. This process ensures that data on regional skills gaps and evidence of need currently unmet by alternative training providers is available for review; training providers may express concern as they see fit. Additionally, B.A.S. applicants must show evidence of efforts to communicate, and partner as appropriate, with regional universities, providing another opportunity for collaboration as opposed to competition.
Tuition for B.A.S. programs provides yet another assurance against competition, particularly price-based competition, with regional universities. Community and technical colleges charge students comparable tuition in upper-division B.A.S. courses as students would pay in similar upper-division courses at Washington State regional universities.
Finally, start-up costs associated with B.A.S. degree implementation were another challenge. Although the legislature provided funds to cover many of these expenses during the pilot phase of implementation, ultimately, a higher tuition rate helped immensely to support smaller class sizes, increased library resources and instruction, and faculty time (Seppanen, 2010).
Successes and Milestones
Community and technical colleges across Washington State have enjoyed many successes with B.A.S. degree programs in the years since implementation. Over the past several years, the number of colleges offering B.A.S. degrees has increased dramatically; nearly all colleges in the state (27 out of 34) now offer at least one B.A.S. degree. In conjunction with this increase in programs, B.A.S. directors and workforce deans around the state have increasingly collaborated to develop statewide efficiencies, and share best practices and lessons learned. This group has grown as B.A.S. programs have increased, with B.A.S. leaders at each college meeting quarterly at rotating locations around the state. Recently, the group worked with the statewide Instruction Commission and the State Board to achieve status as one of the state's official councils—the Baccalaureate Leadership Council. This puts the group on par with other statewide councils, such as the Workforce Education Council and Council for Basic Skills, with authority to develop and impact statewide policy related to B.A.S. degrees.
This collaborative approach led to another of the state's significant successes: an annual B.A.S. conference, held each fall quarter at South Seattle College. The conference brings together a broad cross-section of attendees connected with B.A.S. degrees, including program deans and directors; faculty members; students; and financial aid, library, and other staff. The conference is designed to include sessions relevant to each group and to any college, whether new to B.A.S. development or maintaining more seasoned programs. Highlights of the conference each year are the student panels. Current and former B.A.S. students are invited to sit on panels to discuss the value of their B.A.S. experience, any suggestions for improvement, and—for graduates of the programs—how they are faring in the labor market. The student panels are an important opportunity for qualitative feedback in an informal focus group setting.
The conference, which began in 2013, has grown substantially over the past several years, with representation now from nearly every college in the state. The organizing committee has additionally received requests from states outside Washington interested in attending. California, in particular, has expressed interest as they develop and pilot their first B.A.S. degrees.
Recently, a program to help dislocated and vulnerable workers receive tuition assistance for retraining—the Worker Retraining program—was expanded to B.A.S. programs. In years past, Worker Retraining funds were available only for students in career-training certificate and associate degree programs. This expansion has helped to ensure a baccalaureate pathway is available for vulnerable members of our workforce—those who have been laid off; are transitioning out of the military; are recently divorced, widowed, or separated; or who need skill upgrades in order to keep their current jobs. As the Director of Workforce Education at Green River College put it: "With the cost of college tuition continuing to skyrocket, being able to use Worker Retraining funding to obtain a BAS is a win-win for students, the college, and the Washington state workforce" (Orr, 2016, para. 4).
Lastly, a major success that is inherent within B.A.S. degree implementation is the opportunity to better serve working and place-bound adults. B.A.S. programs in Washington have paved the way for a more equitable statewide workforce. By providing these opportunities at community and technical colleges throughout the state, in communities often not served by existing baccalaureate institutions, we ensure students are not precluded from receiving a baccalaureate-level education and attaining a living-wage job by virtue of being low-income, having family responsibilities or work obligations, or otherwise being place-bound.
Review, Evaluation, and Lessons Learned
Current Status of B.A.S. Degrees
When the legislature approved applied baccalaureate degrees in Washington State, several policy goals were also explicated. The first aim was to increase educational pathways for professional-technical associate graduates who have historically been limited in their ability to apply credits toward a bachelor's degree. This policy goal has and will continue to be met with great result. Since the first pilots, B.A.S. degrees have grown significantly, providing an education and career ladder for thousands of students. Currently, 27 of the state's 34 community and technical colleges offer a total of 86 Bachelor of Applied Science degree programs. From the first year of official B.A.S. degree implementation, in 2008, to the present day, B.A.S. programs have achieved a headcount of 2,167 students and 1,633 FTEs (Grothe & Hammer, 2017).
In addition, B.A.S. degrees must help meet state goals for baccalaureate degree production. Specifically, the total number of baccalaureate degrees awarded by public two-year and four-year institutions must increase to 42,400 per year. To do this, the community and technical college system must increase the number of students who transfer to baccalaureate programs by 25 percent and increase the number of applied baccalaureate graduates to 1,400 by the year 2030 (Kaikkonen, 2015). Presently, an average of 40-50 students are enrolled in each B.A.S. program per year. Programs have achieved strong fall-to-spring retention or completion rates, averaging 87 percent across the state (Kaikkonen, 2017). Between 2008 and 2016, 503 students completed a B.A.S. program statewide, putting the state well on track to meet its goal.
Finally, B.A.S. approval is intended to expand the workforce capabilities of community and technical colleges to better serve the needs of local and state employers. To that end, industry representatives are key partners in B.A.S. degree development, identifying areas of program need, assisting with outlining program structure and curriculum, serving on technical advisory committees, and providing internships and job opportunities for graduates upon completion. This ensures that community and technical colleges remain relevant to our statewide industries and are regarded as primary training providers for emerging workforce needs.
Graduates of B.A.S. programs in Washington State also fare well in the labor market, earning significantly more than their associate degree counterparts in the first year following program completion. An analysis of Washington State employment records matched to graduate data found that B.A.S. graduates out-earned their applied associate degree counterparts (who had not received a B.A.S. degree) by anywhere from $3,700 to $27,000 annually, depending on the program, with percentage increases averaging 30 percent. Additionally, many graduates have gone on for further study. Graduates have transferred to over 40 universities, including the University of Washington, Western Governor's University, Seattle University, Western Washington University, and Gonzaga University (Kaikkonen, 2015).
The Future of B.A.S. Programs in Washington State
Washington State now has 86 programs approved at 27 colleges, with 17 new programs scheduled to begin in fall quarter of 2017 at this writing. An additional nine programs are currently in the development and review process with the State Board for Community and Technical Colleges. The Baccalaureate Leadership Council is considering development of a statewide strategic plan to map the development of B.A.S. degrees over the next several years.
Lessons Learned
To obtain buy-in from key decision makers and attain approvals to pilot and eventually implement B.A.S. degrees, Washington State is able to share several key lessons learned. The initial group of college leaders and organizers made every attempt to engage with university partners to assuage their concerns regarding competition and overproduction of baccalaureate degrees. Gathering the labor market and degree production data to demonstrate a supply-demand gap in key industries was instrumental in justifying the expansion of upper-division capacity. This data helped both university partners, college boards of trustees, and the state legislature understand that applied baccalaureate degrees would add to, as opposed to compete with, existing baccalaureate offerings.
As mentioned above, university partners were not alone in their initial wariness of applied baccalaureate degrees. Many among the community and technical college system were fearful that expanding our offerings in this way would lead to mission creep, and would damage our reputation among prospective students and community partners as an open-access institution. The task force authorized by the state legislature was able to address these concerns by identifying a set of guiding principles for themselves and for B.A.S. program development more broadly. The principles stated that community and technical colleges would remain primarily lower-division institutions, with an unwavering commitment to the open-access mission, regardless of B.A.S. implementation. In addition, the Washington State Board for Community and Technical Colleges commissioned a study to examine mission creep issues. Findings noted that B.A.S. degrees enhanced all other areas on the community college campus. These actions helped ensure that colleges remained true to their missions and alleviated the concerns of college staff and partners alike.
Upholding a high standard of rigor for the B.A.S. program approval process is another lesson learned for Washington B.A.S. degrees. Applications for new programs go through a multistage review and approval process, requiring the colleges to provide strong evidence of labor market need for the degree, projected wage data, proof of student demand for the program, evidence of collaboration with university partners, and more. In addition, two external experts from a university-level institution must review any programs in development. The reviewers must each provide a report summarizing their recommended modifications, to which the program developers must respond in writing.
This rigorous process is another mechanism to ensure that B.A.S. programs are relevant to both students and industry, the curriculum and program model are consistent with that of other baccalaureate institutions, and that graduates of the program will add to the state's production of baccalaureate-level workers.
It is clear that the implementation of applied baccalaureate degrees has been greatly advantageous to the State of Washington. Local labor markets benefit from increased baccalaureate production, and students and incumbent workers have access to extended education and career pathways. Also of critical importance, B.A.S. degree programs enable the state to respond to workforce needs and expand economic development through the growth of homegrown talent. By anticipating and addressing all concerns proactively throughout the development process, Washington State is able to ameliorate and avoid most, if not all, negative consequences. Today, Washington State is proud to be both an advocate for B.A.S. programs at community and technical colleges and a resource for other states planning to initiate the implementation process.
References
Grothe, M., & Hammer, J. (2017, March). Washington BAS degrees – Our data and what's next. PowerPoint presented at the Community College Baccalaureate Association's 17th Annual International Conference, San Francisco, CA.
Kaikkonen, D. (2015). Applied baccalaureate degrees: Policy and outcomes evaluation (Research Report 15-2). Olympia, WA: Washington State Board for Community and Technical Colleges. Retrieved from www.sbctc.edu/resources/documents/colleges-staff/research/bachelor-applied-science-research/applied-baccalaureate-policy-outcomes-rpt-2015-oct.pdf
Kaikkonen, D. (2017). Program growth and graduate employment outcomes of Washington's applied baccalaureate degrees. Olympia, WA: Washington State Board for Community and Technical Colleges. Retrieved from www.sbctc.edu/colleges-staff/research/reports/applied-baccalaureate-degree-research.aspx
Orr, A. (2016, July 21). Four-year degrees at Green River now eligible for funding from worker retraining program [Web log post]. Retrieved from medium.com/green-river-web-mobile-developers/four-year-degrees-at-green-river-now-eligible-for-funding-from-worker-retraining-program-f0ec8d6cec8f
Seppanen, L. (2010). Development of Washington's community and technical college applied baccalaureate degrees. Olympia, WA: Washington State Board for Community and Technical Colleges.
Editor's Note: This issue of Leadership Abstracts is a chapter from The Community College Baccalaurate: Supporting Regional Economic Development, edited by Constance M. Carroll, Chancellor, San Diego Community College District, and Rufus Glasper, League President and CEO.
Malcolm Grothe is Associate Vice Chancellor for Workforce and Economic Development, Anna Baldwin is Director of Workforce Projects, and Shouan Pan is Chancellor at Seattle Colleges, Washington.
Opinions expressed in Leadership Abstracts are those of the author(s) and do not necessarily reflect those of the League for Innovation in the Community College.