Virtual Leadership Development: Building Leadership Efficacy in the Midst of a Global Pandemic
August
2021
Leadership Abstracts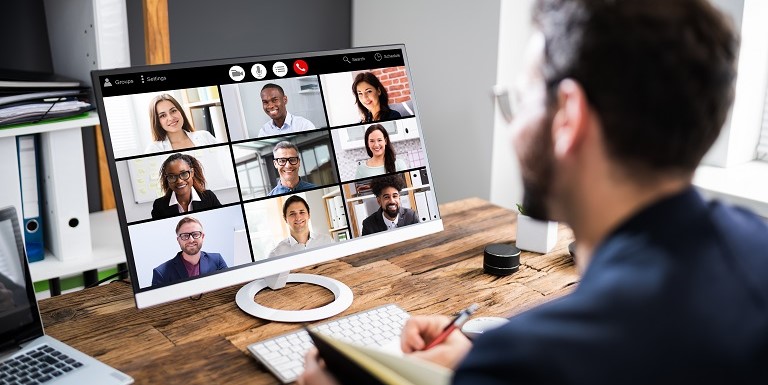 The reach and impact of COVID-19 is not a new point of conversation. Throughout the world, families, businesses, and schools adjusted their practices and schedules in response to the global pandemic. Some of those shifts were unexpected, undesirable, and even devastating. At Valencia College, the institutional shift to remote work gave the Organizational Design and Development (ODD) team, led by Director Katie Tagye, an opportunity to revamp a long-standing program to more accurately address the needs of the college and its employees. With deep reflection and self-awareness, the team explored current practices that positively influence employee development and better inform current practices regardless of working conditions in the future. Offering an updated emerging leaders program during the pandemic taught us about the efficacy of virtual leadership development, exposed new ways to create opportunities for employees who were previously unable to participate, and demonstrated that we should embrace virtual leadership programs long-term. 
In 2009, Valencia began an in-house leadership development program. Originally called PIVOT 180, the 11-session, year-long program was designed to develop leadership and self-management skills through a variety of professional development activities, including day-long workshops featuring guest presenters, self-assessments, reflection, and reading circles. The program accepted 20-25 full-time employees a year. 
Over the years, barriers to participation and full engagement materialized. Some potential cohort members could not participate due to travel and time constraints. For others, the expectations, such as reading a different leadership book before each monthly session, became unmanageable. Other concerns, such as the length of the program and the full-day format, also became evident. Therefore, when the COVID-19 pandemic interrupted business-as-usual in March 2020, the then-in-progress cohort's shift from in-person, full-day workshops to shorter, virtual sessions opened the door to an entirely different program format. While difficult at first, the shift forced the facilitation and support team to boil down the outcomes to the most important elements and activities. The team was pleasantly surprised when feedback from the virtual sessions was as positive as feedback from the traditional sessions. As a result, a new design began to emerge.
Addressing the Need for a Virtual Leadership Development Program
With the deep desire to continue developing Valencia's emerging leaders while working remotely, the ODD team identified goals for developing a pilot leadership program which would run in the fall of 2020. These goals included (a) transition traditionally offered face-to-face development programs to a virtual setting; (b) find ways to increase access to supports and resources for employees' leadership development; (c) create opportunities for community building; and (d) foster an environment in which self-exploration was highly encouraged. 
In addition, the ODD team wanted to ensure that participants in this new program would be led by facilitators with diverse perspectives and experiences. In order to accomplish that goal, the facilitation team was made up of three individuals: one person from the ODD team, to ensure alignment with organizational development practices and goals; one person from outside of the ODD team, to provide a consistent, diverse perspective; and one rotating guest facilitator, to give a fresh perspective on each leadership topic. Once Natasha McIlmurray was identified as the ODD facilitator, the team recruited Lauren Thomas, a mathematics professor who had participated in Valencia's other leadership programs and is deeply invested in the development of both her students and colleagues. The facilitation team used their distinct talents, perspectives, and experiences to develop a program to meet the needs of employees.
Tagye, McIlmurray, and Thomas began thinking about how to structure an eight-month, cohort-style Virtual Leadership Development Program (VLPD). With the purpose of intentionally targeting emerging leaders, similar to the PIVOT 180 program, the design team started by defining an emerging leader as someone who is open to exploring their innate leadership skills, not afraid to fail forward, and committed to their personal and professional growth. Twenty-three emerging Valencia leaders were ready to take on the challenge together amidst a global pandemic.
During the design and development phases of the program, the team was guided by the following question: "How might we design, develop, and deliver an engaging, valuable program to our colleagues in such tumultuous times?" At Valencia College, we believe that one does not have to hold a formal leadership position in order to be a leader; a core college value is that anyone can learn anything under the right conditions. The design team's main goal was to foster the right conditions for emerging leaders to prosper.
The Framework
The design team collaborated with colleagues in the department of Employee Development, previous facilitators of the PIVOT 180 program, and partners in Organizational Development and Human Resources to gather feedback on program design and session outcomes. As a result of that collaboration, one of eight identified employee competencies became the topic for each session during the eight-month program. The team chose to implement a flipped classroom model in which participants were tasked with independent learning using LinkedIn Learning courses based on the month's topic and asked to review resources such as articles and videos, and, on occasion, to complete a pre-work activity to prepare them for the next three-hour, synchronous virtual session.
The facilitation team carefully considered how to ensure that each session was informative and engaging, and allowed for interpersonal connection between participants. It was important that participants had a safe space to foster meaningful relationships, to practice each month's competency, and to leave feeling encouraged and motivated to practice what they learned in their respective roles. Guest facilitators, made up primarily of leaders from within the college, shared their knowledge and personal leadership experience; they focused less on teaching the concepts and more on guiding participants in practice by taking them through activities, allowing them to reflect and practice individually and collectively. For example, during the emotional intelligence session, the guest facilitator led participants through an emotional triggers exercise. During this activity, participants were taught how to identify their main triggers, recognize their physiological responses to changes in emotion, effectively communicate when and how they had been triggered, and ways to appropriately address these triggers in a professional setting. Participants were then given an opportunity to role-play an emotionally charged workplace scenario and receive feedback and suggestions for improvement from their peers. Designing activities such as individual reflection, small group work, and opportunities to share thoughts and perspectives with the larger group kept engagement high and participants eager for the next session.
The Impact
Early and current research indicates no significant difference between the quality of asynchronous teaching compared to synchronous teaching modalities (Center for Creative Leadership, 2020; Kingma & Keefe, 2006; Ya Ni, 2013). VLDP demonstrated that an impactful leadership program can be achieved completely online. Participants felt the most valuable aspects of the program were its facilitation model, variety of engagement opportunities, versatility, accessibility, and sense of community.
The long-term outcomes of VLDP have yet to be determined due to the infancy of the program. However, the program is being viewed as a success because of participants' demonstration of learning through robust final projects, positive responses on program evaluations, and increased engagement in other efforts at the college.
According to one participant, the program
created opportunities to reflect on your own leadership and experiences while meeting amazing peers and guest speakers. … Once we grew comfortable with each other, we were able to dig deep and discuss real experiences that have shaped who we are as leaders.
Another participant stated during the last virtual session that she avoided applying for past face-to-face leadership programs because she was unable to commit one full workday a month for 11 months. She expressed her gratitude to the facilitators for offering an accessible, flipped model program where she was able to learn at her own pace, stating that being a full-time working mother makes it challenging to engage in long-term professional development. 
A third participant said,
This program has definitely been a bright spot for me. I learned a lot about myself over these last eight months and I am grateful to walk away with practical tips and tricks for my work life. One thing I did not see coming is the ripple effect of this new knowledge I have obtained; to my surprise I've noticed that these new habits have somehow trickled over into the way I communicate and express myself with my husband and my children, which benefits everyone in the family.
Lessons Learned
The design team learned several valuable lessons related to participation, design, and implementation as well as community building. Specifically:
Low participation does not necessarily mean that employees are not interested in the topic. In this instance, access was increased for employees who could not be out of the office for a full day and/or drive to a different campus. In the future, the design team intends to find additional creative avenues for increasing access for interested employees. 
Leadership development programs can be developed and implemented in a way that is both meaningful and cost effective. The virtual environment provided a space for creativity and flexibility. By capitalizing on the internal talent and available resources at the college, a robust program was offered at minimal cost.
At a large college, fostering community is key to building and maintaining institutional culture. By offering a completely virtual program, traditional barriers (i.e., physical location, time constraints) to forming connections and building relationships between employees were mitigated. This allowed participants to flourish together in new ways. 
Moving Forward
Looking ahead, the ODD team is confident this program will continue to serve the purpose of developing Valencia's emerging leaders. With a new name—Emerging Leaders Program—the next iteration of Valencia's first completely virtual leadership development program will continue in fall 2021. The team plans to repeat the program with the same intention of providing an engaging, valuable, and meaningful virtual experience in hopes of developing Valencia's future leaders. There are anticipated changes, such as aligning already developed curriculum to updated employee competencies. However, Valencia College plans to make virtual leadership development an integrated part of its learning culture.
References
Center for Creative Leadership. (2020, December 8). Advantages of online learning for leadership development: What our research says. https://www.ccl.org/articles/leading-effectively-articles/advantages-of-online-learning-for-leadership-development
Kingma, B., & Keefe, S. (2006). An analysis of the virtual classroom: Does size matter? Do residencies make a difference? Should you hire that instructional designer? Journal of Education for Library and Information Science, 47(2), 127-143.
Ya Ni, A. (2013). Comparing the effectiveness of classroom and online learning: Teaching research methods. Journal of Public Affairs Education, 19(2), 199-215.
Katie Tagye is Director and Natasha McIlmurray is Coordinator, Organizational Design and Development; Lauren R. Thomas is professor, mathematics, at Valencia College in Orlando, Florida.
Opinions expressed in Leadership Abstracts are those of the author(s) and do not necessarily reflect those of the League for Innovation in the Community College.