Using Innovative and Strategic Solutions to Focus on Equity
October
2020
Leadership Abstracts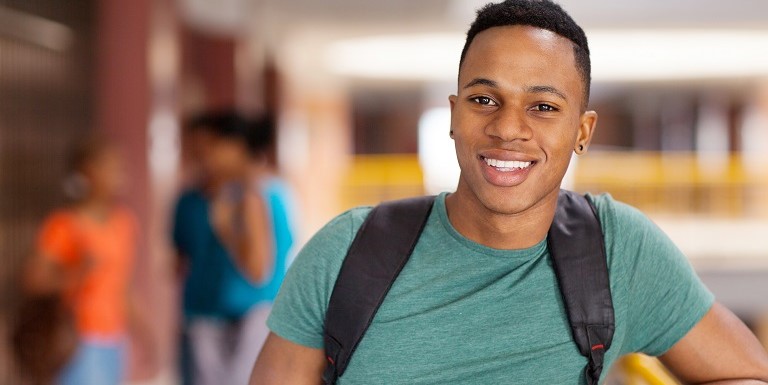 Jackson College (JC) serves approximately 6,000 students a year in three largely rural counties in Southcentral Michigan. Of the 20 percent who identify as students of color, African American males have the lowest rates of successful course retention and completion, and, therefore, are most in need of academic support. To effectively address this concern, JC hosted an African American male summit in 2008 to help the college better understand the students' needs and specific barriers, and to identify effective strategies to improve academic outcomes.
Keeping Student Needs at the Center of the Conversation
Through research and data mining, the Multicultural Affairs department at Jackson College learned that not only did the African American male students at Jackson College lag behind their White counterparts in course retention, persistence, and completion, they were also the most likely to arrive on campus academically underprepared. This insight suggested the need for the college to obtain input from those with direct influence on this population's academic preparation and success before they begin their college journey. The first step in our strategic approach to addressing this issue was, therefore, to assemble the right people for a guided conversation and strategy session.
Under the Presidents directive, the Director of Multicultural Affairs invited a comprehensive group of individuals with a vested interest in the lives of African American males in the Jackson community, as well as those who could play an integral role in their academic preparation and life success, to the inaugural Jackson College African American Male Summit in May 2008. Over 160 of the brightest minds in the community accepted the college's invitation to the "Increasing Successes (Academically) Among Young African American Males: Identifying Barriers, Providing Solutions" summit, and the synergy in the room was palpable. Participants included K-12 teachers and administrators, parents, grandparents, elected officials, pastors, nonprofit organization leaders, law enforcement leaders, judges, prison wardens, business leaders, and community leaders. After three presentations, attendees broke into groups of 12-15, each led by a moderator. The moderators challenged the groups to identify barriers impeding the academic success of African American males in Jackson, Michigan, and solutions to increase their success.
Identifying a Strategy
Two of the ideas that surfaced at this summit would, ultimately, serve as solutions to increase African American male success at Jackson College: (1) provide additional campus support, and (2) facilitate more opportunities for students to see examples of successful African American male college graduates, or what summit participants identified as "the end goal." Summit findings included the fact that this student population at JC was one of the only subgroups that rarely saw examples of the end goal on campus due to low numbers of African American male faculty, staff, and administrators. This finding supported previous research from the college's work with Achieving the Dream. As a result, Jackson College established an African American male mentoring initiative—Men of Merit.
Men of Merit
The Men of Merit initiative has three essential components:
Participating students are mentored by successful college-educated African American males from the local community;
Students in the program mentor each other (e.g., upper classmen mentor lower classmen, students stronger in math mentor those with greater needs in math); and
Participating students mentor younger male students in the greater Jackson community's K-12 school system.
JC partners with successful men of color in the community to support the college's African American student population. These leaders present at weekly meetings; serve as mentors; and endow students with critical insight into how to persevere, overcome barriers, and achieve academic and life success as an African American male in the 21st century. Program objectives are to develop strong multicultural student leadership, increase engagement in the college experience, improve retention rates and academic productivity, and promote service learning.
Prospective students are initially contacted as a result of faculty, staff, and administration recommendations. In addition, student members are encouraged to invite other students to participate. Meetings are held weekly and cover academic status and progression. Students are given information regarding tutoring and other academic support systems, and encouraged to utilize them. In addition, an African American community leader/mentor presents at each meeting on topics such as how to have a successful journey in higher education, the importance of campus engagement, utilizing support systems, financial literacy, interview etiquette, business etiquette, the power of networking, and public speaking. The topics are chosen from the Men of Merit curriculum, which is developed by the Multicultural Affairs Department.
Community service and community engagement are essential parts of the Men of Merit initiative. Activities include speaking at local schools, meeting with civic leaders and elected officials to improve the community, and participating in community cleanup efforts and food drives. Another key component is an annual trip to Historically Black College and Universities (HBCUs). This trip helps with student recruitment, serving as an incentive for student involvement. HBCU visits also help students to realize their own potential as they witness highly successful African American students at prestigious institutions of higher learning. To supplement funding provided by the college, the group holds fundraisers each year to help pay for this trip.
Outcomes/Results
The Jackson College Men of Merit initiative has been very successful. Participants have consistently had fall-winter retention rates above the college's overall average fall-winter retention rates of 72 percent, and as high as 92 percent in some years. On average, Men of Merit retention rates are 10 percent higher than the overall college retention rate, and over 20 percent higher than the retention rate of African American males at the college who do not participate in the initiative.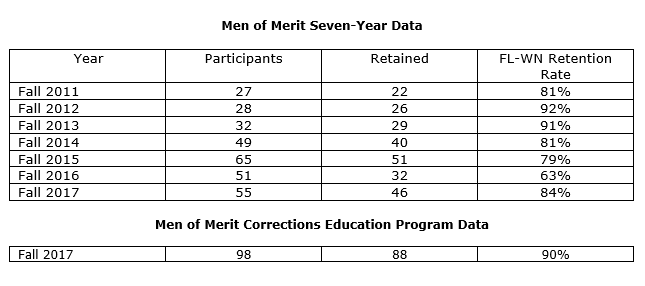 Understanding Participant Needs
To better understand the African American male student population and to recruit incoming students into the Men of Merit program, the college developed a noncognitive assessment tool in 2015 to collect data about students' educational background, home life, experiences, and perspectives. This tool is administered at the time of enrollment and is completed via an electronic survey, which is sent to students when they identify as African American. This data is used to determine the type and depth of support students may need upon enrolling. Due to the tool's success, it has been converted to a digital platform. The experience management company Qualtrics partners with JC to make the tool available for purchase by other institutions of higher education.
Scaling and Expanding
To expand the scope of the Men of Merit initiative, additional meeting days and times were added. At the initiative's inception, meetings were held on Thursdays at noon. Although this was a good meeting time for the initiative's leaders and community mentors, it conflicted with many students' class schedules. To combat this challenge, a Tuesday evening meeting was added; the additional meeting not only eliminates conflicts with daytime schedules, but also provides students more opportunities to engage with the initiative.
Because of the success of the Men of Merit initiative, two additional programs were implemented: the Sisters of Strength program for female students and an additional Men of Merit initiative for students in the JC Corrections Education Program. Both components continue the success of the original initiative with retention rates averaging above 80 percent for Sisters of Strength and 90 percent for the Correction Education Program. In addition, to improve college preparedness and to develop a pipeline for the Men of Merit initiative, extension sites were added at a local middle school and high school.
Lessons Learned
The primary lesson learned from this initiative is the impact that increased campus engagement has on underrepresented student populations. The more students are engaged in the campus experience, the more likely they are to persist. The Men of Merit initiative provides the African American male student population an opportunity to increase their connection to campus in a way that also increases their sense of belonging, which we find to be very impactful.
We also learned that the additional layer of support built into the initiative makes it more difficult for students to fall through the cracks. While students' experiences in the classroom are critical in impacting their academic outcomes, a well-structured, relatable, outside-the-classroom initiative can significantly increase academic outcomes as well. This initiative provides students with almost daily contact with program leaders, which is key to the success of this underrepresented population.
A significant and persistent challenge we faced, and a lesson we learned, was how difficult it is to scale a student initiative that is not mandatory or credit bearing. Through innovative outreach efforts, including social media, and by offering more meeting times, we were able to expand the initiative. However, we are still developing strategies to help us reach the majority of African American male students enrolled in a given semester.
Recommendations
Should an institution desire to pursue a similar initiative, we suggest the following based on our experiences:
Conduct a thorough analysis of the challenge by convening multiple stakeholders (e.g., JC's African American male summit).
Identify a single individual with the necessary competencies to lead the initiative. It is important for a major initiative to have singular accountability.
Utilize available community resources. Necessary resources are often not available on a single college campus, especially at smaller and/or more rural institutions.
Prototype the initiative with a smaller group, then fully scale and implement gradually over time. It is easier to provide close oversite and make necessary adjustments when the initiative is smaller and more manageable.
Conduct an annual initiative evaluation and make changes as needed.
In addition to these recommendations, we encourage colleges that are interested in developing a student success program such as Men of Merit to first contact institutions that have successfully implemented a similar initiative to gain insight into the process and lessons learned. To learn more about JC's program and processes, please contact Lee Hampton.
Lead image: Kente Celebration
Lee Hampton is Vice President, Diversity, Equity, and Belonging, at Jackson College, Jackson, Michigan.
Opinions expressed in Leadership Abstracts are those of the author(s) and do not necessarily reflect those of the League for Innovation in the Community College.