Untapped Leaders: Faculty and the Challenge of Student Completion
December
2018
Leadership Abstracts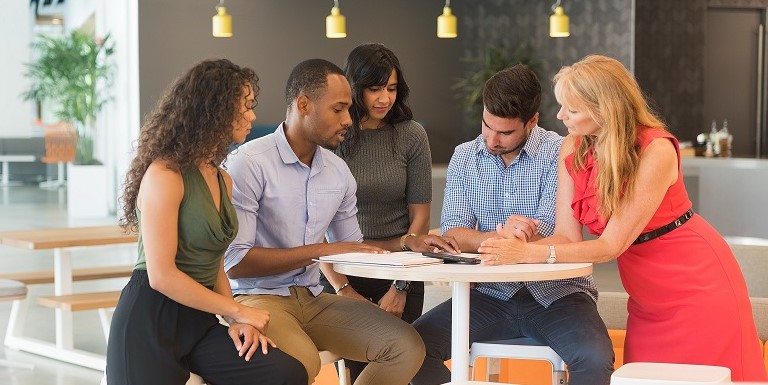 In 2014, the League for Innovation in the Community College launched its Faculty Voices Project to engage the missing voices of community college faculty in the national conversation about student completion. This issue of Leadership Abstracts presents the Executive Summary and Recommendations from the project's report to the field, Untapped Leaders: Faculty and the Challenge of Student Completion.
Executive Summary
It has been nearly a decade since research and policy reports called on the nation's open access colleges to increase the number of Americans completing college certificates and degrees. This national emphasis on completion was supported by research revealing that community college remedial courses were dead ends for many students (Bailey, Jeong, & Cho, 2010), and by critiques of college credentialing requirements that were characterized as convoluted and lacking a clear connection to gainful employment (Martorell & McFarlin, 2011). Subsequently, policymakers redesigned funding formulas to spur community colleges to improve their students' performance in completing programs, degrees, and credentials. Through private and government grants, institutions were encouraged to experiment with a wide array of programs to ensure that more students completed college (Weiss, Visher, & Wathington, 2010; Zachry Rutschow et al., 2011).
The completion movement represents a response to dramatic shifts in the nation's cultural demographics, rapid changes in employment options due to new technology, and persistent challenges in the K-12 educational system. In the early 21st century, community colleges have become the go-to sector of public education to address all these issues, and the national focus on completion is emblematic of the system's pivotal role. However, the college system is navigating its own challenges at the same time: declining state funding (Mitchell, Leachman, & Masterson, 2017; Seltzer, 2018); skyrocketing employee benefits costs (Desrochers & Kirshstein, 2014); expenses for postsecondary academic remediation exceeding $1.3 billion (Jimenez, Saragrad, Morales, & Thompson, 2016); and a startling number of students who live on the edge of survival (Goldrick-Rab, Richardson, & Hernandez, 2017). Faculty are in a unique position to see how the collision between policy prescriptions and increasing demands on scarce public resources affects the morale of the community college organization and its students. They also are in the position to see a positive path forward and, with proper support, to lead the way.
In this report, the League for Innovation in the Community College (League), with support from the Bill & Melinda Gates Foundation, presents the perspectives of the faculty who have been charged with implementing this ambitious nationwide improvement in college completion rates. The goal of this effort—called the Faculty Voices Project—is to cast a broad light on how community college faculty have experienced the completion movement and to present their insights about how to improve its implementation. Throughout this report, faculty describe how the focus on completion has changed both their institutions and their instructional roles, and how and why it continues to fall short at their colleges. And they express what can be done to improve the overall enterprise.
This report—based on 81 group discussions with 698 community college faculty members and two national surveys, in 2015 and 2017, respectively, of between 1,000 and 1,500 community college faculty each—encapsulates the key insights from the League's Faculty Voices Project. The findings from the discussion groups and surveys are summarized here as three faculty viewpoints, with the aim of bringing renewed focus and energy to the effort, particularly for the community college faculty, advisors, student services staff, and administrators doing the work. The three key faculty viewpoints covered in this report are as follows:
Faculty question the validity of completion data and the definition of completion, and show inconsistent awareness of institutional data on completion. Without better faculty engagement with such data and definitions, efforts to build an organizational strategy for improving student completion will lack a solid foundation. This study found conflicting views among faculty about the severity of the completion problem. In surveys, and particularly in the 2017 survey, faculty endorsed the need for greater effort around completion; in discussion groups, faculty questioned that need, saying students have a mix of learning goals, from taking a few courses for targeted enrichment to pursuing a credential over the long term. Ultimately, faculty want to ensure that the strong emphasis on student completion does not close off options for those, such as working adults, who come to the college specifically for focused, self-guided learning that does not include earning a certificate or degree.
Faculty find it challenging to manage student completion initiatives within the constraints of current college budgets and staffing models; these challenges become even more daunting due to the dearth of communication and collaboration in the college organizational culture. Faculty are aware that the faculty role is changing, with adjunct faculty teaching 58 percent of community college courses (CCCSE, 2014b). Nonetheless, they seek greater input into the redesign of the faculty job description—its expectations, the venues and technologies for professional development, and any new professional accountability measures. Faculty reported that the silos on their campuses—created by departmental divisions and different roles—have led to isolation, misunderstandings, misinformation, duplication of effort, and inefficient use of resources. To address such problems, they seek more inclusion and cross-department collaboration.
Faculty support integration of the three programmatic approaches presented in the Choicework Discussion Starter* to foster student completion, but criticize the lack of resources for developing professional implementation strategies, and they raise caution about cookie-cutter solutions.
Approach A. Increase student accountability: Faculty believe holding students accountable for their own learning is a critical factor in student completion, but advocate for more services and coaching to help students manage their studies, finances, and lives. Believing students need to take more responsibility for planning their education, faculty called for better methods to help students develop practical strategies for understanding and exercising the level of commitment needed to persist in higher education.
Approach B. Support instructional innovation: Faculty recognize that they need to teach in more engaging ways to foster student completion, but say institutional support for professional development needs to be expanded from current levels to improve instruction. Faculty need to adjust their instruction to support the diverse students they teach, but they described many organizational barriers to doing this, such as lack of funding and program structures for innovative instruction, team teaching, and peer support. Such organizational barriers have a deflating effect on faculty morale.
Approach C. Implement guided pathways: Faculty agree that colleges can support student completion by offering guided pathways to graduation and careers through clearer websites, course requirements, support strategies, and job opportunities, but they caution against cookie-cutter approaches. They note that programs need to find ways to support students' early career exploration activities better, so that students are choosing paths that reflect their own interests and talents as well as local job market demands.
*These three approaches are featured in the Choicework Discussion Starter developed for the project by Public Agenda for use in project discussion groups with faculty. They are not exclusive, but are used in the process to launch a broader conversation.
Recommendations
Based on faculty survey results and discussion group findings, the League developed a set of recommendations for community college leaders, policymakers and other influencers, and community college faculty. Making decisions in community college management is challenging in an era of rising costs and decreasing funding, but these recommendations provide insight into the choices that will sustain faculty commitment to the college completion effort. The feedback from faculty indicates that they think it is time for community college leaders and policymakers to revise their approach from primarily focusing on budget management to reinventing the organizational culture. From the faculty perspective, organizational reinvention would be better facilitated by allocating more resources toward organizational collaboration and communication processes. These processes can improve organizational efficiency by drawing on the creativity and expertise of faculty.
Community College Leaders
Use data as a catalyst for discussions about student success and completion. Be transparent with the data about student retention and completion rates, and share it with the college so it may be explored at the course, department, program, and campus levels. Engage the entire college in an ongoing conversation with a goal to understand completion across the institution, to identify gaps and challenges the data reveal, and to design solutions to any problems that are identified.
Use communication and collaboration intentionally and often to engage faculty in research, planning, and decision making around programming and resource allocation in teaching and learning. Establish a practice of regular, frequent, collegewide conversations, and use these dialogues to break down silos and create a culture of inclusion. Create a communications plan around the college's big ideas, such as completion, that uses a variety of media, tracks ongoing progress, retains consistent messaging, and helps individuals see the big picture.
Develop and implement processes that support faculty efforts to improve teaching, learning, and student success. For all faculty—both full-time and part-time—budget for and provide relevant and sustainable professional development and resources to implement newly learned strategies, and tie professional development to college goals and student success data. These supportive processes must include adjunct faculty, who are responsible for teaching most community college courses. This means finding creative ways to allocate more adjunct faculty time to professional development rather than only to classroom teaching.
Policymakers and Other Influencers
Consider the behaviors that policies incentivize. Spend time understanding the implications of the choices and decisions under study. For example, policies that incentivize completion may lead to faculty concerns over the possible degradation of academic standards. When making decisions about federal financial support, consider the kinds of assistance students need beyond paying for tuition, fees, and books—particularly students who live with housing and food insecurity.
Consider the consequences of unfunded mandates. The national emphasis on completion has been implemented at a time when state funding is declining for community colleges. An increasing number of states are shifting to performance-based funding formulas that require colleges to improve completion, and these formulas need to be designed with an understanding of the ongoing costs of completion programs—programs that require investment. Otherwise, as student enrollments decline and programming costs increase, administrators may feel they are forced to balance their budgets by hiring fewer full-time faculty, cutting professional development, and increasing workloads. It is important to question whether these are the best options for student success and completion.
Support cross-sector partnerships. Supporting efforts that help ease transitions between secondary schools and community colleges, and between community colleges and four-year institutions or jobs, can ensure that students are well prepared at each point on the continuum. A decreased need for college-level academic remediation will lead to significant cost savings for students and taxpayers.
Support professional development as an organizational improvement strategy. Developing instructional resources to the fullest potential is a wise investment in the organization. Policies that support professional development can help the college improve employee productivity and satisfaction, achieve its strategic goals, and fulfill its mission. This is challenging, but continued investment in professional development will contribute to engaging faculty commitment to the completion agenda.
Faculty
Learn about course, department, and college completion data. Improving awareness of the completion challenge should be the first step toward any faculty member's understanding of what needs to change in a college and its organizational culture to increase completion rates. But this is only a first step. Analyze and evaluate the data for use in informing decisions about teaching and learning, courses and programs, and college services to support students, and learn from the story told by the data over time.
Participate in campuswide dialogues, expressing personal and professional opinions, and describing experiences while listening to and learning from the diversity of opinions and experiences in the conversations. Use processes, such as the Choicework discussion structure, to hold cross-department dialogues. Effect change from inside the department and college. Break down silos by connecting intentionally with colleagues in other disciplines and departments. Partner with leadership, and be a leader.
Find new ways to take ownership of personal professional development by investing in self-directed study and experimentation with new teaching techniques. Community college faculty must remain current in their content discipline while keeping up with the latest research in effective teaching and learning practices. Learn about new instructional methods and strategies, and engage students in the process of experimentation with and evaluation and revision of them.
Cynthia Wilson is Vice President, Learning, and Chief Impact Officer for the League for Innovation in the Community College in Chandler, Arizona. Louise Yarnall is a Senior Research Social Scientist in the Center for Technology in Learning at SRI International in Menlo Park, California.
Opinions expressed in Leadership Abstracts are those of the author(s) and do not necessarily reflect those of the League for Innovation in the Community College.