Putting Ohio to Work Through Collaborations With Employers, Service Providers, and Training Providers
September
2022
Leadership Abstracts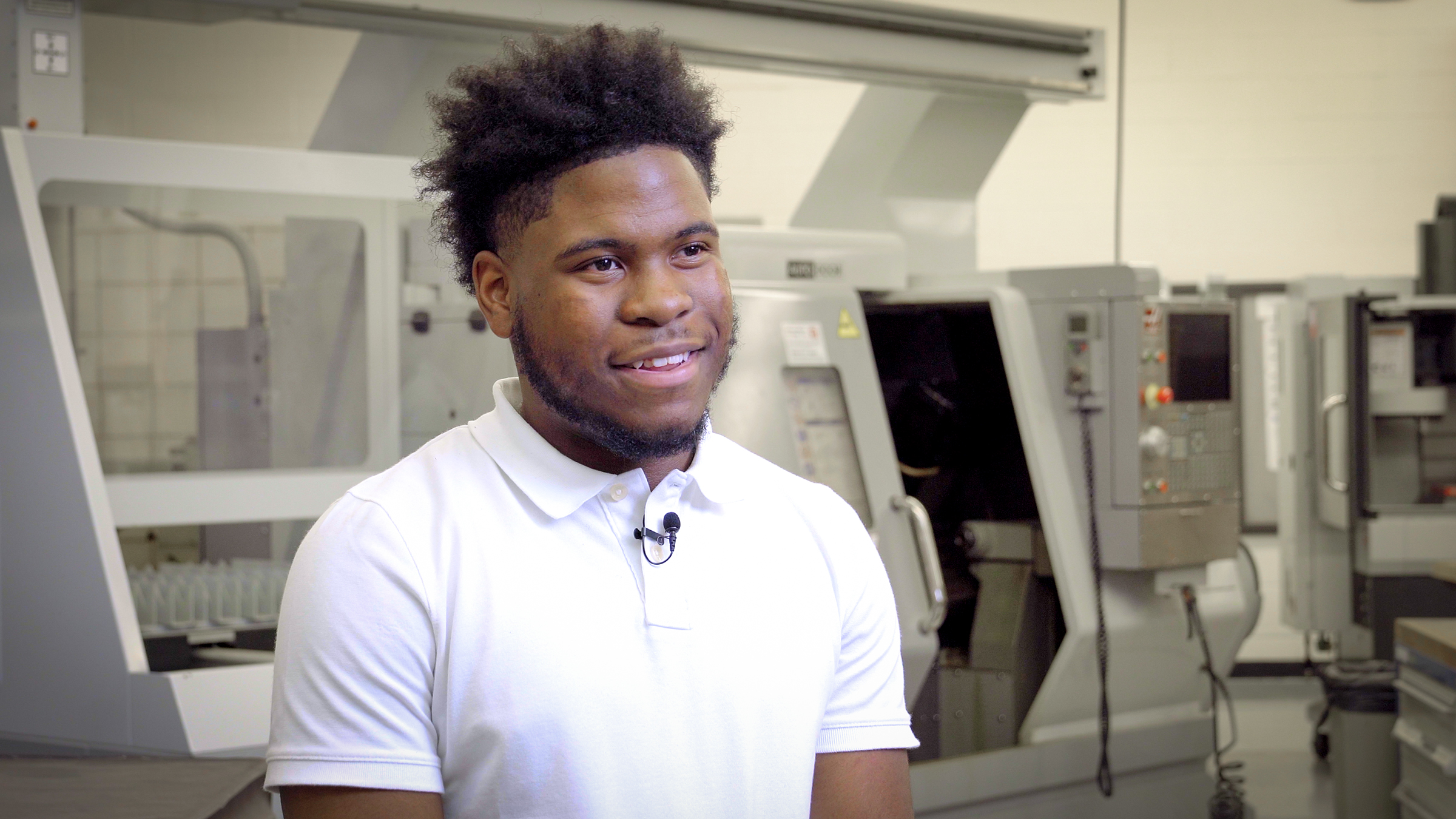 Employers across the U.S. are struggling to find the talent they need to thrive, while community colleges and other training providers are seeking innovative ways to recruit and educate students to meet this demand. Ohio To Work (OTW) was formed in 2021 to give Ohio job seekers access to resources and opportunities to land good jobs while filling the talent pipeline. The initiative is a partnership among employers, service providers, and training providers who are part of a network that helps workers to acquire the support they need. The initiative began in Cleveland and expanded to the Mahoning Valley-Youngstown area, Columbus, and Toledo before launching in the Cincinnati-Dayton region. The primary fields of focus are manufacturing/logistics, technology, and healthcare, as these fields will remain in high demand in Ohio for the foreseeable future.
David Sinclair founded Sinclair Community College in 1887 with the motto, "find the need and endeavor to meet it." Sinclair knew of people in Dayton who wanted jobs while local employers could not find workers with the skills needed to fill open positions. There was a skills mismatch then, which has returned and is now at an all-time high. When JobsOhio approached the college in fall 2021 about serving as the operations manager for OTW, Sinclair's President, Dr. Steven Johnson, saw the connection to Sinclair's mission and agreed to lead the collaborative effort for the Cincinnati-Dayton region.
The OTW Cincinnati-Dayton region has over 40 committed employers, eight service providers, 10 training providers, and three goals: to serve over 19,000 people; to reskill 1,250 people in the three main fields of focus; and to ensure that 4,000 people get job offers through the collaborative efforts of the service and training providers. To accomplish identified goals, deep relationships are being developed, infrastructure is being strengthened, and communications are being streamlined to take the complexity out of job searches, thus allowing job seekers to acquire needed skills to secure good jobs.
Other partners involved in the initiative at a state level include the Governor's Office of Workforce Transformation, Ohio Department of Development, Ohio Department of Jobs and Family Services, and Ohio Business Roundtable. Regional leaders include the Dayton Development Coalition (DDC) and REDI Cincinnati, JobsOhio's network partners representing Southwest Ohio.
Connections: Service > Training > Employer
The aim of OTW is to increase the funnel of workers who connect with service providers, including OhioMeansJobs centers, Goodwill, Easterseals, Urban League of Southwestern Ohio representing Cincinnati and Dayton, and Catholic Social Services. Coaches at these organizations collaborate with their clients to assess their skills, interests, and abilities and to help them determine their next steps. The coaches work with their caseload to provide access to funding options to make training affordable and/or walk them through the application and interview process. Coaches often stay in touch with their clients after they are hired to ensure that they have the wraparound supports to be successful in their jobs. This initiative builds on the excellent work of many partners in the Cincinnati-Dayton region who have helped people find work for years. The biggest value-add of OTW is the intentionality of building the network by setting up the infrastructure for partners to easily connect with each other.
The training providers include community colleges such as Sinclair Community College and Cincinnati State Community College as well as adult training centers, career centers, and proprietary institutions. There are very few opportunities for these partners to collaborate with one another to help their communities thrive. Individually, each institution has a rich history and deep knowledge of their students, but they have not always been connected seamlessly with community organizations that can provide wraparound supports such as federal Workforce Innovation and Opportunity Act funding; child care, food, and housing assistance; and transportation support. Conversely, the service providers sometimes struggle to know when each training provider's classes will be offered, exactly how much it will cost, how to access Pell grant funding, whether a program qualifies for short-term funding, and how to help students navigate the admissions process. The disconnect among the service and training providers is often the result of complicated systems that must be learned by busy employees who do not always have a direct line to someone who can help. OTW seeks to bridge that divide by building relationships among partners in the community who want to help job seekers get good jobs that will lead to a better quality of life for themselves and their families.
Employers play a critical role in the network: Each commits to the work by providing a logo which is linked on the OhioToWork.com/Cincinnati-Dayton website to the employer's current job openings. Coaches can use the website to quickly see what openings exist, and they also have a direct line to employers and training providers through weekly calls. Employers and training providers emphasize that these are deep conversations that empower coaches to understand the opportunities and confidently make referrals for customers.
The coaches, in turn, can advise their clients and do some matchmaking. An early example of this process took place in Cleveland, the first city to launch in Ohio. Olympio White was a job seeker working with the Urban League of Cleveland. He participated in their program during high school to become an occupational therapist. However, he realized that was not what he wanted to do for a career, so he reached back to the Urban League for a career path change specifically focused on machining and manufacturing. White is now completing his training in computer numerical control (CNC) machining with the help of the resources and supports available through OTW and the partnership between the Urban League and Cuyahoga Community College.
Goals and Desired Outcomes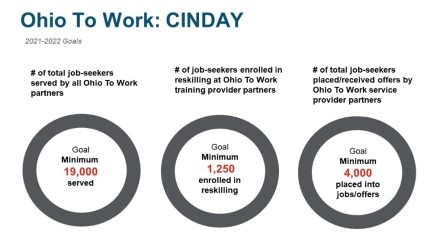 As the fifth and final region to launch in Ohio, the Cincinnati-Dayton area benefitted from lessons learned from the other regions. When OTW first launched, many people had lost jobs due to the COVID-19 pandemic and the thought was that there would be a huge rush of unemployed people looking for work as the pandemic started to wane. Instead, there has been a Great Resignation and employers have struggled to find workers to fill needed roles. By the time OTW came to Dayton, the focus had shifted to increasing the pipeline of workers looking for jobs. Since its inception, OTW partners have played a critical role in addressing barriers to employment and have made equity an intentional focus and effort in all aspects of the initiative. As the economy rebounds from the pandemic, there remains a persistent and continued commitment to equity.
In order for the region to accomplish its goals, several key OTW features are intentionally interwoven to build on the combined strengths of the partner institutions. Outreach and marketing efforts are focused on diverse and underrepresented populations to make sure unemployed and underemployed people are aware of the array of services offered by partner organizations. The aim is to develop job seekers who are not already engaged in OTW's priority fields (manufacturing, IT, and healthcare), who may not be participating in the workforce as a whole, or who are in jobs that do not enable them to earn a family-supporting wage. Modern technology, including career assessments and coaching portals, has been piloted to help with career exploration and communication. Coaches receive labor market data and opportunities to engage in professional development to increase their own knowledge and ability to help clients. The infrastructure built by the network helps partners connect on a regular basis to share best practices, learn about hiring events, and lift the training and educational opportunities available in the region. Finally, with employers at the table, the entire ecosystem can learn firsthand what the greatest needs are and how to prepare job seekers to meet them.
Strengthening the Ecosystem
JobsOhio, DDC, and REDI see this work as vital for continued success in economic development. If the worker and skill shortage is not addressed, the region and state will not be successful in attracting new business enterprises and expanding or retaining existing companies. Therefore, JobsOhio and its network partners have committed substantial financial and human capital to the effort.
While the overall goal is to strengthen the entire workforce ecosystem, there are benefits to each of the partners. Service providers receive marketing and outreach assistance, connection to employers and training providers, professional development for coaches, thought partnership, and funding for innovative practices. Training providers also benefit from marketing, outreach, and connection with the network, while their students can capitalize on wraparound support from service partners. Employers have been eager to participate since they are getting direct referrals and access to hiring events at partner sites. The biggest beneficiary is the job seeker, who learns about in-demand jobs and the best way to prepare for them through job search assistance and reskilling when needed.
As community colleges come out of what is hopefully the worst of the COVID-19 pandemic, many institutions are seeking ways to help their local economies thrive. A major barrier to this recovery is the lack of skilled talent to meet industry demands. Collaborations such as the one provided by the OTW network are valuable models for addressing the structural change necessary to build the post-pandemic future of higher education.
Lead image: Olympio White, a job seeker who received career coaching through Urban League of Greater Cleveland, is now completing his training in CNC machining at Cuyahoga Community College.
Kathleen Cleary, Ph.D., is Senior Vice President, Strategic Initiatives, at Sinclair Community College in Dayton, Ohio.
Opinions expressed in Leadership Abstracts are those of the author(s) and do not necessarily reflect those of the League for Innovation in the Community College.