Prototype: Enhancing Creative and Collaborative Leadership
February
2020
Leadership Abstracts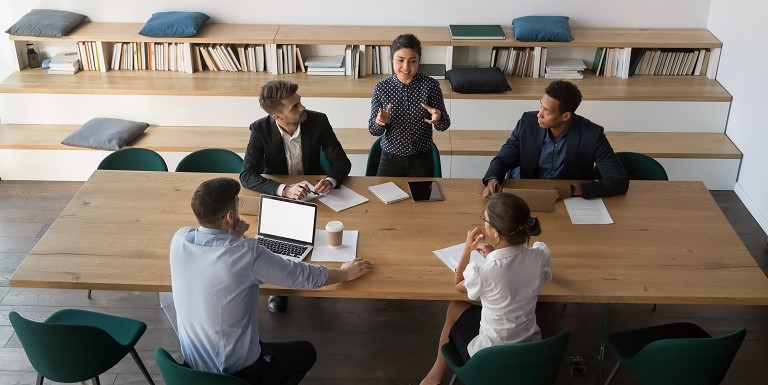 As Valencia College neared the 50th anniversary of its founding in 2017, the pace of work and change was increasing at an exponential rate in higher education, the community college sector, our local community, and within the college itself. In reflecting on, and struggling through, some of the critical challenges to our work, it became clear that we would need new ways of thinking and solving problems to advance the college's ability to achieve its mission.
Developing specific skill and theoretical training around creative thinking and problem solving for our faculty and staff was a challenge, as off-the-shelf training programs were not adequately contextualized for our setting, culture, and learners. We needed to build a development program to help others learn concepts in which even the content designers were not experts.
Valencia started the journey with a strong and deeply-rooted collaborative culture—one that values many voices in the conversation, believes that the implementers of solutions should be the designers of the solutions, and recognizes that we are better together. This cultural framework provided a solid foundation on which to build a professional development program focused on mindfully designing collaboration and using creative problem-solving methodologies to propel the college forward in times of significant change. The efforts of a small team of faculty, staff, and administrators from across the college resulted in the framework for Prototype: An Exploration of Collaboration by Design (Prototype).
Prototype is a program in which participants explore the theory and practice of creative problem solving, design thinking, collaboration, systems thinking, and more. The program is designed for participants not only to explore new ideas, but also to reflect on their own preferences, examine their blind spots, build empathy for the experiences of others, and deliberately stretch beyond their comfort zones in order to authentically collaborate toward innovative solutions. Cohorts meet on a monthly basis throughout the academic year and begin applying what they learn in the first session. Much of the program includes sharing lessons learned, successes, and opportunities for growth with colleagues.
In the past five years, Prototype has grown from an actual prototype of a leadership initiative to the robust program we have today. The framework of this year's program includes seven day-long sessions; an offsite, overnight retreat; and two half-day sessions:
Foundation of Creative Thinking and Collaboration (full-day sessions)
Introduction to creative thinking and creative mindset as well as the creative process, tools, and techniques
Creative problem solving
Design thinking
Application of the above processes and tools
Creative and Collaborative Leadership Skills (full-day sessions)
Collaboration, communication, and conflict
Systems thinking and complexity
Polarity thinking
Retreat
A capstone-like program where participants use the techniques they have learned and apply them to a college challenge
Half-Day Sessions
Change management
Creative and collaborative leadership
Participant Experience: A First-Person Account
Carla McKnight had the privilege of participating in Prototype at a pivotal point in her career at Valencia College. After serving as Regional Director, Organizational Development and Human Resources (ODHR), for a brief period, she was tasked with leading all ODHR activities related to the opening of the college's newest campus. While she was excited and engaged, she was also terrified; she understood that the complexity of this new venture was going to require the ODHR team to work differently.
She also knew she was not ready. Though she had the technical and operational knowledge necessary to be a part of important conversations, she lacked confidence in her ability to help lead them. This left her searching for new tools to enhance her skillset and confidence. When Prototype applications for the 2018-2019 cohort became available, her immediate response was, "Yes, sign me up!"
McKnight was invited to join the Prototype cohort of 20 full-time Valencia faculty, staff, and administrators. The first session set the tone for participant engagement with each other, the facilitators, and the program with an exploration of creativity defined as "novelty that is valuable." This simple definition and the robust discussion that followed led McKnight to the realization that, despite her previous doubts, she was, in fact, the creative type.
The cohort met once a month, and each session was just as revelatory. In the first half of the program, participants explored foundational concepts. They learned about the Osborn-Parnes Creative Problem Solving (CPS) process and their personal preference for each stage as outlined in the FourSight® Thinking Profile Assessment. They also explored Stanford's d.school Design Thinking process, compared the two, and thought about how each was useful in their work at the college. In all, the participants learned more than 20 tools and techniques to use in the CPS and Design Thinking processes, practiced using those tools to solve sample problems, and received real-time feedback about facilitation from their peers.
During the second half of the program, the Prototype cohort built upon foundational knowledge by exploring topics such as collaboration and systems thinking through the lens of Valencia's organizational culture. What was particularly helpful for McKnight was the time spent discussing David Snowden's Cynefin framework for problem solving and decision-making. Central to the framework is the idea that leaders must truly understand their context in order to successfully navigate problems. Snowden addressed how to identify problems—categorized as obvious, complicated, complex, chaotic, and disorder—and how to respond to them.
Understanding this framework revolutionized how McKnight worked, specifically on activities related to opening the college's new campus. She realized she had been inaccurately describing her work challenges as complex. This, coupled with her natural tendency to solve problems quickly, resulted in creating solutions that did not adequately address the problems at hand. That changed immediately. She began asking colleagues clarifying questions and working with the ODHR team to identify the types of problems they were facing before determining how the team might approach each challenge. The additional time spent on the front end resulted in better decision making on the back end. This practice both improved results and increased McKnight's confidence in her ability to support the work of the campus opening.
At the retreat, participants identified an organizational issue that impacted faculty, staff, and/or students, and worked with a small team to identify a solution using the tools they had learned throughout the program. After an intense 48 hours, the team presented their solutions, but more importantly, they presented the processes they had used to arrive at these solutions. According to McKnight, it was one of the most engaging, informative, and relevant professional development experiences of her career.
Ultimately, the Prototype program helped McKnight evolve into a better leader. She is more confident in her ability to understand the context of problems within the organization and to engage in a thoughtful and intentional process to discover solutions. She also has a better understanding of the thinking profiles of members of the teams in which she took part, and has the tools to leverage similarities and differences to achieve superior results.
Prototype Makes a Difference
Over 80 faculty, staff, and administrators have graduated from the Prototype program. Each year participants tell us how their approach to problem solving has shifted. The most common reflection we hear from current and past participants is that they begin to explore options before applying a critical eye toward decision making. As the first step in creative thinking is to think differently about our work at Valencia College, we knew mindsets were beginning to change.
We also hear about shifting approaches to working collaboratively, such as, "I have a better understanding of how to determine what truly constitutes a problem, how to deliberately create opportunities for collaboration, how to deliberately create an atmosphere that invites creativity and innovation, and how to navigate challenges based on the group's preferences." We see how Valencia faculty and staff are asking different questions, listening with more curiosity, and working to better understand their colleagues and our students. We continue to hear from faculty who have participated in Prototype about the ways they are modifying their approach to teaching; they are rethinking everything from the design and presentation of the syllabus to the content included in the course. They focus on learning more about students in order to gear content directly to each unique group of students and on structuring assignment options to best demonstrate their learning in the course.
These changes are not limited to Prototype participants. As design thinking, creative problem solving, and collaboration by design become better understood and explored at the college, other Valencia initiatives are making these concepts a deliberate part of their design or redesign. The work of the Program Learning Outcomes Assessment design team and Honors College redesign team, for example, demonstrate how departments are thinking not only about how they are organized for the institution's continued growth and changing future, but also how they can use creative thinking and deliberate design to aid in their efforts.
While we are excited, we know we aren't done. When we started to consider new ways of thinking and solving problems that would support Valencia's faculty, staff, and students, we often returned to the mantra of being patiently impatient about the change in our culture and our ways of working. Now, we see positive changes, and those changes open doors to more opportunities for improvement and engagement. We hope we've begun a long-term institutional habit of deliberate creativity, authentic collaboration, and change to support our evolving world. And, hopefully, we'll continue to learn and improve along the way.
Amy Bosley is Vice President, Organizational Development and Human Resources; Carla McKnight is Assistant Vice President, Organizational Development; and Katie Tagye is Director, Organizational Design and Development, at Valencia College in Orlando, Florida.
Opinions expressed in Leadership Abstracts are those of the author(s) and do not necessarily reflect those of the League for Innovation in the Community College.