Partnering for Completion: A Nonacademic Plan for Student Success
November
2019
Leadership Abstracts
Monroe Community College (MCC) has traditionally focused on student engagement, retention, and graduation rates. Multiple academic support services are provided to students to assist with classroom learning. Despite these comprehensive efforts, persistence and course success rates have not increased significantly. With 91 percent of MCC students residing in Monroe County, which includes Rochester, a metropolitan area with the 5th highest poverty rate in the U.S., the college began to examine student needs beyond the classroom. In 2016, MCC participated in the Wisconsin HOPE Lab survey measuring food and housing insecurities among college students. The results revealed that a significant percentage of MCC students were experiencing food and housing challenges. The college digested these statistics and, recognizing the depth of the student need for nonacademic resource support, initiated a broad-based response.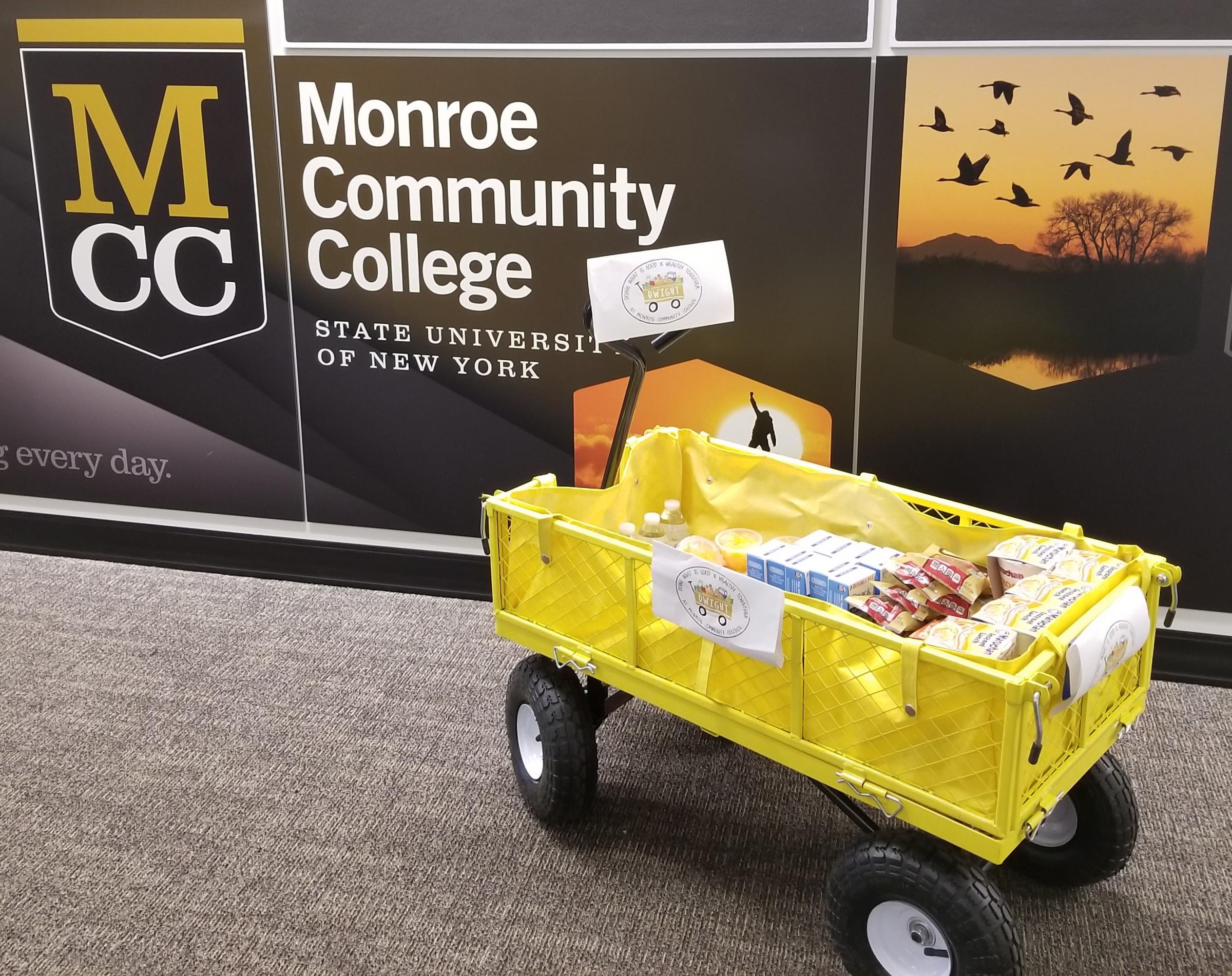 MCC formed a task force to develop a human-design project to address the issues from a grassroots perspective. The result was a food pantry concept called Doing What Is Good and Healthy Together (DWIGHT). The three pantries are located at the Brighton and Downtown campuses as well as in the residential area. The acronym allows students to avoid having to ask for a food pantry, thus reducing any stigma attached to utilizing a food bank. DWIGHT also includes a food wagon in which protein bars and other sources of nutrients are carted around campus by peers for students to take as needed. The DWIGHT food pantries are aligned with Foodlink, a nonprofit food distributor, so replenishment of items is convenient and affordable. Overall, the DWIGHT concept is successful, as student usage is consistent and appreciated. The college quickly recognized, however, that food pantries were not sufficient to fully address all of the insecurities presented.
A campuswide Resource Committee was formed and organically grew from a handful of members to a team of 32 committed faculty and staff. The committee acts as an advisory board to the departments that directly serve students and disseminates information regarding resources to all college constituents. Members of the committee have presented at national conferences and discussed the topic at numerous campus programs. This marketing component of the committee's efforts has resulted in employee donations to DWIGHT as well as an overall increase in student utilization of the resource areas.
As the full extent of student needs became more apparent, the college began to allocate federal, state, and county funding to assist, and the MCC Foundation concentrated its fundraising efforts to provide substantial support for the broad array of student insecurities. Furthermore, programs such as Save for Success, Dreamkeepers, and Single Stop now supplement standard financial aid packages to address student needs. While student food insecurity was the initial primary concern, the data suggested that housing and transportation needs were also severe, and these programs address all three areas of need.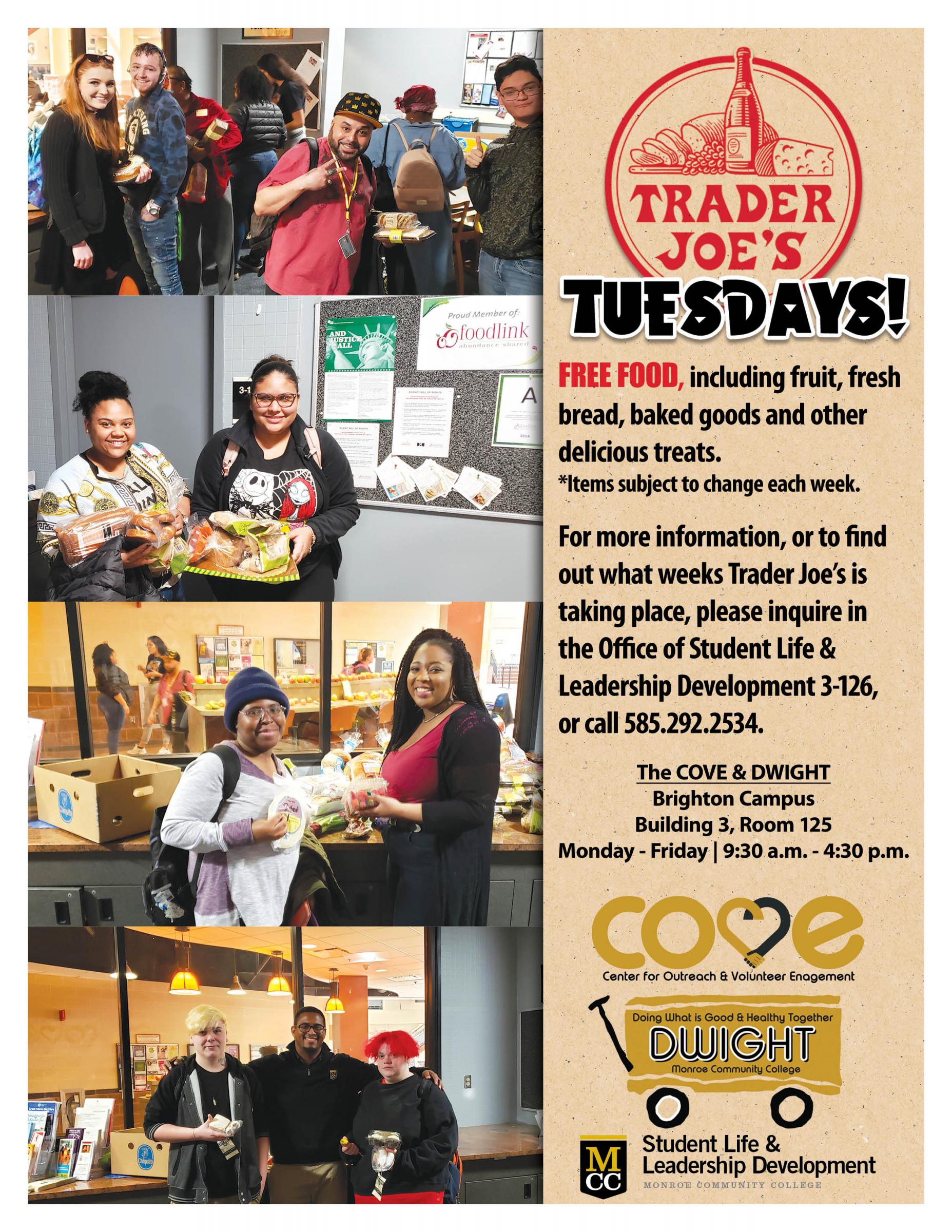 In addition to financial donations to the Foundation, local corporations began to provide food items for students. Trader Joe's and Panera Bread make weekly major donations of food items to the college, and needy students take full advantage of these scheduled offerings. There is no stigma attached to accepting any of the food items, as no names are collected, and students are encouraged to come week after week.
To address transportation needs, MCC collaborates with the Regional Transit System (RTS) to establish a Universal (U) Bus Pass for all students. The pass allows students to take RTS buses any day of the week during the academic year, thus providing transportation for classes as well as work and other essential tasks. Approximately 25 percent of all students utilized bus services in the past year. The college augments the successful U Bus Pass program with a bike-share program that provides students access to bicycles for free rides on and off campus.
While the resources were increasing, the college recognized that the infrastructure to support all of the initiatives was required. A student success center was established at each campus as part of the Student Services division. The personnel designated for the centers are student-centered staff with a social worker mindset. For example, one recently hired success center professional possesses a counseling background and student development experience. These individuals serve as mentors and coaches to the students, while also assisting them with a variety of resources. The centers connect with other services on campus, including financial aid and academic advising, to ensure that all possible support is being provided.
As the paradigm of student support continued to shift to a resource-based model and collegewide momentum was being generated, the Foundation solicited and was awarded a $3 million gift from the Wegmans Family Foundation. This five-year grant supplements financial aid and provides comprehensive support to 250 new students. The funds cover protein bars for students in testing areas and learning centers, meal vouchers that are accepted by Sodexo dining services, a variety of food items for the DWIGHT food pantries, and educational programs such as faculty-led meal preparation workshops and financial management sessions. The grant also funds two coaching positions. These coaches, stationed at the success centers, advise the student cohort on a wide variety of topics that impact matriculation.
The expansion of services and resources has been fostered by college leadership. MCC President Anne Kress serves as cochair of the SUNY task force on food insecurities, and the college's faculty senate supports placing information on available resources in course syllabi. The Resource Committee created an academic and nonacademic resource guide that is available electronically for all faculty and staff so they can guide students to the appropriate sources for assistance. The Foundation has centered a fundraising campaign around this challenge, and MCC hosted three statewide conferences that addressed the important topic of insecurities, impact, and solutions.
Perhaps the greatest change at MCC has been cultural. Recognition of the harsh realities of widespread food, housing, and transportation insecurities is universal at the college, and a desire to address the challenges is equally endorsed. A culture of care permeates the Brighton and Downtown campuses, and community members feel empowered to do their share to help students. From donating a food item to one of the DWIGHT food pantries and discussing the impact of the book Evicted as part of the president's book club to giving their time for a cooking or finance class and serving as mentors to students in need, individuals from all sectors are stepping up to demonstrate their support and show their commitment. More importantly, the model has not been that of a charity for simply providing material goods; instead, the community has adopted an asset-based approach. This philosophical perspective recognizes that while some students come from lower economic backgrounds, these same students offer strengths and gifts that benefit the college at-large. While the community is giving to students, everyone is receiving major benefits in return.
MCC has returned to Maslow's hierarchical paradigm and is addressing fundamental student needs. Early assessment shows increases in class completion, persistence, and retention rates. The Dreamkeeper program alone saw a 70 percent persistence rate for the fall 2018 semester and a 100 percent semester completion rate in spring 2019. The long-term goal is to continue to increase retention rates and significantly increase graduation rates. The challenges are significant, but the desire to make a difference is even greater. As one member of the Resource Committee noted, "This is just the beginning."
John J. Delate is Associate Vice President at Monroe Community College in Rochester, New York.
Opinions expressed in Leadership Abstracts are those of the author(s) and do not necessarily reflect those of the League for Innovation in the Community College.