Necessity Is the Parent of Innovation: Virtual Leadership Team Development
September
2020
Leadership Abstracts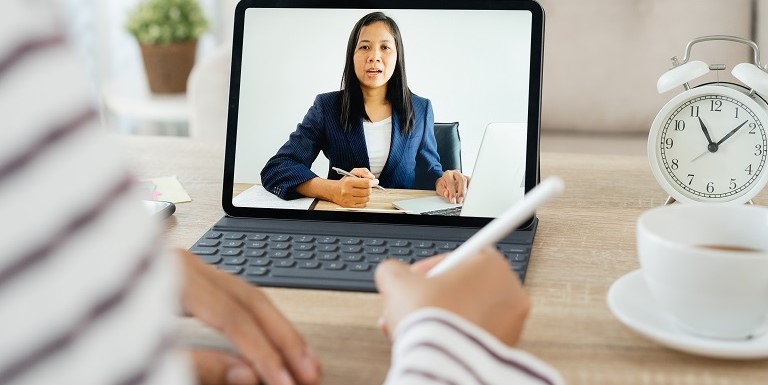 The emergence of COVID-19 and its rapid spread across the United States severely impacted operations at educational institutions, including community colleges. Faculty and staff scrambled to convert classes to online and videoconference formats, performances and athletic events were cancelled, and graduation ceremonies were rescheduled or held at a distance. With student and employee health and safety as the foremost consideration, administrators had to develop new procedures for conducting college operations that accommodated staff working from home. In many cases, professional and leadership development plans were cancelled or postponed.
Six months into the pandemic, one of the greatest challenges for leadership teams continues to be understanding the needs and circumstances of diverse populations of students and employees who are affected by widely varying life, school, work, and family conditions during this crisis. However, community colleges are known for their creativity, innovation, and flexibility, and determined college leaders can find ways to make things happen despite challenges. Sometimes, new ways of conducting business can yield surprising positive outcomes as innovations that emerge during a crisis endure and impact college practices for the long term. This manuscript describes how South Central College (SCC), Minnesota, was able to adapt a planned one-day team leadership development institute into a month-long virtual program that has the potential for continued and lasting institutional improvement. 
In late January 2020, SCC President Annette Parker contacted George R. Boggs and Christine Johnson McPhail about leading an onsite workshop for administrators and managers to improve team leadership skills. The one-day workshop, planned for June 2020, would cover many of the topics addressed in Team Leadership in Community Colleges (Boggs & McPhail, 2019). In discussions with the authors, Parker shared not only that the team had spent weeks reading and discussing several chapters in the book, but also that SCC's 2020 PACE survey results showed significant mean score increases on every climate factor compared to the college's 2017 results. For example, in 2017, SCC's mean score on the item assessing "the extent to which open and ethical communication is practiced at this institution" was 2.706; in 2020, the mean score was 3.353 (P< .001). The editors had spent two days on campus in 2017 discussing Practical Leadership in the Community College (Boggs & McPhail, 2016) with college administrators and managers in an effort to support team development and improve fiscal year planning, and findings such as these buttressed Parker's belief in the effectiveness of professional development activities. In addition, the extraordinary circumstances resulting from the pandemic confirmed her conviction that an investment in continued leadership team development was more critical now than ever before.
In response to Parker's request for a training format that would be meaningful for virtual participants, McPhail and Boggs developed a program that made use of the college's learning management system (LMS) to engage managers and administrators in discussions using case studies and assigned readings. Leadership team members were enrolled in the college's LMS as students and McPhail and Boggs were listed as faculty. Instead of a one-day onsite workshop, participants were engaged in an extended online program.
Best practices for virtual learning were built into the program, including weekly reminders of assignments and upcoming videoconference sessions, and frequent and timely feedback on assignments and discussion board postings. The college's Associate Vice President of Effective Teaching and Learning assisted with orienting participants to the LMS and ensured that they had access to needed technology and the president communicated her expectations that leadership team members participate in the program. Online discussion topics were offered throughout the month and centered around brief case studies on communicating a decision you didn't agree with to your faculty and staff, holding employees accountable, dealing with curmudgeons who resist change, making and correcting mistakes, dealing with a hostile work environment, and establishing an environment in which employees feel safe enough to tell supervisors about sensitive problems. Additional case studies included correcting bad advice given by a high school counselor, advocating for employees, resolving conflicts between supervisors and employees, and managing conflicts between peers. The program faculty engaged the team by commenting several times a week on their individual discussion posts and asking questions to stimulate further dialogue among team members.
In addition to leadership orientation and style self-assessments, team members were assigned two written papers. After reviewing the college's mission, vision, values, and strategic priorities, participants were asked to identify their own personal and professional purpose, vision, values, and priorities. They were then asked to write a brief paper that identified a one- or two-sentence mission statement for themselves, a one-paragraph vision statement for their future, the top six values that guide their lives, and four strategic priorities for their growth as a leader. The second writing assignment was a 600- to 1,000-word paper describing what they do to contribute to the college's mission, vision, values, and strategic plan. Program faculty provided feedback to the individual team members on their written work and self-assessments.
During two videoconference sessions, McPhail and Boggs facilitated discussions of leadership competencies, leadership orientations, leadership styles and philosophy, team expectations, organizational culture, governance, communication, and collaboration. A composite of the team's leadership orientation was developed, and recommendations from the American Association of Community College's 21st Century Initiative were discussed. During the latter videoconference, team members presented brief oral reports based on their second paper, and the president and program faculty provided concluding comments.
Like other sectors, community colleges are facing major changes brought about by the coronavirus pandemic. The shift to social distancing created new demands on the schedules of administrators. At SCC, the leadership team decided to continue with their plans for professional development, but to do it in a more flexible and engaging way. This virtual experience demonstrated that the college's LMS can be used when moving from face-to-face employee professional development training to a virtual format. Participants reported that an essential aspect of the training was the fact that it was interactive. They felt empowered because they could access and use the knowledge at their own pace. The training is too recent to indicate long-term impacts of this professional development activity; however, reflecting on this program, President Parker said, "I am convinced that the shift from a single face-to-face workshop to an online synchronous and asynchronous format was more rewarding than I could have ever imagined." As a result, she plans to build upon this program to improve succession planning and selection processes for leaders and to continue to build sustainable leadership capacity at South Central College.  
Dr. Annette Parker is President and Dr. Narren J. Brown is Vice President of Research and Institutional Effectiveness at South Central College, Mankato, Minnesota. Dr. Christine Johnson McPhail is Professor Emerita of Higher Education and founder of the Community College Leadership Program at Morgan State University, Baltimore, Maryland, and President Emerita, Cypress College, Cypress, California. George R. Boggs is Superintendent/President Emeritus of Palomar College, San Marcos, California, and President and CEO Emeritus of the American Association of Community Colleges.
Opinions expressed in Leadership Abstracts are those of the author(s) and do not necessarily reflect those of the League for Innovation in the Community College.