The Minority Male Initiative Database
May
2018
Leadership Abstracts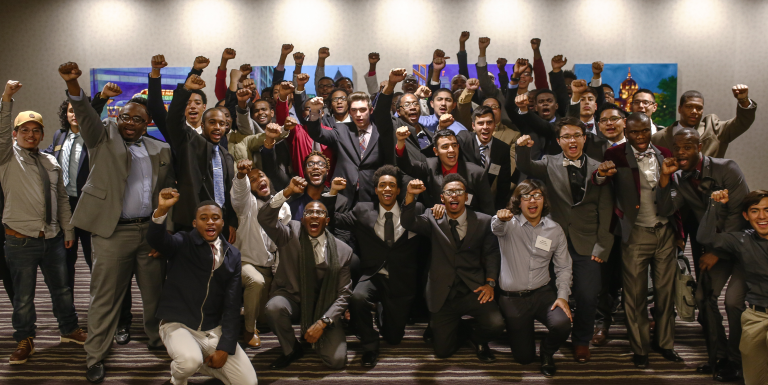 Success rates in higher education among men of color are still lower than that of other groups, but African American and Hispanic/Latino male enrollment has been increasing in community colleges (Valliani, 2015). Between 1990 and 2013, Black enrollment more than doubled from 1.1 to 2.5 million and Hispanic enrollment quadrupled from 0.7 to 2.9 million. This is far lower compared to White enrollment, which increased 9.3 to 9.9 million (National Center for Educational Statistics, 2015). The goal for students in community colleges is typically to graduate with an associate degree or certificate and/or to transfer to a four-year university. However, less than 3 percent of men of color graduate from community college within three years (Digest of Educational Statistics, 2010). Men of color earn community college degrees at lower rates than any other student group, including women of color (Wood & Harris, 2013). Specifically, 12 percent of African Americans and 14.6 percent of Latino Americans graduate from community colleges within three years compared to 22 percent of White, 24 percent of Asian, and 27 percent of international students (Digest of Educational Statistics, 2010). Furthermore, 68 percent of African American men do not graduate within six years (Center for Community College Student Engagement, 2014). Issues such as enrollment rates, degree/certificate completion, and time to degree are national concerns for community college leaders.
The Presidents' Round Table (PRT), an international network of African American community college presidents and leaders, responded to these issues among men of color by initiating the Minority Male Initiative (MMI) Database in 2017. The Center for Research on Educational Access and Leadership (C-REAL) at California State University, Fullerton partnered with the PRT to pilot the project. Sixteen community colleges and districts with significant numbers of men of color and programs to support men of color agreed to collect the same data on these populations, creating a repository. African American male student researchers from C-REAL collected data from the institutional research units of each college that included campus trends, student cohort, student semester, and student individual data (surveys). The database examines best practices in response to the barriers men of color face in community college and the motivators that overcome them. The data provide insight into minority males' perceptions to aid community colleges in making institutional changes to support their academic success.
Barriers Faced by Men of Color in Community Colleges
Men of color face numerous barriers while attending community colleges. Nearly half of those in the MMI Database identify as first-generation students and many struggle to find the appropriate finances, tutoring, and cultural engagement. Men of color in the database describe the following barriers to academic success:
Financial. Sixty-eight percent report barriers related to the cost of living and supporting family members. Approximately 60 percent report working full-time; moreover, 29 percent are both a full-time employee and a full-time student. Students indicate that, even with financial aid, they still have to work while in school. The thought of attending school while working to care for themselves and other family members can make some students feel overburdened, resulting in less motivation to continue pursuing a degree.
Academic. Forty-eight percent face unique academic barriers beyond what students generally experience, including under-preparedness, learning challenges, and health issues. Despite this, the average GPA of database research participants is 3.0 (SD = .71). Students describe, for example, how they often do not know what resources are available to them at their respective schools. Nearly half of the students in the database report never having used tutoring, writing assistance, math assistance, or Supplemental Instruction (39 percent, 48 percent, 42 percent, and 48 percent, respectively). Students also describe how academic barriers are related to social barriers, such as asking for help. This phenomenon is consistent within the cohort and may speak to student notions of social justice within the school environment. Additionally, it is often difficult for students to approach faculty members, especially when many professors are not people of color.
Familial. Interestingly, family is both a barrier and a motivator—42 percent report familial-related barriers and 57 percent report familial-related motivators. Many Latino/Hispanic Americans list the cultural expectation to spend time with family members instead of at school or work as a barrier. These societal expectations can often conflict with the individual's desire for further education, leading to internal pressure on the student to excel in his academic studies. Family members may not fully understand the importance of attending school as a stepping-stone to a student's career. Thus, there is less familial support for academia. On the other hand, some students describe how they desire to be role models for their younger family members by becoming successful in school. This role modeling motivator extends to the students' younger community members. When older family members, such as parents and other community members, are supportive of their career goals, the student finds a strong drive to excel and not let them down.
Social. Students report difficulty interacting with both faculty and other students, particularly those from different backgrounds. Men of color often come from cultural environments very unlike the academic environment. Adapting to and gaining competence in the academic culture, or "code-switching" (Garot, 2010), is necessary for student success. Students may also feel pushback from their home communities as they begin to adjust to the academic culture, thus causing a disconnect with their communities. However, community support plays a critical role in student motivation to excel academically.
While men of color face many barriers in higher education, these have been identified as the most salient and frequently noted in the MMI Database. Understanding the experiences and perceptions of men of color in the community college serves as a first step toward aiding in their success.
What Institutions Can Do to Relieve Barriers to Men of Color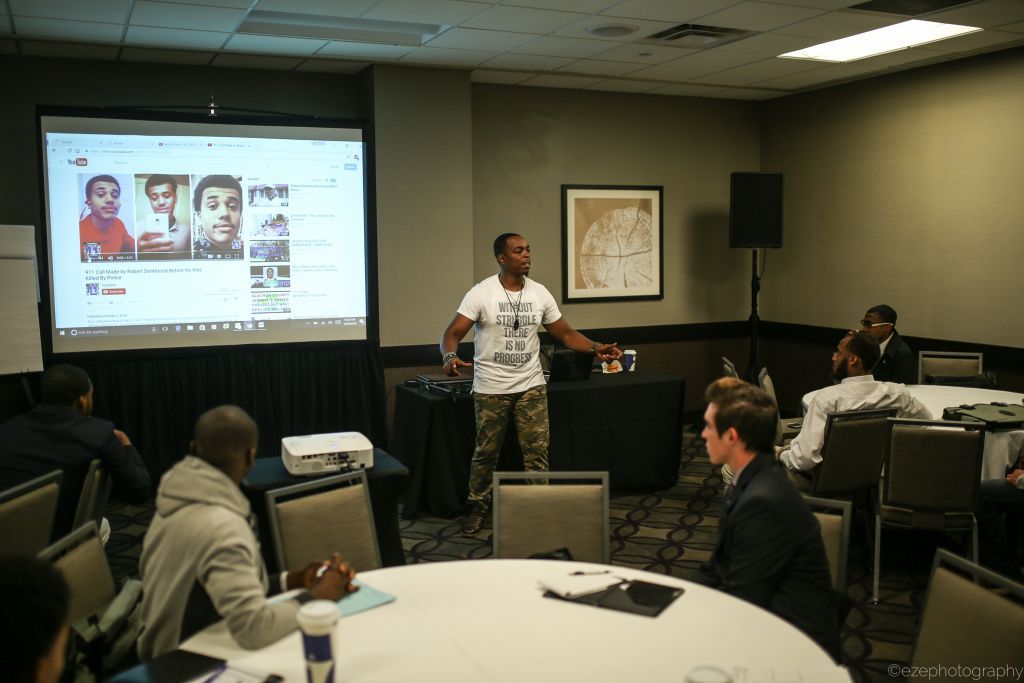 Based on MMI Database findings, students who are involved in clubs and organizations tend to succeed at higher rates, as indicated by GPA. Involvement in organizations may allow students to better adjust to the campus climate through campus engagement. Campus engagement is positively related to more engagement with faculty members and the use of campus services (Keflezighi, Sebahari, & Wood, 2016). MMI Database findings significantly correlate the use of writing services on campus with higher student GPA overall. However, similar predictions cannot be made about math tutoring, English tutoring, or Supplemental Instruction. Best practices for institutions developed from MMI Database findings in the context of prior literature are summarized as follows:
Financial. Providing advising and budgeting services before and after student enrollment can greatly aid students who struggle to fiscally navigate through college. Implementing financial workshops into the community college can give students an opportunity to strengthen their financial literacy as well as to understand the dynamics of effective budgeting. Providing affordable learning solutions for students by funding costs for textbooks and course material can further aid student success. Lastly, supporting funding for public transportation may increase student attendance and reduce financial barriers. Many colleges are including financial literacy programs to educate students about short- and long-term budgeting and financial planning (American Association of Community Colleges, 2015).
Academic. Building partnerships between academic support services and MMIs provides students clear pathways to faculty members and resources. Students in the database describe how programs supporting men of color help them greatly through retreats, role modeling, and a sense of community. Encouraging students to access academic support services and maintaining a tracking system of student academic referrals appear worthwhile. Developing an early warning system that identifies at-risk students and provides them with the necessary academic support to maintain resiliency and implementing a sufficient follow-up schedule to maintain consistency is critical to the effort. To counteract the systematic norm of men not asking for help, minority male students need to be encouraged to utilize faculty office hours, and to arrive early and stay late for classes.
Familial. Colleges should aim for the inclusion of family members at orientation and other college events as much as possible. Many students want to serve as role models for their community, especially their younger family members. Family serves as a large motivating factor for students' overall success while attending college. In contrast, family dynamics may also be a challenge for students who must deal with family issues and concerns while fulfilling academic obligations. Providing these students with a space to discuss familial motivations and challenges is imperative to their understanding of how to effectively navigate through college while maintaining a strong relationship with their family.
Social. Encouraging social interactions between students and communities allows for holistic development. Retreats with programs or organizations promote camaraderie between minority male students. Leadership and community service programs can also help develop men of color as role models for the people around them and encourage them to give back to their communities. Further, as men of color develop into role models, they need role models of their own. Colleges can respond to barriers to academic success by providing role models; this support can make it easier for male students of color to ask faculty for help and integrate with the academic culture.
Motivation. The MMI Database shows the most frequent motivators for student success are (1) family, (2) peers, (3) school advisors, (4) mentors, (5) campus organizations, and (6) athletic coaches. Incorporating these elements into ongoing programs is crucial to instilling and perpetuating motivation among men of color in community colleges. Because of the previously mentioned barriers, including family in students' college life is essential. Providing workshops and space for families to understand the educational journey could win their support for students to excel in college. Offering peer-counseling, mentoring, and advising in academic support programs is recommended. The college can also encourage minority male students to be intentional in developing stronger mentor, faculty, and advisor relationships. Coaches and MMI leaders can also serve as role models. Building clear communication lines and camaraderie between MMI leaders and men or color can bolster academic success.
Conclusion
The MMI Database project points to the critical need for MMIs, regardless of design and service delivery. If highly visible and integrated, well-staffed, and funded with personnel who understand the needs of these men, program development and assessment will support higher student success rates. Services guided by the best practices outlined in this article are recommended for consideration.
In summary, the potential realized in men of color is a major motivational factor for institutional commitment to this underserved population. Building men of color success programs leads to stronger families and communities, generating increased likelihood that the next generation of men of color will arrive at college more equipped and motivated to succeed. It is an investment we can no longer ignore.
References
American Association of Community Colleges. (2015). Why financial literacy should be part of every community college education. 21st Century Center. Retrieved from www.aacc21stcenturycenter.org/article/why-financial-literacy-should-be-part-of-every-community-college-education/
Center for Community College Student Engagement. (2014). Aspirations to achievement: Men of color and community colleges (A special report from the Center for Community College Student Engagement). Austin, TX: The University of Texas at Austin, Program in Higher Education Leadership. Retrieved from www.ccsse.org/docs/MOC_Special_Report.pdf
Digest of Education Statistics. (2010). Chapter 3: Postsecondary education. Washington, DC: National Center for Education Statistics, U.S. Department of Education.
Garot, R. (2010). Who you claim: Performing gang identity in school and on the streets. New York: NYU Press.
Keflezighi, F., Sebahari, L., & Wood, J. L. (2016). An analysis of programs serving men of color in the community college: An examination of funding streams, interventions, and objectives. Retrieved from files.eric.ed.gov/fulltext/EJ1137951.pdf
National Center for Education Statistics. (2015). The Condition of Education 2015. Washington, DC: U.S. Department of Education. Retrieved from nces.ed.gov/pubs2015/2015144.pdf
Valliani, N. (2015). The state of higher education in California: Blacks. The Campaign for College Opportunity. Retrieved from files.eric.ed.gov/fulltext/ED571120.pdf
Wood, J. L., & Harris, F. (2013). The community college survey of men: An initial validation of the instrument's non-cognitive outcomes construct. Community College Journal of Research and Practice, 37(4), 333-338. doi:10.1080/10668926.2012.754733
Keith Curry is President/CEO of Compton College in Compton, California. Dawn Person is the Director of the Center for Research on Educational Access and Leadership (C-REAL) at California State University Fullerton. Tim Sechang and Ezeudo Egeonuigwe are Research Assistants at C-REAL. Andrew Jones is the Former Chancellor of Coast Community College District in Costa Mesa, California.
Opinions expressed in Leadership Abstracts are those of the author(s) and do not necessarily reflect those of the League for Innovation in the Community College.