LSC-LEAD: Preparing Current Leaders for Future Leadership Roles
August
2018
Leadership Abstracts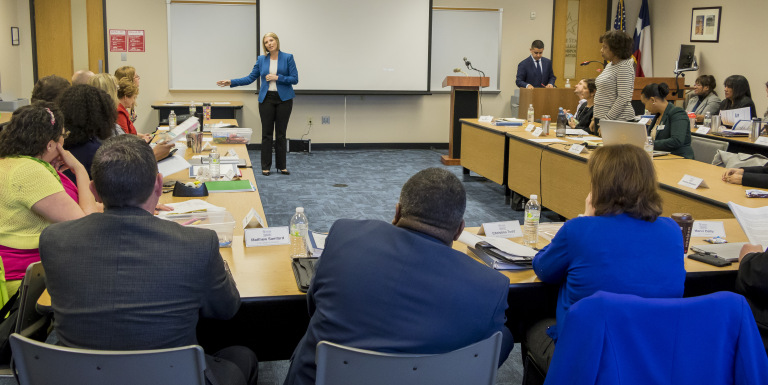 According to Crisis and Opportunity (The Aspen Institute, 2013), a little over half of U.S. community college presidents will retire in the next 10-15 years. As a result of this alarming statistic, organizations like the Aspen Institute, Achieving the Dream, American Association of Community Colleges (AACC), and League for Innovation in the Community College have expressed the need for community colleges to develop pathways for current leaders interested in future leadership positions. The recommendations from these advocacy groups have encouraged community colleges to focus on ways to grow and develop the talent they have within their organizations. The Aspen Institute (2013) found that community college presidents of the future will need a leadership skill set that includes the following qualities:
A deep commitment to student access and success;
A willingness to take significant risks to advance student success;
The ability to create lasting change within the college;
A strong, broad, strategic vision for the college and its students, reflected in external partnerships; and
The ability to raise and allocate resources in ways aligned to student success (pp. 5-9).
In 2015, the Chancellor of Lone Star College decided to take action. Dr. Stephen C. Head saw an opportunity to create a collegewide leadership development program designed to help current employees develop and hone the skills they need to succeed in senior-level leadership roles within the college. The Organizational Development (OD) department was asked to take the lead on the development and implementation of the project known as the Lone Star College Leadership Excellence and Administrative Development Institute (LSC-LEAD). Under OD's leadership, the inaugural cohort of LSC-LEAD began in fall 2015, with 32 participants representing LSC's six main campuses, satellite centers, and system office.
About LSC-LEAD
The mission of LSC-LEAD is to develop and continuously improve the knowledge, skills, and abilities of Lone Star College administrators. Participation in LSC-LEAD is open to director-level employees and above, as well as faculty who are interested in preparing themselves for higher-level administrative roles within the organization. Each participant is nominated by their respective college President, Vice Chancellor, or Associate Vice Chancellor. Once chosen, participants are responsible for attending leadership development sessions that span across an academic year.
Curriculum and Expected Outcomes                                           
The Organizational Development team was very intentional when designing the curriculum and learning outcomes for LSC-LEAD. They chose to align the institute's curriculum with AACC's six competencies for future leaders in community college: organizational strategy, resource management, communication, collaboration, community college advocacy, and professionalism. The following five foundations serve as a framework for LSC-LEAD:
Foundations of Organizational Strategy – Provide knowledge and techniques to help administrators to strategically evaluate trends, challenges, and opportunities at Lone Star College.
Operational Foundations – Prepare community college leaders to equitably and ethically sustain people, processes, and information as well as physical and financial assets of Lone Star College to fulfill its mission.
Foundations for Management and Supervision – Provide knowledge and techniques for LSC administrators to effectively solve problems and facilitate transformational change at Lone Star College.
Foundations for Personal Development – Provide the skills necessary to create and sustain a circle of influence grounded in personal values with the ability to create and sustain a broad circle of influence to enhance the effectiveness of LSC administrators.
Academic Foundations – Provide insight and realistic expectations of the skills required for those on a career path to serve as Vice Presidents of Instruction, Student Success, or Administrative Services or as Presidents.
The five foundations are tied directly to the program's learning outcomes. Ultimately, Organizational Development's goal is to develop leaders who will
have a better understanding of the history and complexities of the community college;
understand the value of relationships, think critically, and solve problems;
be equipped with the skills needed to develop and maintain a positive campus culture;
be able to advocate for community college on the local, state, and national levels; and
utilize data to inform their decisions.
Complements to the Curriculum
In addition to the program sessions, participants are provided with a variety of tools designed to prepare them for advancement in their careers. Participants may take the Leadership Practices Inventory (LPI) 360 Assessment to obtain feedback from various stakeholders, receive Executive Coaching from a senior-level administrator at the college, and develop a Personal Leadership and Career Development Strategic Plan. A major component of LSC-LEAD involves participants working in groups to conduct a SOAR analysis of an issue identified by a College President or Executive Vice Chancellor and presenting findings at graduation. Examples of other capstone projects include engaging faculty and staff in enrollment management efforts, developing an onboarding process for new employees, and assisting with the creation of the college's five-year SACSCOS report.
Feedback, Recommendations, and Changes for Future Cohorts
Twenty-eight participants from the inaugural LSC-LEAD cohort graduated in spring 2016. Surveys were provided to participants after each session to evaluate the relevance and effectiveness of the speakers and content. Overall, participants saw personal value in the program. When asked about the benefits of the program on a summative evaluation, 75 percent of respondents noted "growth personally and professionally" and 67 percent felt that they were "positioning myself as a future leader at Lone Star College."
Exit interviews were also conducted with graduates from the inaugural cohort. Based on feedback, the following program changes were made after year one:
The format was changed from 11 half-day sessions to seven full-day sessions.
The practical application of content (e.g., use of case studies) was increased.
A service project was added to the curriculum.
Executive coaching has been established early in the program.
Opportunities are now provided for capstone groups to work within sessions.
The 32 graduating participants in the 2016-2017 cohort, for which the updated curriculum was implemented, indicated the following as the most important benefits of participating in the LSC-LEAD program:
"Growing personally and professionally as a leader" (76 percent)
"Networking with peers" (71 percent)
This cohort also shared qualitative feedback regarding the value of the executive coaching element, which included:
"My coach helped to explain the role of Vice President of Instruction, discussed with me what he knew about my group project, and discussed with me the possibility and tasks required for a dean position should I apply."
"He shared his goal setting process and strategic planning structure from the moment he entered into higher education. … He allowed me to see things from a 30,000 foot perspective. I am so passionate about working with students, and through an administrative role, I could touch even more students through those transformational efforts."
"Advice on real-world challenges from a coach with real-life experience."
Both cohorts emphasized the value of learning from other leaders, which aligned with feedback the Office of Organizational Development was hearing from graduates of other leadership development programs offered in their department. Ultimately, this feedback led to the creation of a comprehensive leadership development alumni association through the Leadership Development department, a sub-department within the larger OD function.
Looking to the Future
Organizations that aspire to be innovative and responsive to changing environmental needs must create opportunities for employees to practice these skills (Buchanan, 2008; Senge 1990). LSC-LEAD is a good example of how community colleges have made adjustments to ensure that the leadership of our organizations are in the hands of prepared and qualified leaders. To date, there have been 50 graduates from two cohorts of LSC-LEAD. As we look to the future, we hope that LSC-LEAD is one among many programs across the country that lead the community college employee leadership development effort through best practice.
Resources
American Association of Community Colleges. (2005). Competencies for community college leaders. Retrieved from www.aacc.nche.edu/wp-content/uploads/2017/09/AACC_Core_Competencies_web.pdf
The Aspen Institute (2013). Crisis and opportunity: Aligning the community college presidency with student success. Retrieved from assets.aspeninstitute.org/content/uploads/files/content/upload/CEP_Final_Report.pdf
Buchanan, J. (2008). Developing leadership capacity through organizational learning. Journal of College Teaching and Learning, 5(3), 17-24.
Senge, P. (1990). The fifth discipline: The art and practice of the learning organization, New York, NY: Doubleday.
Alicia Friday is Executive Director of Organizational Development and Erica Landry is Director of Faculty Development at Lone Star College in Houston, Texas. Latoya Lewis is Director of Academic Initiatives and Partnerships and Jackie C. Thomas, Jr. is Chief Strategist at Lone Star College-Tomball, in Tomball, Texas.
Opinions expressed in Leadership Abstracts are those of the author(s) and do not necessarily reflect those of the League for Innovation in the Community College.