Living Our Mission: Aligning Our Organization's Strategic Plan to the Work
October
2021
Leadership Abstracts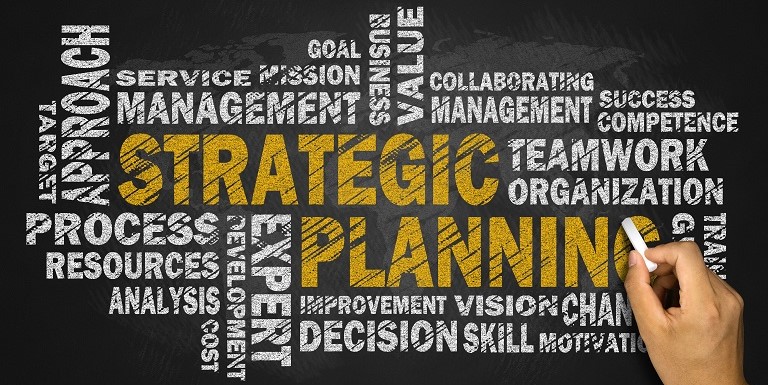 In December 2019, Seattle Colleges' colleagues Victor Kuo and Daihong Chen (2019) introduced the institution's strategic plan scorecard to "measure what matters." To ensure that goals are achievable, faculty and staff must have ownership in developing their own plan of action that aligns their department's work to the larger institutional goals.
A lot of time, energy, and dedication go into developing an academic institution's strategic plan. However, it is hard for some staff within the institution to translate those plans into actions as the goals may feel too far removed from their daily grind. For example, without proper coaching and direction, technical support staff members who only work with faculty may not fully understand how their work directly impacts a goal specific to student retention. Therefore, the next step in the strategic plan process is involving departments in a strategic planning process of their own.
eLearning at Seattle Colleges
On March 1, 2021, the eLearning teams from three separately accredited Seattle Colleges (Central Seattle College, North Seattle College, and South Seattle College) were formally merged into one team, or department, to harness the collective talents of team members. The team's focus is to develop systems and resources that support student success and consolidate repetitive structures in a manner that prioritizes relationships with faculty. This reorganization allowed team members to participate in a department-level strategic plan process that aligns work to that of the Seattle Colleges Strategic Plan. The results are a team commitment to supporting the institutional goals in an intentional and purposeful manner. To accomplish this, the eLearning department's Executive Director facilitated team participation in a four-step process:
Determine the work.
Determine the eLearning department's mission, vision, and guiding principles.
Develop the department's outcomes.
Determine the projects to meet the outcomes.
Step 1: Determining the Work
Before determining the new department's mission and values, staff defined the scope of the work that would be done as a single unit. Based on the current work and anticipated tasks ahead, it became obvious that the previously separate eLearning departments across the district shared some common responsibilities that could be grouped into three categories:
Student and faculty technical support specific to eLearning tools;
Instructional design and pedagogical support for faculty; and
Faculty professional development in areas of technology tools, pedagogy, and accessibility.
Step 2: Determining the eLearning Department's Mission, Vision, and Guiding Principles
The second step was to develop the team's own mission, vision, and values. Doing this provided the team with the opportunity to take ownership in developing statements outlining the department's collective commitment to institutional success. To do this, the team first reviewed Seattle Colleges' mission, vision, and strategic plan. Next, the team aligned those statements with the work determined in Step 1.
Appendix A provides the department's determined mission, vision, and values. A comparison of these to Seattle Colleges' Mission, Vision, and Values reveals a clear connection, especially in areas of accessibility, equity, diversity, and inclusion, and innovation—the areas that clearly align with the eLearning department's work as summarized in Step 1.
Step 3: Developing the Department's Outcomes
Clear definition of work and alignment to the institution's mission, vision, and values provides a great framework to complete the next step: identifying the outcomes. Outcomes are the measurable and observable results that occur if the department is successful. These outcomes are mapped directly with the institutional goals. For example, one of the department's outcomes, as shared in Appendix B, is "A single, well-established, and operational organizational structure for Seattle Colleges eLearning, initially comprised of the eLearning staff from across the Central, North, and South campuses, that balance the individual needs of the campuses with the needs of the whole." This department outcome is directly aligned, or mapped, to the institution's Goal #3, Organizational Excellence, which states, "We seek continuous improvement in excellence in teaching and learning, operational efficiency and fiscal sustainability, strategic innovation, and employee growth and engagement." 
Step 4: Determining the Projects to Meet the Outcomes
The final step in the department-specific strategic planning process was to use the outcomes as a basis for determining the projects the department would need to complete. Doing this provides purpose for the department. For example, to meet our operational structure outcome listed above, the department created a project to develop a comprehensive, flexible, and responsive support structure for students and faculty to access help when needed. The micro-details and steps for completing each project are determined by the project's manager and team members. Department staff are added to projects based on how each project aligns with the essential functions of their job.
Conclusion
Institutional missions and visions matter only if staff and faculty have a clear understanding of them. Staff and faculty also need ownership of their work in alignment to institutional goals. By guiding the eLearning team through the four-step process detailed here, the team can unequivocally align and justify their work in the context of the institution's mission, vision, values, and goals. Giving the team ownership of the process empowers its members to continuously work toward meeting our outcomes, as illustrated by multiple six-month benchmarks being completed within the first three months of implementing the department's strategic plan.
Appendix A: eLearning's Mission, Vision, and Guiding Values
Mission
Our dynamic team supports student success and provides innovative and culturally responsive solutions in collaboration with students, faculty, and staff in the creation, implementation, assessment, and promotion of high-quality programs, courses, and opportunities across all learning modalities and college-supported technology tools. 
Vision
Our team models and supports inclusive, equitable, accessible, and anti-racist teaching and learning practices and technology tools to transform lives, promote equity, and enrich the community. 
Guiding Values
All programs, services, and activities of Seattle Colleges eLearning will be guided by the following values: 
Work and decisions made around policies, support services, training materials, and technology tool choices are focused on student success and rooted in principles and practices of equity, diversity, inclusion, accessibility, and anti-racism.  
Student and Faculty access to resources and services can equitably be achieved regardless of location. 
Policies, procedures, and documentation are transparent, readily available, and accessible to students, faculty, and staff regardless of location. 
Engagement and collaboration with students, faculty, and staff representing all locations, including those learning, teaching, and working remotely, is essential for developing district-wide training and support services. 
Quality instructional design serves as the foundation for all pedagogical and technical solutions. 
Pedagogy and technology tools enrich students' experience through accessible, inclusive, culturally responsive, and anti-racist practices. 
Continuous improvements of all our practices, policies, and procedures will reflect the needs of all our students, faculty, and communities.
Appendix B: eLearning's Outcomes in Alignment with Seattle Colleges' Strategic Plan
By meeting our mission and living our values over the next five years, our efforts will result in the following successful outcomes. 
A single, well-established, and operational organizational structure for Seattle Colleges eLearning, initially comprised of the eLearning staff from across the Central, North, and South campuses, that balance the individual needs of the campuses with the needs of the whole. (Goal 3)
An increase of 200 percent in online FTE enrollments across the three campuses. (Goal 1)
Increased student satisfaction via the provision of seamless and integrated access to the resources and support students need to be successful in all facets of their academic experience while receiving antiracist and inclusive instruction. (Goal 1, Goal 2, Goal 3)
Increased professional development opportunities, resources, and support for faculty to learn and integrate new and innovative pedagogical approaches; antiracist, equitable, and inclusive practices; and appropriate technology tools to best support students in achieving their learning outcomes resulting in high levels of satisfaction among faculty. (Goal 2, Goal 3)
Clearly defined role of eLearning as it relates to noninstructional work, collaborating on policies and procedures that impact each other's work, and providing support and professional development opportunities to staff around the technology tools supported by eLearning resulting in high levels of satisfaction among staff. (Goal 1, Goal 3)
Team members that effectively support students, faculty, and staff in innovative ways while growing professionally as both individuals and as members of a team. (Goal 2, Goal 3)
Reference
Kuo, V., & Chen, D. (2019). Seattle Colleges' strategic plan scoreboard: Measuring what matters most. Leadership Abstracts, 32(12). https://www.league.org/leadership-abstracts/seattle-colleges%E2%80%99-strategic-plan-scorecard-measuring-what-matters-most
Kevin Bowersox-Johnson, M.Ed., is Executive Director, eLearning, at Seattle Colleges in Seattle, Washington.
Opinions expressed in Leadership Abstracts are those of the author(s) and do not necessarily reflect those of the League for Innovation in the Community College.