Leading the 21st Century Community College
October
2019
Leadership Abstracts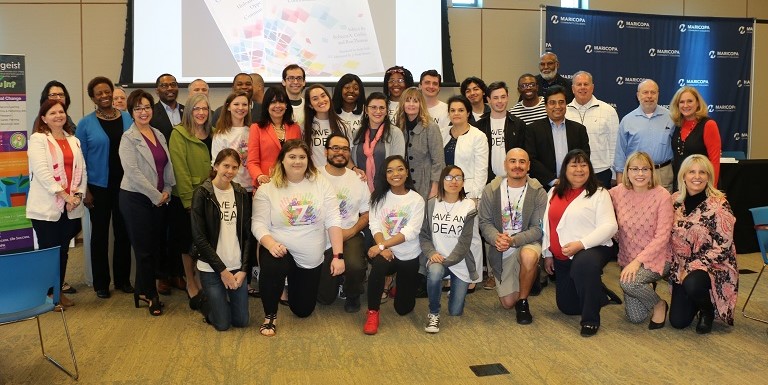 Reduced budgets, higher accountability standards, and the waning number of professionals prepared for community college leadership created a crisis in the first decade of the 2000s. A new leadership model was needed for community colleges to meet these challenges. In response, NACCE unveiled the Presidents for Entrepreneurship Pledge (PFEP) in 2011. Designed to assist community college presidents in advancing entrepreneurship in their communities and creating a culture of entrepreneurship on their campuses, the PFEP model asked these leaders to make the following five commitments based on successful entrepreneurship activities reported from NACCE members:
Form teams to focus on entrepreneurship.
Connect with entrepreneurs in the community.
Collaborate with industry in your region.
Focus on business and job creation.
Share stories through events and the media.
Community college leaders across the U.S., who have a long history of innovation and the ability to seek opportunities to better serve their colleges and communities, embraced the PFEP. Since its inception in 2011, more than 250 college presidents have signed the pledge, and this number continues to grow each year. The pledge serves as the foundation for entrepreneurial leadership in NACCE's member colleges and acknowledges and promotes innovative work and best practices in the country.
Recognizing Excellence as a Leadership Strategy
In 2017, NACCE launched its College of Excellence awards, a competition for NACCE member colleges that have signed the PFEP, inviting them to self-nominate as a college of excellence. Colleges are selected based on their ability to demonstrate excellence in one of the five action steps presidents and colleges commit to when signing the PFEP.
The winning colleges for 2019 received their awards at the NACCE Presidents' and Chancellors' Breakfast at the AACC Conference on April 15 in Orlando, Florida. The following are examples of community colleges achieving excellence in each of the five PFEP steps:
Northampton Community College (NCC), in Bethlehem, Pennsylvania, received recognition for its work in Step 1: forming teams that focus on entrepreneurship. NCC recently opened the Follett Center for Innovation and Entrepreneurship (CEI), which, according to NCC President Mark Erickson, is an "unparalleled resource to support entrepreneurship in the communities the college serves while fostering the critical thinking skills students need to thrive in the real world." CEI's mission is to provide an open learning environment where innovation, technology, and skills drive the entrepreneurial mindset with accessibility and affordability. Among the many features offered are an Entrepreneur-in-Residence program, a monthly lecture series, a 16-week start-up school, and counseling for small and minority-owned businesses.
Houston Community College (HCC) in Houston, Texas, demonstrated excellence in Step 2: connect with entrepreneurs in the community. The Houston Minority Business Development Agency, operated by HCC, connected minority-owned businesses to $363 million in contracts and $395 million in financing, and created 850 new jobs. Each of the college's three Centers for Entrepreneurship serve over 1,200 small businesses through workshops and seminars and introduce HCC students to entrepreneurship. HCC also provides business training in Spanish and Mandarin for Hispanic and Asian Chambers of Commerce, respectively, accelerating learning in the individual's own language. It also has agreements in place with Black Girls Code and Tech Pack to introduce young students to entrepreneurship and build a pipeline of access and opportunity for underserved populations. HCC's Office of Entrepreneurial Initiatives leads and coordinates entrepreneurial activities such as small business seminars, mentor matchmaking, networking events, boot camps, and guest speakers. It recently hosted 350 women at the Women's Entrepreneurial Boot camp in both English and Spanish.
Pierpont Community & Technical College (PCTC), in Fairmont, West Virginia, demonstrates excellence in Step 3: collaborate with industry in your region. A hallmark of a PCTC education is partnering with local business. The college currently has partnerships with companies such as FirstEnergy, Pratt Whitney, Chevron, Dominion Energy, Murray Energy Corporation, the Greenbrier Resort, Ruby Memorial Hospital, Mon Health Medical Center, and many others. The college offers continuing education programs specifically for entrepreneurs, including its Federal Acquisition Management program designed for small businesses with a desire to conduct contract services for the federal government. The college has also recently initiated conversations with MVB Bank and Harrison County Schools to incorporate entrepreneurship curriculum into K-12 classrooms.
The Small Business Development Center (SBDC) at Rogue Community College in Grants Pass, Oregon, demonstrated excellence in Step 4: focus on business and job creation. The center serves 86,400 residents—six percent of the state's population—and consistently ranks among the top performing SBDCs in Oregon (out of 19). Its highest performance rankings are in job creation, capital generation, and new business starts. From 2015-2018, the center ranked first or second in new business starts and in 2018 ranked second in job creation. Over the past six years, the SBDC has worked with the city of Grants Pass to secure a Community Development Block Grant to support local business training. It also formed an important partnership with Josephine County and the Illinois Valley Community Development Organization to increase the revolving loan fund for start-ups and existing businesses. New and existing businesses credit the SBDC's advising and training opportunities with the ability to expand business and create additional jobs in the local community.
Borough of Manhattan Community College/SUNY (BMCC), in New York City, excelled in Step 5: share stories through events and the media. For 11 consecutive years, the college has hosted its Entrepreneurship Summit to encourage networking, raise awareness of entrepreneurship on campus, and provide practical information and inspiration to BMCC entrepreneurs. With a 41 percent Hispanic student population, BMCC has led community colleges in the area by connecting students who are starting businesses with individuals who are leading successful businesses and with potential business partners and funders. According to Built in NYC, an online community for New York City tech start-ups, 421 New York City-based start-ups secured more than $9.5 billion in venture capital funding in 2016.
Entrepreneurship as Part of a National Conversation
In Community Colleges as Incubators of Innovation: Unleashing Entrepreneurial Opportunities for Communities and Students, NACCE has gathered best practices and models of entrepreneurial ecosystems inspired by entrepreneurship educators and thought leaders from around the country. These examples can be replicated by faculty and community leaders seeking to enhance economic vitality through entrepreneurial opportunities. Click here to order.
Lead image: Community Colleges as Incubators of Innovation book signing and PFEP commitment ceremony at Paradise Valley Community College, Arizona, April 2019
Rebecca Corbin, Ed.D., is president and CEO, and Ron Thomas, Ph.D., is a former board member and chairman for the National Association for Community College Entrepreneurship in Springfield, Massachusetts.
Opinions expressed in Leadership Abstracts are those of the author(s) and do not necessarily reflect those of the League for Innovation in the Community College.