An Entrepreneurial Leader of Change: Reflections From The Art and Science of Culture Change
July
2022
Leadership Abstracts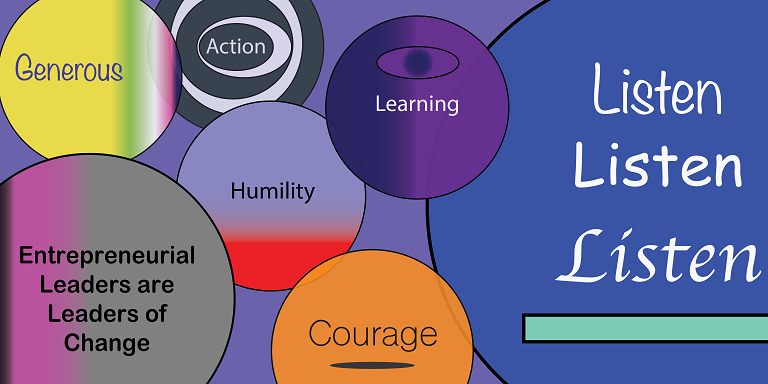 The Art and Science of Culture Change (ASCC) is a comprehensive change model made up of 31 themes, or concepts, that aim to describe and inform the co-creation of social contexts demonstrating inclusion, innovation, and entrepreneurship. Within ASCC, entrepreneurial leaders of change (ELCs) are described as "generous, courageous, and humble learners willing to take action" (Sada, 2022, para. 4), and they can be found in any organizational role, regardless of job title.
If we agree that more inclusive, more innovative, and more entrepreneurial cultures can help us to better serve our students, colleagues, and communities, what might we notice about ourselves and each other through everyday opportunities to demonstrate our generosity, courage, humility, learning, and actions? These characteristics are especially salient given the uncertainty and ambiguity of circumstances facing community college leadership in 2022-2023, including ongoing challenges with improving online learning; updating technology infrastructure; and addressing enrollment loss, skill gaps, and workforce demands (Locken, 2022).
The ELC framework allows us to consider a small number of examples of behavioral qualities as a prompt for reflecting on how these traits show up in in our own work and in the work of our colleagues. In this essay, the perceptions of behavioral qualities that Henry Yong, Chancellor of Yosemite Community College District (YCCD), demonstrates are his own as well as those of people who work closely with him. Together, they serve to illustrate this process of observation and reflection.
Listening: A Synthesis of Five ELC Themes
Before looking at Dr. Yong's leadership in the framework of the five traits already mentioned, however, it is valuable to consider a colleague's perception of him as a listener. Being a good listener demonstrates all of the ELC behavioral qualities through this one skill that is critical to effective leadership (Bryant & Sharer, 2021) and is represented as the ASCC theme of Really Listening (Sada, 2022, para. 4). One YCCD trustee said, "Dr. Yong listens and respects multiple perspectives" and "follows up . . . to continue inviting stakeholders to share their ideas and perspectives, even if they are dissenting voices." The trustee went on to say that "for us to have inclusion, we need diversity of thought, and we can't have innovation without relationships. Dr. Yong builds relationships with us."
Generosity
Generosity has been linked with effective leadership and truly inspiring others (Crawford-Marks, 2020). A YCCD trustee described Yong's generosity in terms of empathy and his acknowledgment that "we're all learning and struggling." Through these struggles, the trustee noted, the Chancellor helps everyone experience "the freedom to be creative, fun, loving, and joyful. . . . Dr. Yong reminds us of why people want to contribute to the world and society."
A faculty member described Yong's generosity as follows: "He really expresses his gratitude for everyone; he recognizes specific efforts of people" and "while the Chancellor has positional power, he doesn't need it. He puts people before process."
Humility
One notices in written communication with Yong that he signs his emails "henry" with a lower case "h". This could initially surprise a reader when hearing back from a Chancellor within the formal and hierarchical norms of traditional academic cultures, but those who know Yong see it as consistent with his leadership style and authenticity. When asked how the lower case "h" came to be part of his email signature line, Yong shared,
When I became a Dean, I wanted people to know I'm open and accessible to everyone without rigid formality. My goal is the same as Chancellor—to truly serve across the spectrum; I want everyone to know they have access to me and that I appreciate the important roles they serve in.
As Yong extends this implicit and explicit invitation to informal, egalitarian interaction, he also says he has found people to be respectful, noting that familiarity does not undermine professionalism in the workplace or decorum in settings where public formalities are expected.
Research continues to demonstrate an increased interest in the virtue of humility in connection with leadership (Nielsen & Marrone, 2018). Council and Sowcik (2021) noted that, "followers perceive humble leaders [as ones who] build trusting relationships, are oriented toward others, lead by example, focus on the bigger picture, and possess integrity (authenticity/honesty)" (p. 117). The construct of humility is also associated with servant leadership (Moore, 2019), a term that Yong uses as he expresses his core leadership values.
Learning
It is apparent now more than ever, in the wake of the COVID-19 pandemic, that leaders also need to be learners (Roberts, 2021). Learning, e.g., learning through the perspectives of others, is woven into the YCCD culture. Recounting a situation in which a state mandate required the district to develop a policy addressing credit for prior learning, a faculty member recalled Yong asking faculty to write a proposal:
The Chancellor could have taken a top-down approach, . . . but he actively engaged us in the process and was willing to learn from our perspectives and ideas. This is who he is. I wish there were more leaders like him.
While we may be confident that the abundance of employees with advanced degrees in institutions of higher learning ensures that our leaders excel in cognitive domains, it is also true that "highly educated people can be especially vulnerable to cognitive missteps" (Gunsalus et al., 2018, para. 6). However, if we are committed to overcoming our biases and have the humility to continue acknowledging that we, like everyone else, are vulnerable to bias, we can keep learning.
Courage and Willingness to Take Action
Between the fall 2021 and spring 2022 semesters, colleges across the U.S. were strategizing how to manage campus openings as well as vaccine and mask mandates while waiting for the related January 13, 2022, Supreme Court ruling. Yong and YCCD's Board of Trustees planned ahead and, upon deliberation, decided not to require proof of vaccination regardless of the Supreme Court's decision. Knowing there was no way to please everyone with COVID-19-related policies and solutions, they moved forward in unison with courage and action:
We listened to everyone's ideas and concerns, acknowledging discontent from people with many different perspectives, and we continued to focus on being compassionate, inclusive, and respectful throughout the challenging conversations. And, then we said, "This is what we're doing," shared our logic with the priority of keeping everyone safe, and we moved forward together. Through our outside testing vendor, we've already completed over 5,500 tests with a positive rate of 6 to 6.5 percent, which is lower than we expected . . . and the semester has begun. (H. Yong, personal communication, January 13, 2022).
Perhaps one of the most common calls for courage comes when consensus will likely not occur, but decisions must still be made and action taken.

Dr. Henry Yong, Chancellor of Yosemite Community College District
Chancellor Yong and Trust
According to Saladis (2021), despite "hundreds of years of refinement and enhancement, there is no universal definition of leadership" (p. 1). It is important, however, to understand the perception of those with whom leaders work (Campagna et al., 2020). Considering the behavioral qualities of generosity, humility, courage, learning, and willingness to take action, comments from some colleagues reveal descriptions of Yong and his personal brand of leadership characterized by strong listening skills and the outcome of trust. Summed up by one of the elected trustees from the Yosemite CCD, "We trust and believe in Henry."
Assertions related to trust may also remind us of psychological safety, which has been associated with entrepreneurial leadership and performance, and new research directions in leadership and leadership impact (Miao et al., 2019; Wang et al., 2018). Many studies have linked psychological safety with a variety of constructs, such as inclusion, co-creation, creativity, innovation, entrepreneurship, and other signs of individual and organizational thriving, providing inspiration to look within and beyond Western conceptualizations of leadership in our diverse and interconnected world (Clark, 2020, Javed et al., 2019; He et al., 2020; Hu et al., 2018; Mehmood et al., 2021; Yang et al., 2021). These studies remind us of the complex social phenomena described as trust or psychological safety that are associated with positive organizational cultures and outcomes.
As we move toward the 2022-2023 academic year, how might we continue to become more inclusive, more innovative, and more entrepreneurial? College leaders, regardless of organizational role, know that they must bring people together with a sense of community in order to make meaningful progress toward organizational visions (Mathis, 2021). Through the lens of ASCC, the behavioral qualities of generosity, humility, courage, learning, and willingness to take action could help us lead and/or co-create the cultures that bring about the positive changes we seek. What will come next in 2022 and beyond? We don't know for sure, but entrepreneurial leaders of change will be ready.
This sample ASCC tool can be used for self-reflection and to "catch each other doing something right," as we encourage the Entrepreneurial Leaders of Change within each of us.
References
Bryant, A., & Sharer, K. (2021, March-April). Are you really listening? Harvard Business Review. https://hbr.org/2021/03/are-you-really-listening  
Campagna, R. L., Dirks, K. T., Knight, A. P., Crossley, C., & Robinson, S. L. (2020). On the relation between felt trust and actual trust: Examining pathways to and implications of leader trust meta-accuracy. Journal of Applied Psychology, 105(9), 994-1012.
Clark, T. R. (2020). The 4 stages of psychological safety: Defining the path to inclusion and innovation. Berrett-Koehler Publishers.
Council, A., & Sowcik, M. (2021). Addressing humility to address the need for authentic leadership. Journal of Leadership, Accountability and Ethics, 18(2), 117-130. https://doi.org/10.33423/jlae.v18i2.4259  
Crawford-Marks, R. (2020). Top traits of a good virtual manager: It takes a great deal of emotional intelligence and strength to truly inspire others. Leadership Excellence. 37(10), 35-37.
Gunsalus, C. K., Burbules, N. C., & Wraight, S. (2018, September 26). Understanding and navigating cognitive biases. Inside Higher Ed. https://www.insidehighered.com/advice/2018/09/26/cognitive-biases-are-work-many-troubled-academic-departments-opinion#.YfCFMDfzuYY.link
He, P., Sun, R., Zhao, H., & Chen, C. (2020). Linking work-related and non-work-related supervisor–subordinate relationships to knowledge hiding: A psychological safety lens. Asian Business & Management. https://doi.org/10.1057/s41291-020-00137-9  
Hu, J., Erdogan, B., Jiang, K., Bauer, T. N., & Liu, S. (2018). Leader humility and team creativity: The role of team information sharing, psychological safety, and power distance. Journal of Applied Psychology, 103(3), 313-323. https://doi.org/10.1037/apl0000277   
Javed, B., Naqvi, S., Khan, A., Arjoon, S., & Tayyeb, H. (2019). Impact of inclusive leadership on innovative work behavior: The role of psychological safety. Journal of Management & Organization, 25(1), 117-136.
Locken, F. (2022, May 22). Disruption and the future of higher education. Community College Daily. https://www.ccdaily.com/2022/01/disruption-and-the-future-of-higher-education
Mathis, M. B. (2021). Fostering a culture of connection and care within the chaos of post-pandemic uncertainty. Diverse Issues in Higher Education, 38(17), 34.
Mehmood, M. S., Jian, Z., Akram, U., Akram, Z., & Tanveer, Y. (2021). Entrepreneurial leadership and team creativity: the roles of team psychological safety and knowledge sharing, Personnel Review. https://doi.org/10.1108/PR-07-2020-0517     
Miao, Q., Eva, N., Newman, A., & Cooper, B. (2019). CEO entrepreneurial leadership and performance outcomes of top management teams in entrepreneurial ventures: The mediating effects of psychological safety. Journal of Small Business Management, 57(3), 1119-1135. https://doi.org/10.1111/jsbm.12465   
Moore, B. (2019). Perceived servant leadership impact on job satisfaction and organizational commitment across cultures, Emerging Leadership Journeys, 13, 23-52. https://www.regent.edu/acad/global/publications/elj/vol13iss1/2ELJ-Moore.pdf  
Nielsen, R., & Marrone, J.A. (2018). Humility: Our current understanding of the construct and its role in organizations. International Journal of Management Reviews, 20(4), 805-824. https://onlinelibrary.wiley.com/doi/pdf/10.1111/ijmr.12160  
Roberts, G. L. (2021, March 9). Why all great leaders need to be lifelong learners. Mindset Matters. https://www.linkedin.com/pulse/why-all-great-leaders-need-lifelong-learners-gemma-leigh-roberts  
Sada, C. (2022, May 20). The art and science of culture change (ASCC) and the Z model. CaronsArt. https://caronsart.com/ascc-and-z
Saladis, F. (2021). Leadership in 2022: Positive leadership in project management, series article. PM World Journal, 10(12). https://pmworldlibrary.net/wp-content/uploads/2021/12/pmwj112-Dec2021-Saladis-leadership-in-2022-positive-leadership-series-article.pdf  
Wang, Y., Liu, J., & Zhu, Y. (2018). Humble leadership, psychological safety, knowledge sharing, and follower creativity: A cross-level investigation. Frontiers in Psychology, 9, 1727. https://doi.org/10.3389/fpsyg.2018.01727   
Yang, Y., Li, Z., & Liang, L. (2021). Why and when paradoxical leader behavior impacts employee creativity: Thriving at work and psychological safety. Current Psychology, 40, 1911-1922. https://doi.org/10.1007/s12144-018-0095-1  
Lead image: Customized imagery from The Art and Science of Culture Change (ASCC)
Dr. Caron Sada is Lead, Innovation and Entrepreneurship Programming, Maricopa Center for Learning and Innovation, at Maricopa County Community College District, and Residential Faculty, Psychology, at Paradise Valley Community College in Arizona.
Opinions expressed in Leadership Abstracts are those of the author(s) and do not necessarily reflect those of the League for Innovation in the Community College.