Developing Leaders Throughout the Ranks
April
2017
Leadership Abstracts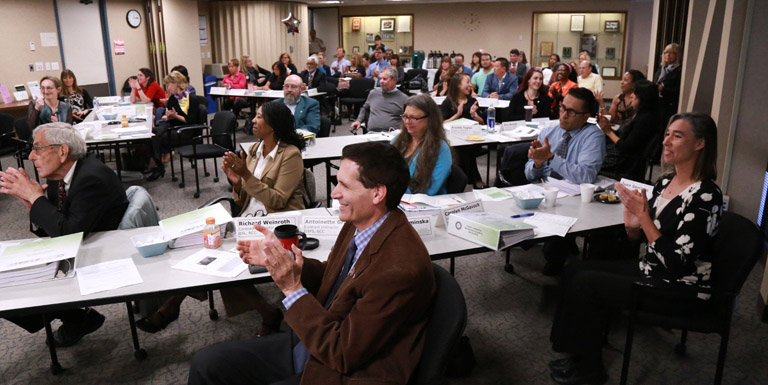 It was supposed to be about developing the leaders of tomorrow. That was the intent when the San Diego Community College District laid the groundwork for a series of Leadership Academies serving faculty, staff, and administrators at California's second-largest community college district in 2009. The academies, however, have been building more than leaders. The program also has helped hundreds of employees—ranging from groundskeepers to academic department heads—network with each other and build lasting working relationships in a sprawling district that includes three college campuses and San Diego Continuing Education, as well as support services and district headquarters.
The academies have opened silos and exposed staff members to how other departments operate, the challenges they confront, and the solutions they discover. The result: Employees at the San Diego Community College District have become an even stronger family.
"The leadership academies provide an opportunity for people to meet people they wouldn't otherwise have met, to understand what they do and the skill sets that they have, and how they are all working together to impact the district," said Timothy Pawlak, a professor and Chair of the Business, Computers & Information Technology Department at San Diego Continuing Education who sits on the Executive Committee of the Academic Senate at Continuing Education and who has completed three academies, each geared toward specific groups of employees. "We're all part of a large educational system, and it is important to break down barriers and facilitate dialogue. This program allows people to look at the bigger picture while building their leadership capabilities."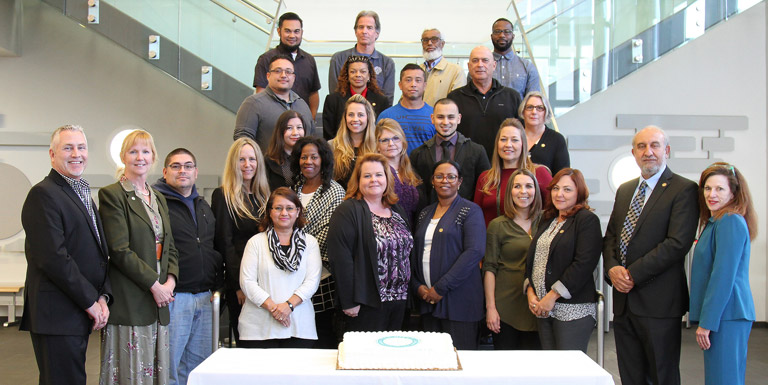 The leadership academy series—which includes the Management Leadership Development Academy, the Supervisory Leadership Development Academy, the Classified Leadership Development Academy, and the Faculty Leadership Development Academy—is a key element in the district's expansive Professional Development Program, which is among the most extensive in the California Community Colleges system. Leadership development has long been a top priority of the district's Board of Trustees, and district Chancellor Constance M. Carroll spearheaded the program to meet the district's strategic plan goal of establishing professional development opportunities and a wide variety of resources to anyone interested in building their leadership skills, taking on a committee assignment, or embarking on a management trajectory.
More than 475 participants have taken part in the leadership academies since the fall of 2009, and many more employees have participated in the independent workshops, seminars, mentorship program, and other features within the overall Professional Development Program.
"The San Diego Community College District's Professional Development Program is designed to build the leadership skills and capabilities of the San Diego Community College District management, faculty, and staff, as part of a succession planning model," Chancellor Carroll said. "A steadily growing network of Leadership Academy graduates has demonstrated the success of this program, which has provided them with both techniques for working efficiently and effectively, as well as being able to relate to all levels of staff in a collegial and productive manner."
In the Beginning
The need was glaring. Study after study has shown that investing in professional development can play a critical role in any organization by boosting morale, building leadership, and increasing retention rates. While some turnover can be beneficial, as new hires can be more productive or more skilled than the people they are replacing, studies show that high turnover rates cost an organization time, money, and other resources. Executive leaders understand that they need to plan for the long term to achieve the organization's mission, vision, and goals, and that requires stability by employing qualified administrators and talented, skilled, and informed staff and faculty to support success.
The district's vision and long-term planning was a key reason the 2009-2012 strategic plan called for enhanced professional development. But there was another reason, too.
"An important objective at the time was to prepare and train the next generation of San Diego Community College District leaders, while also improving and expanding the knowledge, skills, and abilities of the current staff and faculty," said Erin Milligan Hill, the college district's Director of Employment and Professional Development, who noted that at the time the goals were put into place, forecasts estimated approximately 55 percent of managers and executive managers at California's 72 community college districts retiring or otherwise transitioning out of their jobs within a five-year period.  
Indeed, the American Association of Community Colleges notes that the development of well-prepared leaders is vital to the success of community colleges and their students, and says the issue has taken on greater urgency as the level of turnover among community college leaders escalates dramatically.
Milligan Hill started from scratch. Past training opportunities had been intermittent and limited by funding. Managers and supervisors, for example, were mandated by state law to undergo sexual harassment prevention training, while videoconferences were provided through membership in the Southern California Community Colleges Employment Relations Consortium. But little existed beyond those efforts.
In putting the program together, Milligan Hill and human resources team members reviewed succession planning and professional development programs at other community colleges in the country. Key to the Professional Development Program was the Leadership Academy Series. The Management Leadership Development Academy was the first, followed by the Supervisory Leadership Development Academy, the Classified Leadership Development Academy, and—in the spring of 2016—the Faculty Leadership Development Academy.
Each Leadership Academy aligns with the American Association of Community Colleges Competencies for Community College Leaders.
Building Tomorrow's Leaders
The Classified Leadership Development Academy has sparked intense interest, largely due to the wide array of participants. The 27 participants in the class of 2016 included dispatchers with the college police department, a student services technician at San Diego Mesa College, an accounting technician at San Diego City College, a groundskeeper/gardener at Facilities Services, and a Web designer at the district's headquarters, among others.
"The academy gave me greater perspective and allowed me to see how my job and my responsibilities are having an impact on students throughout the district," said Jessica Lee, who has been with the district for 17 years, the past five as a senior secretary in Instructional Services. "It really emphasized connecting with our counterparts at the different colleges and continuing education."
Milligan Hill says such sentiments are common. She added that academy graduates are encouraged to apply to other academies in the series to gain an even clearer understanding about the complex interconnections among the various divisions and departments at the campuses and district headquarters.
"One of the most beneficial things people say they get out of the program is the networking," she said. They learn what other people are doing. They attain a new respect and awareness about the challenges and opportunities their colleagues face, and it puts them on a level of energy and enthusiasm where they want to learn and contribute even more.
The academy for classified employees includes five half-day modules and two catered, brown-bag lunch discussions about the four self-guided study assignments. The Classified Academy is open to classified employees and others with an interest in gaining a foundational knowledge about the district, serving a lead role on a committee or project assignment, or who aspire to serve as a supervisor. Modules cover the following topics: leadership perspective, which includes personal awareness, key leadership characteristics, and understanding personal leadership style, in addition to an overview of the shared governance protocol in the district; cultural sensitivity and diversity, which covers working effectively across differences, the impact of structural and implicit biases, and understanding the essence of diversity, inclusion, and equity; self-management, which includes skills for effective communication under stress, and conflict management; time management, which includes tools to set priorities and get things done, and strategies for keeping your workspace and email organized; and career planning, which includes setting goals, having conversations with your manager, and recognizing factors that can set you off course.
Professional facilitators are brought in to lead courses and discussions, and they include Sheryl White, Vice President, Training & Organizational Development at Neighborhood House Association; David Baldwin, President, Leadership Insight Group; Keren Stashower, Principal at Kinnectics; and Jan Zaragoza, President, High Performance Training Solutions.
A Sound Investment
The Professional Development Program includes more than the four leadership academies. A Leadership Mentoring Program builds on the skills learned in the leadership academies. Most mentorships cover a full academic year, and the Mentoring Program includes the option to volunteer for job shadowing or experiential assignments with a district leader.
The San Diego Community College District also provides numerous Professional Development Program workshops throughout the year. Workshops for the first quarter of 2017 cover critical thinking, managing multiple priorities at work, technical vs. adaptive leadership, and stress management. The workshops are held at all three of the district's colleges, the district's headquarters, and at San Diego Continuing Education.
In addition, the Professional Development Program options include teleconferences, webinars, online tutorials, and an extensive recommended reading list. A lending library of books, media, and training resources is available at the district's Professional Development Office in San Diego's Mission Valley. The district also encourages and supports participation in external leadership training programs, including the League for Innovation's Executive Leadership Institute, which provides an opportunity for potential community college presidents or those in transition to analyze their abilities, reflect on their interests, refine their skills, and engage in discussion with other top administrators; the Community College League of California CTE Leadership Summit, which provides campus teams with up-to-date developments, resources, and tools to bolster student success in workforce training programs; and the Association of California Community College Administrators Administration 101 Seminar, a five-day seminar focusing on the nuts and bolts and management basics unique to the California Community Colleges system.
"We want our employees to understand what being a leader is all about, whether they seek to promote to different positions in their career or to enhance their performance in their current job," said Milligan Hill. Being a leader is not just about a title and the power that comes with the title. It's about the positive and productive influence you have on others and how you use that influence. It's about taking on new tasks, and it's about doing the best you can to improve the job you do while growing as a professional. It means a lot of things.
At the San Diego Community College District, it's all about developing the leader within.
Still Growing
The most recent addition to the Professional Development Program is the Faculty Leadership Development Academy, which was launched in the spring of 2016. The focus: to assist faculty in developing the understanding and insight about the skills, knowledge, and abilities necessary to serve in leadership roles such as committee or department chairs, deans, or vice presidents.
Future goals call for a Leadership Academy Alumni Event with keynote speakers and enhanced networking opportunities, in addition to an Advanced Leadership Development Academy with guest speakers from other college districts and regional organizations. Also on the drawing board is an Action Reflection Learning Team program, which will include graduates from the Leadership Academies and mentors who will team up to actively engage in research and projects of interests to the Chancellor's Cabinet.
The intention is that every participant in any part of the Professional Development Program, and what they gain for themselves as well as bring back to the workplace and their colleagues, may be considered a positive long-term return on investment from the program.
Stephanie R. Bulger is Vice Chancellor of the San Diego Community College District in California.
Opinions expressed in Leadership Abstracts are those of the author(s) and do not necessarily reflect those of the League for Innovation in the Community College.