Creating a Culture of High-Performance and Engagement at Kirkwood Community College
November
2022
Leadership Abstracts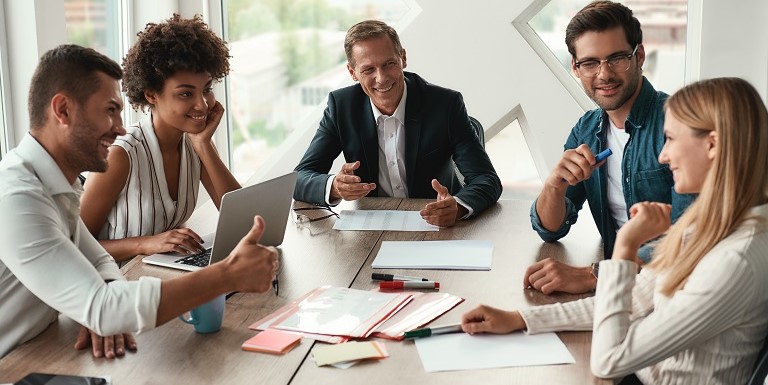 Employee engagement is critical for a healthy organizational culture. Currently, 40 percent of employees are considering leaving their jobs, and nearly half are not returning to the same industry (Smet et al., 2022). Gallup's State of the Global Workplace for 2022 reports that only 21 percent of employees are engaged. In addition, daily stress has reached an all-time high. A recent study concluded that higher education workers are the second most burned out group, following K-12 employees, in the U.S. workforce (Marken & Agrawal, 2022).
We seem to be at a tipping point. As leaders, cultivating and growing a strong culture may serve as our only answer to these challenges. Stephen Covey (2022) writes in his new book, Trust & Inspire, about the two epic imperatives organizations face. The first is to win the war for talent, which depends on our "ability to create a high-trust culture that can attract, retain, engage and inspire the best people" (p. 23). The second is to win the marketplace through collaborating and innovating successfully to remain relevant in a world full of change and disruption (Covey, 2022.)
Leading at the Speed of Change
Organizations are facing tough decisions as they strive to address these challenges. Employers are rushing to meet immediate needs for flexibility, such as hybrid and remote work options, and combating inflation by redesigning compensation and benefits. Human resource departments are doubling their recruitment, onboarding, upskilling, and reskilling efforts. However, human resources cannot be the only department in our organizations to move the needle. Every leader plays a significant role in creating a culture in which people want to be a part.
Managers Make the Difference
Managers are the key to navigating the future of work; recruiting, retaining, and developing top talent; achieving organizational outcomes; and competing at the highest levels. One of Gallup's most significant discoveries in its research is the vital role managers play (Clifton & Harter, 2019). The manager or team leader alone accounts for 70 percent of the variance in team engagement. There is a strong link between engagement and 11 performance outcomes, including retention, productivity, safety, and profitability (Clifton & Harter, 2019). In choosing the metrics for Kirkwood Community College's strategic plan, specifically our guiding institutional priority of employee development, we chose to measure employee engagement. The goal is to create a culture of high performance, engagement, and development. We integrate these elements into the plan to formulate and execute our people strategy. Our managers help us to achieve this by utilizing engagement data and continuously developing their leadership capabilities.
Not Just Another Employee Survey
There are many providers of employee engagement surveys and platforms, and numerous survey instruments for organizations to choose from. Kirkwood chose to use Gallup's Q12 survey for three main reasons. First, the college currently uses Gallup's CliftonStrengths assessment for individual coaching and team development. Next, Gallup's platform provides surveying options with a database so we can compare ourselves to our peers. Finally, the platform provides learning and development resources to support managers' results. We focus on connecting the best practices, behaviors, mindsets, and conversations to drive outcomes for each team and the entire organization.
Employee Engagement Survey Process
Our annual employee engagement survey is conducted in February. Human Resources and Institutional Research launched the first survey in early 2020, before the pandemic, and have administered two more surveys since then. According to our trending survey data over the last three years, the average number of employees surveyed is 1,347, with an average response rate of 57 percent. The survey is optional and completely anonymous. However, managers encourage their team members to participate because they value their feedback. If a team has less than four employees, the data is suppressed to ensure privacy. Ensuring this level of protection encourages employees to respond without the threat of being singled out, giving high reliability to the data collected.
We Have the Data, So Now What?
Too often, employers survey employees to ask for their opinions and feedback, but fail to do anything with the data. To build trust, we must take that information and use it in a meaningful way. Kirkwood wants to actively involve employees in an ongoing conversation about how to make our workplace culture stronger. Our aim is to take engagement from merely an idea and start to link it to our performance development and training programs. By connecting it to our everyday work and conversations, engagement becomes intertwined with the way we do things across the institution.
The data has revealed to us the places we excel as well as areas for improvement. For instance, one of our first findings was the need for more recognition and feedback. This understanding helps us to use best cultural practices and leverage the most relevant tools and technology to increase recognition and feedback delivery. On the other hand, one area the college scored high on this year was enabling employees to use their natural talents on a daily basis. This year, we see an opportunity to provide clearer expectations to increase individual and team productivity. Engagement is a team sport; having everyone contribute to the conversation and the action steps to achieve better results is paramount.
Immediately following the first survey, managers with enough survey responses from team members received a formal one-on-one introduction to the Q12 data platform. In these meetings, managers accessed individualized survey results, developed meaningful insights, and identified appropriate and relevant learning solutions. Ongoing results are distributed directly to managers, who can view the data from an interactive dashboard. New managers receive onboarding with this information to hit the ground running.
The survey results are generated at the team level and flow up the organizational chart. Managers of managers will see the results for their entire functional area. This line of sight allows leaders at all levels to assess engagement and make concrete, data-informed decisions about where to invest their time and energy. According to Ball et al. (2020), active and visible executive sponsorship is the greatest contributor to success in any change initiative. We, therefore, intentionally gather support from our senior leaders in implementing our engagement culture strategy. The president and cabinet receive an executive report that summarizes the results and provides a year-to-year comparison as well as a breakdown by functional area, position type, and areas of special consideration. Then, cabinet officers drive conversations and increase accountability across their respective college divisions.
Engagement at the Team Level
Individual managers focus on improving the results for their teams. Their supervisors also receive roll-up reports, giving them an aggregate for their areas. This local change has a cascading effect where individual teams and their engagement funnel up to the entire organization. The college interprets the data using the engagement hierarchy framework. Our strategy for managers is to focus on one low score and one high score. We want to concentrate not only on where we can grow, but also on the attributes of our workplace culture that we can celebrate and reinforce by developing those strengths and turning them into our greatest assets to drive results in other areas. By prioritizing their time, energy, and attention, managers can focus on the elements of engagement that matter most for their teams.
Managers apply these insights year-round to make continuous improvement decisions to strengthen Kirkwood's culture. The first thing they do is talk with the team about the data and what it tells us. Team members have the opportunity to comment on why those results may be the way they are or why they would have answered survey questions the way they did. The team can celebrate its strengths and feel empowered to identify and craft solutions to improve shared results.
Managers use these conversations to gather input and ideas, grow a sense of ownership, and increase active involvement in the engagement process. Faculty and staff respond well to their supervisors closing the loop. Embedding these conversations into regular meetings is an excellent way for us to keep them front and center for the entire year. Building a strong culture means we are in it for the long haul.
Engagement Meets Strategy
At the organizational level, we look for insights and opportunities using the grand mean—the average of all 12 employee needs that comprise the items on Gallup's Q12 engagement survey. We also examine individual items for patterns and trends. These data are used to inform our leadership development programs and organizational improvements. Starting in spring 2022, the design and implementation of a new performance management system came directly from our engagement scores. The college's model transformed from a static process to a dynamic and fluid one. Instead of relying on one performance conversation a year, managers and team members focus on continuous feedback and performance conversations over a 12-month period. They are encouraged to meet quarterly to review progress and self-reflect. These regular check-ins help managers and team members clarify roles, recognize good work, and drive accountability. They also create space for learning and career development conversations to take place. During summer 2022, almost 50 percent of managers who conduct performance evaluations were trained on the new model and how to leverage the technology to develop a high-performance culture.
High-Quality Managers Lead High-Quality Teams
Kirkwood focuses on manager development as one of its key people strategies. To accomplish this, the college has unique partnerships with Gallup and FranklinCovey. We use resources from both to develop our new and existing managers. Every manager responsible for leading others receives access to a training portal and online training programs. The college also provides ongoing workshops, webinars, and guest speakers.
Kirkwood uses manager-specific training to support the implementation of special initiatives. For example, this fall the college launched a remote work procedure. All managers participating in the pilot were invited to attend a workshop on leading hybrid teams to increase their confidence and provide practical tools to be successful. During the year, other courses will be offered on various topics led by external experts and internal facilitators.
Managers also receive professional coaching, offered internally by a credentialed coach with the International Coaching Federation. Various personality assessments and personal development tools are utilized to increase leadership effectiveness. For example, managers and employees have access to the CliftonStrengths assessment, a personal development tool used to identify people's natural talents and develop them into strengths. Kirkwood has a network of Gallup-certified strength coaches who provide individual coaching and workshops to teams across campus.
The Culture You Want
A mindset shift is required if we are to create an organizational culture that allows us to thrive in a highly competitive and disruptive environment. We must move from viewing leadership development as "nice to have" to making it a strategic priority. The largest leadership study of its kind by Development Dimensions International, Inc. (Neal et al., 2021) found that the biggest challenges keeping CEOs up at night are directly related to their people strategy. More specifically, these concerns deal with developing the next generation of leaders and attracting and retaining top talent amidst a global recession and slowing economy (Neal et al., 2021). The best way to create the culture you want starts with developing your leaders, and the best time to start is right now.
References
Clifton, J., & Harter, J. (2019). It's the manager: Moving from boss to coach. Gallup Press.
Covey, S. M. R. (2022). Trust and inspire: How truly great leaders unleash greatness in others. Simon & Schuster.
Gallup. (2022, June 14). State of the global workplace: 2022 report. https://www.gallup.com/workplace/349484/state-of-the-global-workplace-2022-report.aspx
Marken, S., & Agrawal, S. (2022, June 13). K-12 workers have highest burnout rate in U.S. Gallup. https://news.gallup.com/poll/393500/workers-highest-burnout-rate.aspx
Neal, S., Boatman, J., Watt, B., & Bersin, J. (2021). Global leadership forecast 2021. Development Dimensions International, Inc. https://www.ddiworld.com/global-leadership-forecast-2021  
Smet, A. D., Dowling, B., Hancock, B., & Schaninger, B. (2022, July 28). The great attrition is making hiring harder. Are you searching the right talent pools? McKinsey & Company. https://www.mckinsey.com/business-functions/people-and-organizational-performance/our-insights/the-great-attrition-is-making-hiring-harder-are-you-searching-the-right-talent-pools
Ball, K., Creasey, T., Ganvik, K., Hazelton, E., Kempton, L., & Stise, R. (Eds.). (2020). Best practices in change management (11th Ed). Prosci Inc. https://www.commerce.wa.gov/wp-content/uploads/2021/11/Best-Practices-in-Change-Management-Full-Report-Digital-11thEdition.pdf
Chris King is Learning and Organizational Development Manager at Kirkwood Community College in Cedar Rapids, Iowa.
Opinions expressed in Leadership Abstracts are those of the author(s) and do not necessarily reflect those of the League for Innovation in the Community College.