Communication, Collaboration, and Breaking Down Silos: Working Together for Student Success
May
2019
Leadership Abstracts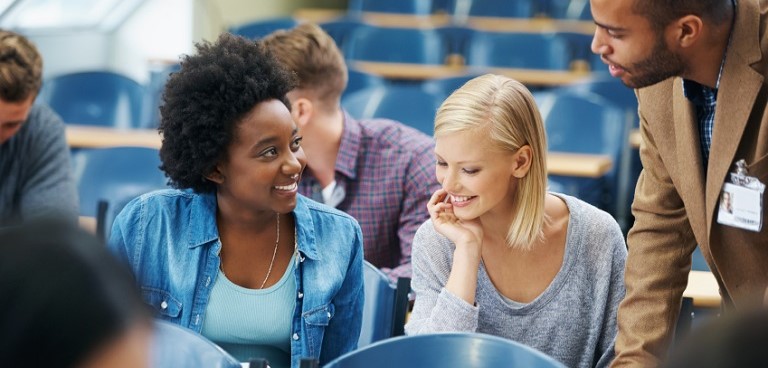 First lines of articles are supposed to be inducements to keep reading, but at the risk of losing you right away, here's an up-front admission: You've probably heard or read all this before. It's an old trick for grabbing the reader's attention, but it's also true. In presentations to and conversations with community college leaders, "I've heard all this before" has been a frequent response to findings from the League's Faculty Voices Project. Of course, the risky side of making a statement like, "I've heard all this before" is that the reply may be, "So, what have you done about it?"
And the reality is, you've probably done, or tried to do, or want to do, quite a lot. In fact, this comment has rarely been a dismissive remark. Far more often, it's been expressed with a kind of regret leaning slightly toward dejection, if not an outright admission: I've been doing this work a long time and I've heard all this before, but I still haven't figured out what to do about it.
Some context: From 2014 through 2018, the League's Faculty Voices Project sought to engage community college faculty in the national conversation about student completion. Noting that faculty were missing from the national dialogue, the League wanted to hear their thoughts about the focus on completion and strategies that would help facilitate student success and achievement. We invited faculty to the conversation, and they came. With data obtained from two national faculty surveys and 81 faculty discussion groups, the League published its findings in Untapped Leaders: Faculty and the Challenge of Student Completion.
The project team members who facilitated the discussion groups were impressed by the candor, commitment, and professionalism with which faculty shared their concerns and challenges. As explained in Untapped Leaders, "Far from complaint sessions, these were deliberative discussions among groups of faculty members who were concerned about their students, their colleagues, their colleges, and their profession, and who wanted to improve themselves and their environments in ways that would foster student success and completion" (p. 42).
The major findings from the project are presented in Untapped Leaders as three faculty viewpoints:
Faculty question the validity of completion data and the definition of completion, and show inconsistent awareness of institutional data on completion.
Faculty find it challenging to manage student completion initiatives within the constraints of current college budgets and staffing models; these challenges become even more daunting due to the dearth of communication and collaboration in the college organizational culture.
Faculty support integration of the three programmatic approaches presented in the Choicework Discussion Starter to foster student completion, but criticize the lack of resources for developing professional implementation strategies, and they raise caution about cookie-cutter solutions.
Drawing on what we learned from faculty, and centering on their desire to collaborate with colleagues across the college to improve student success and achievement, the League has developed programming to help community college faculty, staff, and administrators come together to "figure out what to do about it." This programming is not just for faculty. Actually, finding viable, sustainable solutions requires cross-college, cross-functional team involvement with support and leadership from senior administrators. And that isn't just what we think. Faculty told us they think it, too. Based on our findings, we can throw out the myth that faculty believe they can do this alone. They know they cannot, and they want to work with others to help students succeed.
The League is launching this new programming at its Learning Summit, June 18-19, 2019, in Gilbert, Arizona (a Phoenix suburb). The Summit centers around the need to break down silos to improve communication and expand opportunities for cross-college collaboration. Faculty told us they believe this is a crucial step toward improving student success and achievement. We agree.
The following excerpt from Untapped Leaders (2018, pp. 19-25) presents the second faculty viewpoint. It offers insight into faculty thoughts about silos and the communication and collaboration barriers they create or help sustain. Whether or not you've heard or read all this before, the League invites you and your team to join us at the Learning Summit this June to figure out what to do about it.
**************************************************************************
Faculty Viewpoint 2
Faculty find it challenging to manage student completion initiatives within the constraints of current college budgets and staffing models; these challenges become even more daunting due to the dearth of communication and collaboration in the college organizational culture.
Summary Statement of Findings
Faculty sought more campuswide collaboration around completion initiatives, and indicated they have addressed completion issues at the student and classroom levels more than through participation in large-scale, collegewide efforts. In the 2017 survey, 63 percent of respondents reported participating in instructional reforms focused on active learning, nearly a third reported that they participated in initiatives that help students connect to the college community, and 19 percent reported that they were involved with initiatives that help students with nonacademic supports such as child care, food, housing, and transportation. In the 2015 survey, only 15 percent of faculty reported participating in collegewide completion initiatives. Faculty cited both a lack of information and a lack of time as factors limiting their involvement in such completion efforts. Beyond that, faculty indicated that problems of communication along with a lack of support within their colleges and with other levels of education were factors inhibiting their participation.
In discussion group summaries, faculty often made comments related to system improvements, particularly those that support communication, collaboration, inclusion, and transparency. Community college faculty expressed a desire for more ways to communicate about issues across college departments and different levels of the education system in their region (such as with K-12 schools and four-year colleges). They said they wanted to see more consistent, clear leadership and college management around completion. They described their work settings as a collection of silos: faculty in different academic disciplines rarely talking with each other, and faculty and advisors rarely communicating with one another. Believing that completion represents a large and collaborative effort, they noted that more campus coordination is needed. Faculty also said that demands on faculty time are increasing, particularly as the numbers and proportion of full-time faculty decrease. They explained that budget cuts mean fewer full-time faculty share the workload, and fewer advisors meet with students. A recurring refrain in discussion groups was, "We are trying to do more with less." Faculty said the increasing demands make the work they deem important more difficult: conversations with students and colleagues, reflection, growth, and change.
Summary of Supporting Evidence
Survey. In the 2017 survey, 91 percent of all participating faculty reported that full-time faculty should have significant influence on deciding the best ways to increase student completion—a rate higher than that faculty gave department chairs (72 percent) and deans (68 percent) (see Figure 5).* In the 2015 survey, only 15 percent of faculty reported participating in a collegewide success committee (see Figure 6),* and, in the 2017 survey, only 11 percent reported being involved in comprehensive completion initiatives that blend both academic supports for instructional reform and advising and nonacademic supports, such as childcare, housing, and transportation (see Figure 7).* Although these results suggest many faculty feel disengaged from larger institutional completion initiatives, they reported working toward completion at the individual classroom level. In the 2017 survey, 63 percent of faculty reported engaging in classroom-based teaching reforms and 49 percent reported involvement in providing students with academic support outside the classroom, such as tutoring or mentoring (see Figure 7).* Faculty indicated they support nonacademic efforts, too. Nineteen percent reported participating in initiatives to help students with nonacademic supports (e.g., child care, food, housing, transportation), and 32 percent reported participating in initiatives, such as student organizations, that help students connect to the college community (see Figure 7).* Of those who said they had not participated in any completion initiatives, 49 percent reported not hearing of any opportunities to participate and 31 percent reported lacking sufficient time to participate (see Figure 8).*
Discussion groups. In discussion groups, faculty noted several key systemic challenges and barriers to coordination and collaboration.
Large institutional systems have poor organizational coordination that results in gaps in meeting the needs of the most vulnerable students. Faculty described the systems in which they do their work as large, impersonal, and resource-constrained. They described gaps in support for their most vulnerable students. For example, faculty linked tuition increases with more students working outside of school, with resulting negative effects on class attendance and homework completion. They described students who struggle with basic necessities with statements such as, "Students are not succeeding because of many out-of-class issues."
Faculty see various gaps in the ways colleges and other levels of the educational system fail to support student success. For example, they cited problems with cross-institutional agreements, such as when students graduate from K-12 districts unprepared to do college-level work, or when community college graduates go on to four-year institutions that decline to accept transfer credits. As one faculty member said, "Clear and consistent articulation agreements would be a wonderful thing."
Faculty report disconnections between departments, between faculty and administration, between faculty and advising staff, and between advising staff and students. For example, faculty noted that many of their least prepared students were unaware of supplemental services at colleges. Faculty also admitted their own detachment from the college departments that provide such services, with one acknowledging, "Student services is foreign to me." They described campuses of siloed departments that duplicate efforts. One faculty member explained that at her college, "The bigger we've gotten, the more evident the silos are. Within the academic branch, it's 'CTE' and 'transfer' and also 'continuing education,' as opposed to thinking of this whole umbrella of positive services we provide to the community that supports us." Faculty noted that the silos also "blur the big picture" in ways that inhibit transparency and lead to confusion, misunderstanding, and disconnection.
Reform takes place in a top-down, piecemeal manner without adequate faculty input on design. Faculty said they wanted to be involved in decisions that help students learn and succeed; however, they reported that many of these decisions are made in a "top-down" manner. They said that although administrators ask for their input, the underlying message is, "We really don't want to hear from you; we're just checking faculty off the list." Often, faculty said, decisions have already been made before their input is sought, and their concerns and opinions are not heard or valued. As one faculty member explained, "We need a greater sense of trust, respect, and openness at the college." Faculty perceived new initiatives and activities happening informally rather than strategically, describing efforts as "piecemeal" or "happening a little here and a little there." As faculty described their colleges, they saw in college decisions and practices "nothing coherent" and "no string pulling it all together." Faculty viewed their colleges and college leaders as having "no sense of being strategic at all," an observation reflected again and again in comments about "flavor-of-the-month syndrome" and "initiative fatigue."
One discussion group participant noted the impact that such a lack of strategic commitment can have on students: "The college keeps changing programs and approaches. We can't expect persistence from students if we don't show it ourselves." Faculty expressed a sense of lost opportunity when describing promising initiatives launched with great fanfare and excitement, but abandoned well before full implementation. One faculty member said, "We don't think far enough ahead. We may have to suck it up for a year or two" before seeing results. Another said, "We go through another trend each and every year. … It's always another rabbit chase. Give it another year so we can make it work. We're always reactive." They were frustrated not only by the number of pilot programs, projects, and initiatives they could list that fell into this category, but also by a perception of wasted resources that could have been used more effectively to support student success.
A mechanistic view of faculty predominates: Administrative emphasis on data and reliance on adjunct faculty reflect the problem. Faculty perceived the administrative view of their role as a reductionist one: "a warm body in a classroom." Their skepticism of a push for "data" in decision making stemmed from this perspective, with comments such as, "Faculty don't see data about student success or what's working at the college" and "The data we see doesn't relate to us." They described data as reflecting "too much focus on easier things to measure." They also pointed to administrative reliance on adjunct faculty and the lack of thoughtful onboarding, with adjunct faculty often hired less than a week before classes begin, giving them little time or opportunity to prepare. One faculty member said, "We used to have three full-time people and we each mentored adjuncts. Now I have ten adjuncts and there's no one there to mentor them." Another said of adjunct faculty, "They come, teach, and then leave. Even if there are opportunities, the adjuncts don't have time for them, and this deprives students of the benefits they would have gotten had [the adjunct faculty] been able to participate." In discussion groups, faculty described adjunct faculty as isolated because of policies that limit their engagement in department, college, and professional development activities. Faculty said it is not unusual for adjunct faculty to teach at multiple campuses just to earn enough to live under current rules limiting their work time. They noted that this leads to a mechanistic, inhumane approach to the front-line professionals that does not serve students well. One discussion group participant talked about the rootless quality of adjunct faculty work as an "everywhere life."
Faculty Recommendations
Noting that everyone at the college is involved in the work of helping students succeed, with no single group solely responsible for student retention and completion, faculty called for greater organizational connection and dialogue at all levels. They asked for more opportunities for faculty to connect beyond the one-day convocations and infrequent professional development sessions each term. They called for better connections among advisors, faculty, and students to bring a more personalized approach to supporting the most vulnerable students. Faculty also expressed a greater desire for college leadership to engage them in decision-making around how to implement completion as a priority. They support opportunities to "customize" and "localize" the national completion movement at their colleges. They said a more unified approach at the college or campus level would lead to more efficient progress and more creative and effective solutions. They recommended forums for "closing the loop" on new reform initiatives by setting a schedule for reporting data on the results and status of various initiatives around completion and other college priorities. Faculty also sought more settings through which they can express concerns, ask questions, and offer suggestions, which included meetings of the faculty senate, professional development advisory council, department and division, and faculty union. Faculty favored greater coordination with student services and adding specific methods and tools for faculty-to-student communication around student support resources.
*See Figures 5-8 on pages 21-22 in Untapped Leaders: Faculty and the Challenge of Student Completion.
Cynthia Wilson is Vice President for Learning and Chief Impact Officer, League for Innovation in the Community College in Chandler, Arizona.
Opinions expressed in Leadership Abstracts are those of the author(s) and do not necessarily reflect those of the League for Innovation in the Community College.