Committing to Equity: Building New Approaches Upon Old Systems
May
2020
Leadership Abstracts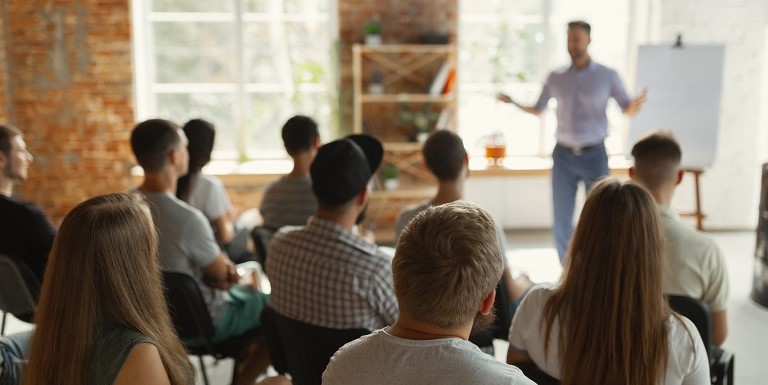 In spring 2016, Anne Arundel Community College (AACC) began what would be a transformational process catalyzed by its participation in the Association of American Colleges and Universities' (AAC&U) project, Committing to Equity and Inclusive Excellence: Campus-Based Strategies for Student Success. Using the framework of examining student success outcomes from an equity perspective, AACC developed a strategic plan—Engagement Matters: Pathways to Completion—with a central goal to "eradicate achievement gaps."
Linking the goal of achievement gap eradication to the higher purpose of education and the central mission of community colleges to provide all students with access to a better life, leadership at AACC welcomed over 300 people into the strategic planning process. In implementing the many initiatives that the college adopted to achieve its goals of increasing completion and achieving equity, two obstacles presented themselves clearly to leadership. First, there was (and still is) significant training and cultural work to do to clearly define equity and to apply equitable practices in and outside of the classroom. Second, a robust and intentional training program was required in order to integrate the work into the student experience.
Faculty Training and Course Revision
AACC developed a year-long faculty training and course revision process for its most highly enrolled courses. The initiative included lessons in inclusive pedagogy and discussions of textbook costs as well as different ways in which to structure faculty-student conversations to lead to better time management. The courses that went through this process touched over 13,000 students a semester and exhibited significant improvement in outcomes related to equity.
Critical to this work was faculty exposure to course outcome data disaggregated by race/ethnicity, Pell status, and gender, which clearly demonstrated pervasive equity gaps. There was not much history of faculty working with data in this way; however, once they were comfortable with and understood the data, faculty rolled up their sleeves to find solutions. What emerged were four broad strategies that all disciplines could apply to increase student retention:
Provide the opportunity for faculty cohorts to participate in yearlong professional development programs that include weekly online activities emphasizing equity, student success, and academic excellence.
Focus on teaching excellence by implementing required group assignments in classrooms (both face-to-face and online) that emphasize student engagement.
Increase access to textbooks via strategies such as using open educational resources or placing copies on reserve in the library or academic departments.
Ensure that each course's content is inclusive of a diverse set of identities.
Providing on-campus professional development to faculty in cohorts is already paying dividends. In the words of Dr. Lori Perez, Chair of Psychology and Sports Studies, "It has forever changed the sense of community I have with the colleagues who attended this training. It has created a culture of student success ambassadors within AACC." Beyond this, intentional efforts to reduce costs of student textbooks have led to over $500,000 in textbook savings per semester. Similar outcomes with regard to equity in modalities of delivery were exhibited: In 2016, students were passing courses nearly 10 percent below the rate of face-to-face students; by spring 2019, that gap was eradicated.
Table 1: Results from Equitable Practices Delivered in Classrooms

Assistant Deans Oversee Academic Excellence
While this work indicated significant success and achievement and garnered the college national recognition, it was clear that to sustain the level of work required to obtain such results would require a new structure in the Learning Division at AACC; that is, a significant amount of the work was being achieved by faculty and oversight of this work was at the faculty chair level. To scale such work for all courses required significant oversight at the administrative level and more full-time faculty who understood institutional direction in the classroom and who could train our adjuncts. Perhaps even more important, we recognized the significant amount of administrative work it would take to achieve institutional goals, let alone respond to external mandates and increase completion and retention.
The leadership at AACC engaged in discussions about how to sustain the vision of eradicating achievement gaps while also honoring the reality that administrative work was increasing. There was ample data from manifold meetings, including those from a recent accreditation visit, that the chair and coordinator model at AACC needed examination. We thus discussed the budgetary implications of moving toward a model in which a new tier of administrators, Assistant Deans, would be charged with the oversight of academic excellence and elimination of achievement gaps. In examining this model, the release time that chairs and coordinators were allocated was reconsidered and positions that were no longer relevant as a result of the strategic plan's new direction were reallocated.
In the end, we projected that we could hire ten new Assistant Deans and reallocate release time of chairs and coordinators back into the classroom at the level equivalent to fourteen new full-time faculty members while remaining budget neutral. The decision was made and announced. However, that decision resulted in some resistance. While many full-time faculty and chairs appreciated and even agreed with the move, the process by which the decision was announced was criticized by some faculty. This criticism was anticipated, as the process was not in line with how AACC often utilizes a collaborative approach to decision making. However, that collaborative process often takes longer than desired and is predicated on the notion that input will be considered. In this case, there was more than five years of input regarding why the chair and coordinator model was not working, so the decision was made to move ahead without further input. There is still cultural work to be done at AACC in terms of how decisions like this will be made in the future. However, there are some significant celebrations to underscore as well.
For instance, in keeping with the goal of enhancing inclusion and diversity, the Division of Learning worked very closely with Human Resources and the Chief Diversity Office to consider how the job of Assistant Deans would be advertised. Language in the job description underscored the importance of emotional intelligence, equity mindset, and learning outcomes. The search process included faculty and multiple layers of interviews, and all questions centered on values associated with the direction of the institution. Ultimately, AACC hired ten of the most talented individuals we could have imagined. Organically, the Division of Learning, through this single move, also created a more diverse administrative structure that oversees faculty: What was once a 3.8 percent minority administration is now at 28 percent.
Table 2: Increased Diversity Through Intentional Recruitment

Leaning Into Discomfort
AACC is still working to address issues of equity, diversity, and college culture. The agenda is an ambitious one, and there are times that the ambition needs to be coupled with strong leadership. Strong leadership, however, comes in a variety of forms, including decision-making, values-centered goals and hiring, and leaning into the discomfort of decisions.
The latter leadership approach—leaning into discomfort—was part of a two-week boot camp where the President, Vice President of Learning, Deans, and Assistant Deans focused on being vulnerable and committing to leading with values. The boot camp began by defining divisional values and establishing agreements on how our meetings would be run. These collaborative agreements are listed below:
Maintain a safe environment by being open and listening
Check titles at the door
Focus
Be honest and open-minded
Share feedback
Remain positive
Remain committed to the process
The work we do in meetings has shifted from reviewing tasks to considering each other's leadership lenses with the hopes that we will collectively and collaboratively continue to reach institutional goals.
From a very academic lens, the work we are doing at AACC comes from a point of view that the pathways paradigm may need to be reassessed as one that is building new approaches upon old systems. As AACC engages in equity work, I am constantly reminded of Audre Lorde's (1984) "Poetry is Not a Luxury," in which she notes that Western culture emphasizes linear modes of thinking and identifies the assumptions underpinning the work in higher education. Lorde wrote, "For within living structures defined by profit, by linear power, by dehumanization, our feelings were not meant to survive" (pp. 38-39). The more that American culture believes higher education must rely on projects and outcomes, the less professionals in higher education talk about innovation, human interaction, emotions, and mindset to manifest the change desired. John R. Swallow (2018) notes this same sentiment:
Those elements of humanity interact and coexist everywhere in life, including in the classroom. The best college teaching has always included both rational argument and emotional insight. That combination -- especially the emphasis on the emotional insight -- is more crucial than ever in college classrooms today. (para. 4)
Higher education has built itself on the premise that rationality, not emotion, should be its major priority. Yet, the past and current systems in higher education make invisible the effect that focus on employee mindsets toward students and connections with them may have. To really get to an equitable approach to higher education requires a commitment to examining the deepest assumptions upon which our models rest. And it may, at times, require a reimagination of our academic structures and the way data is used in order to get the outcomes, data-based as they may be, that we want.
References
Swallow, J. (2018, July 10). Why we must balance emotion and intellect. Inside Higher Ed. Retrieved from www.insidehighered.com/views/2018/07/10/students-today-need-colleges-value-emotions-well-intellect-opinion
Lorde, A. (1984). Sister outsider: Essays and speeches. Berkley, California: Crossing Press.
Michael H. Gavin is Vice President, Learning, at Anne Arundel Community College in Arnold, Maryland.
Opinions expressed in Leadership Abstracts are those of the author(s) and do not necessarily reflect those of the League for Innovation in the Community College.