Becoming a Pathways College: Lessons Learned at Front Range Community College
October
2017
Leadership Abstracts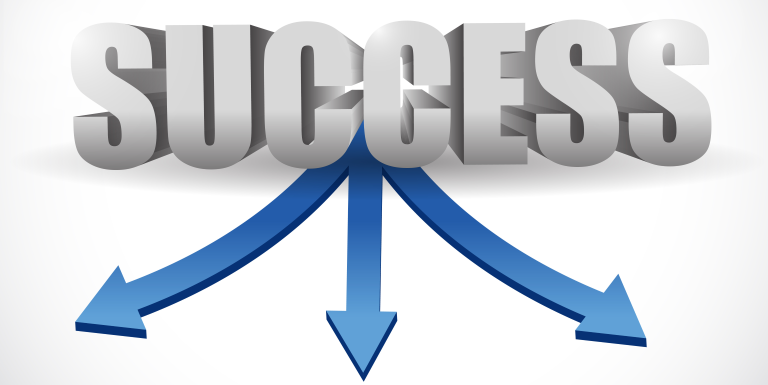 The heart of the community college mission is educational access. We have opened our doors to millions of students, offering them entry into higher education and supporting them in achieving their goals. However, for too many of our students the community college experience takes too long, costs too much, and does not result in a completed degree.
Three years ago, Front Range Community College (FRCC) began a comprehensive process to improve student success rates. In order to significantly improve completion, we needed to be committed to an overhaul of the entire student experience. Reimagining the student experience would also mean recreating roles, processes, and expectations for our college community. We embarked on this work within the framework described by John Kotter in Why Transformation Efforts Fail (Kotter, 2007) and informed by the research in Redesigning America's Community Colleges (Bailey, T. R., Smith, J. S., & Jenkins, D., 2015).
FRCC has a strong commitment to innovation and assessment. We have experience with successful pilots, a redesigned developmental education path, articulation agreements with four-year institutions, and a strong system of 13 community colleges throughout Colorado. However, our completion data remains unremarkable. Investigation into our data gave rise to a number of questions:
How do we confront this challenge differently?
How do we create programs that will scale to impact all students on all campuses?
How do we shift our focus, and thus our actions, to become student ready rather than expect our students to be college ready?
How do we start another initiative and rally the community to see and join the effort?
Work began with a collegewide taskforce instituted by FRCC President Andy Dorsey in October 2014. At the launch meeting, President Dorsey shared FRCC data on completion rates, strictly defined success as transfer and completion, and charged the task force to develop a proposal for action to improve student success. This group, co-led by an Associate Vice President and an Instructional Dean, inventoried internal projects, researched national best practices, and visited leading community colleges with expertise in improving student outcomes. The task force delivered a set of Guiding Principles and a proposal for five initiatives, all of which were approved for implementation in July 2015.
Guiding Principles
Initiatives will be collegewide and connected.
Initiatives will break down traditional silos and integrate instruction with student affairs.
Initiatives and their implementation will stem from a college culture focused directly on increasing graduation and transfer rates.
Implementation of initiatives will be scaled and assessed.
Implementation teams will be collegewide with representation from key stakeholders and leadership.
Five Initiatives
Guided Academic Maps
On-Time Registration
Onboarding
Student Success Course
Proactive Student Support
By August 2015, a new structure was in place to manage the implementation stage. The structure was intentionally designed to support the Guiding Principles of integrating academic and student affairs, ensuring cross-campus collaboration, and providing appropriate leadership and stakeholder representation. The Student Success Committee (SSC) was formed and co-led by a Student Affairs Dean and an Instructional Dean, each from a different home campus. Five implementation teams (iTEAMs) were formed, one for each initiative. Each iTEAM, with one exception, was co-led by a student affairs leader and an instructional leader. The team members, totaling 80+, applied to participate and represented a diversity of expertise and campus affiliation. The Maps iTEAM, due to its dependence on academic content, was led by two faculty. Every iTEAM had a cabinet-level advisor, and the President served as the advisor to the steering committee, populated by the team cochairs (see Table 1).
Work began at the faculty meeting in August 2015 with a keynote from Dr. Rob Johnstone, who kicked off an all-college read of Redesigning America's Community Colleges (Bailey et al., 2015). The goal was to develop a common understanding of the completion challenge and the solutions proposed, and to invite the entire college community into this vision of change. At this point, FRCC had been accepted into the inaugural cohort for the American Association of Community Colleges (AACC) Pathways Grant. The grant provides coaching, assistance with data collection and analysis, powerful networking opportunities, and accountability.
The steering committee invested time in planning and strategizing the implementation stages and informally adopted the Kotter change management strategies as a framework for success. Table 2, adapted from Why Transformation Efforts Fail, by John P. Kotter (2007), highlights some key examples of the work.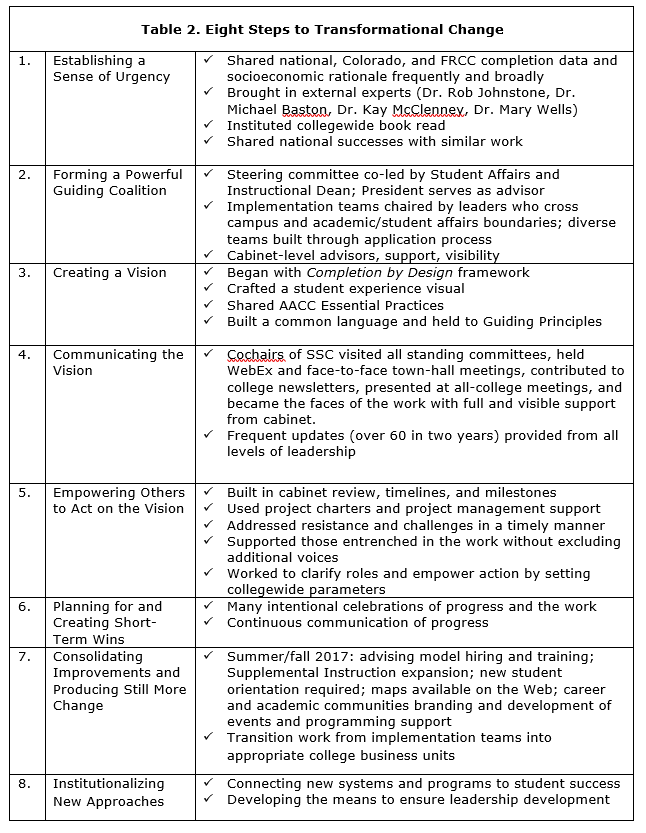 In short, the approach we took focused on the following key principles: build on work that is grounded in research, create the appropriate leadership structure, pay attention to change management, and commit to the challenge. Three years into this work, we are observing changes in how the college is embracing the challenge and the opportunities. Highlights can be categorized as increased participation and interest, actual implementation and impact, and commitment of resources.
When the task force was formed, a call went out for participation in researching completion strategies. Based on the response at that time, there was not tremendous interest…yet. After the proposals were approved and the call went out to participate in implementation, the response was dramatically different. We were able to populate the implementation teams with over 80 passionate experts. We made communication to the entire college a priority and noticed that during that first year the buzz began to grow, indicating an increase in understanding the purpose and importance of this work. Intentional efforts were made to celebrate progress as we began to implement the efforts that would support the transformation of the student experience. Priority registration went live during the spring 2016 semester, quickly followed by a Maps by May push in May 2016 which resulted in 200 documented academic maps in draft form. Those maps are now refined and on the Web for student access. Other pieces that are in place include creation of career and academic communities (meta major organization), required midterm grade reports, approved new student onboarding model with required orientation and registration lab, approved advising model, student success course curriculum, and Supplemental Instruction model. At each step in this process, we focused as much on how we implemented change as on the specifics, and celebrated each accomplishment. This work feels and looks different from the pilot and campus-based work that FRCC has done in the past.
Finally, resources have been available and continue to be made available for this work. Tangible evidence is in the hiring decisions in the spring 2017 semester and the budget allocations for FY 2018.
In looking at the past years of work, we recognize that a foundation now exists but there is significant and challenging work ahead to bring this vision to life and realize student impact. We must pay attention to what we have learned along the way through our successes and our mistakes. The following are key elements of lessons learned.
Communication
We can never communicate enough. Sharing information widely and frequently helps keep the entire community a part of the work, as does ensuring two-way communication: listening honestly, responding to and using feedback, and taking advantage of a variety of delivery modes for information sharing.
Support From All Levels
This work touches all aspects of the institution and depends on support from many functional areas of the college. It is normal human behavior to fall back to known, more comfortable methods of doing business. We asked (and continue to ask) FRCC to work, think, and interact differently. Leadership cannot relax expectations and must provide support for the organization to change so student outcomes can change.
Importance of Guiding Principles
Taking the time to invite multiple perspectives into discussion and documenting the values and parameters that will guide the work are important steps. We use these principles and communicate that we rely on them to inform the work.
Co-Leadership
The Guiding Principles called out collegewide work that breaks down the silos of academic and student affairs. The leadership model put in place exemplified those principles. It was complicated and brought forward challenges we had to work through with people, with campuses, with perception, and with decision-making authority. However, the work is better because of it.
Empowerment
FRCC is staffed with incredibly dedicated, passionate, and talented individuals. The more we can empower the entire community to work within the framework of this transformation, the greater impact we will have on student outcomes.
In closing, it is an exciting time to be at FRCC. A number of the initiatives are being launched in the 2017-2018 academic year and will begin to impact students. In addition, an assessment team is forming to document and track key performance indicators so that we create an intentional process for continuous improvement.
Just as FRCC has invested in creating strong and clearly communicated academic pathways for students, we continue to invest in and learn from the path we travel with this work. There may be many curves ahead, with obstacles and challenges, but we are committed and singularly focused on improving the completion rates of our students.
Contact Cathy Pellish for additional information about this article's content.
References
Bailey, T. R., Smith, J. S., & Jenkins, D. (2015). Redesigning America's community colleges: A clearer path to student success. Cambridge, MA: Harvard University Press.
Kotter, J. P. (2007). Leading change: Why transformation efforts fail. Harvard Business Review, 85(1), 96-103.
Cathy Pellish is Vice President and Dr. Jana Schwartz is Dean of Student Affairs at Front Range Community College, Colorado.
Opinions expressed in Leadership Abstracts are those of the author(s) and do not necessarily reflect those of the League for Innovation in the Community College.