League for Innovation to Celebrate Terry O'Banion Student Technology Award Winners at 2018 Innovations Conference
February
2018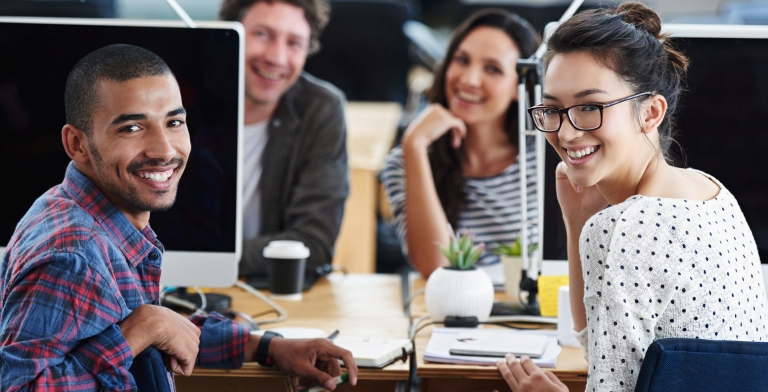 The League for Innovation in the Community College and Innovative Educators are pleased to announce the selection of the 2017 Terry O'Banion Student Technology Award winners. The awards are presented to students pursuing their education and a career in technology, and given annually in honor of Terry O'Banion, Senior League Fellow and President Emeritus of the League.
Award winners are designated as Student Technology Champion or Student Developer Champion. Student Technology Champion awards are presented to students with a career interest in a technology field. Student Developer Champion awards are presented to students with a career focus specifically in software development. This year, two recipients will be recognized in the category of Technology Champion and one as Developer Champion. Each winner will each receive a $2,500 scholarship to be used toward their educational expenses (e.g., tuition, fees) and a plaque commemorating their achievement. The awards will be presented at the 2018 Innovations Conference in National Harbor, Maryland, March 18-21.
Each of these outstanding students demonstrates a passion for technology, a commitment to their education and community, and financial need. All three recipients possess exceptional qualities and have remarkable life stories to tell, all of which sparked the interest of the selection committee.  Here are this year's winners by category:
Ethan P. Pawelski, Student Developer Champion, Southwestern Michigan College, Dowagiac, Michigan
Emilie C. Robertson, Student Technology Champion, Anne Arundel Community College, Arnold, Maryland
Michael Vazquez, Student Technology Champion, Moraine Valley Community College, Palos Hills, Illinois
Student Developer Champion: Ethan P. Pawelski
Ethan P. Pawelski is enrolled in Southwestern Michigan College's Application Development program. Ethan has undertaken, on a voluntary basis, tutoring his fellow students in app development as his college's tutoring department does not provide this service. Ethan maintains a 4.0 GPA, and, after earning a two-year Application Development A.A.S. as a distinguished graduate, he plans to complete a bachelor's degree, also in Application Development. "Ethan is intelligent, ambitious, driven, and extremely creative. He can MacGyver all sorts of innovative contraptions and goes above and beyond to exceed my expectations," states Professor Christine Stiles.
Student Technology Champion: Emilie C. Robertson
Emilie C. Robertson is enrolled in Anne Arundel Community College's Web Design and Small Business degree program. Overcoming challenging circumstances, she is working her way through college and maintains a 4.0 GPA and is also a member of Phi Theta Kappa. With a demonstrated focus, attention to detail, and innate creativity, she supports her concepts with a strong understanding of technology and balances it with a deep empathy for people who use the Web. Her instructor, Erik Dunham, explains, "Web design gives her a chance to help others communicate their messages to millions of other people in ways that are creative and new." He states, "I am continually impressed with her observations and desire to make the Web a useful space for everyone."
Student Technology Champion: Michael Vazquez
Michael Vazquez is enrolled in Moraine Valley Community College's Information Management Systems program, earning eight industry certifications in his academic career, studying part-time over a five-year period. Michael was recommended for this award based on his outstanding academic performance and perseverance to overcome family and cultural barriers to higher education. He is a first-generation college student who is working his way through school with plans to transfer to receive a bachelor's degree in the technology field. He serves on campus as a technology tutor, building empathetic relationships with his fellow students. As his department chair Michelle August asserts, "In my seventeen years of teaching, few students have matched him in kindness, genuineness, and positivity. Michael has technical skills and people skills in equal abundance; a rare find!"
The League's Terry O'Banion Student Technology Award is sponsored by Innovative Educators.