Innovation of the Year Award Honors Community College Educators and Innovative Programs That Serve Students
March
2019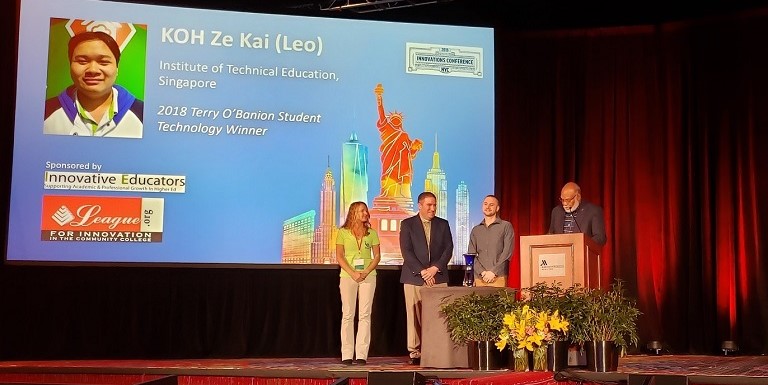 Established over 30 years ago, the League's Innovation of the Year Award was devised as a way to recognize significant innovations at League Board and Alliance member colleges. These innovations reflect capstone achievements and the spirit of innovation and experimentation upon which the League was founded. This award is designed to recognize innovative programs, practices, partnerships, policies, and activities that improve the ability of institutions to serve students and the community and to honor the faculty, staff, and administrators who have created and implemented them. Granting this award provides a venue for showcasing these innovations and the dedicated community college educators who strive for excellence on a daily basis.
League Board and Alliance institutions submit a wide spectrum of innovative initiatives undertaken within the academic year. One of last year's winning innovations was Glendale Community College's "Using Adaptive Learning Software to Improve Academic Persistence in First-Generation Community College Students." Professor Sara Watt found that implementing adaptive learning in her astronomy curricula produced a significant increase in student persistence. Another League Alliance member, Institute of Technical Education, in Singapore, created a virtual reality rehabilitation (VR Rehab) system to allow elderly patients to undergo rehabilitation in the comfort of their own homes; the VR Rehab system offers a 3D Virtual Rehabilitation Centre with interactive activities of daily living games.
League Board and Alliance member colleges determine their own eligibility criteria and selection protocol, and each college or system submits their winning Innovation of the Year to Sherry Sklar using the award form (posted here). Only one winner will be accepted for each college or district.
The designated Innovation of the Year Awards contact at each institution is responsible for administering this award and submitting names. If you are interested in nominating a capstone project and those educators responsible for that project, please contact your president or chancellor to find out who the primary contact is at your college.
We invite League Board and Alliance colleges to submit award winners February 26-May 2, 2019. Visit the League website's Innovation of the Year Award page to learn more about the criteria and nomination process.