Excellence and Innovation at Community Colleges Celebrated at League's Innovations Conference
March
2020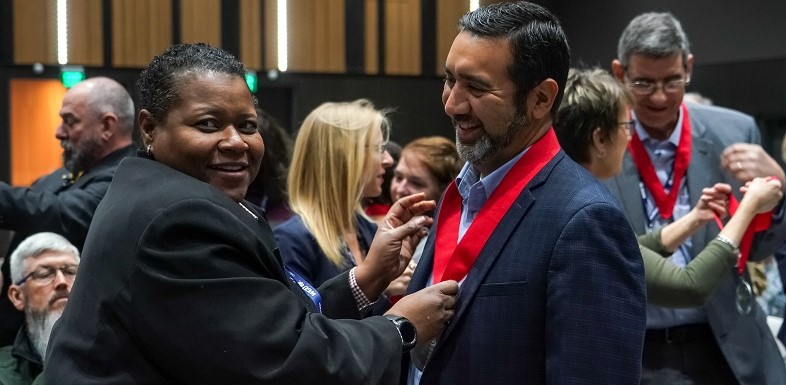 Innovative projects, initiatives, and programs and significant contributions to teaching, learning, and leadership were recognized at the League for Innovation in the Community College's Innovations Conference, March 1-4, at the Hyatt Regency in Seattle, Washington.
Innovation of the Year Award-winning teams from 58 League Board and Alliance colleges were recognized with a seven-foot sign, including college names and innovation titles, and a League Awards Reception on Monday. In addition, 29 Innovations Conference sessions were presented by award-winning teams or individuals, at our invitation. Recipients received certificates when the awards were announced in spring 2019. Established over 35 years ago, Innovation of the Year Awards are designed to recognize innovative programs, practices, partnerships, and activities at League member colleges that improve the ability of institutions to serve students and the community, and to honor the faculty, staff, and administrators who have created and implemented them. Click here to learn more about 2019 award winners.
Recipients of League Excellence Awards were celebrated throughout the Innovations Conference. The awards are presented annually for excellence in teaching and leadership, and 384 community college faculty, staff, and administrators from 100 colleges received awards for 2019. Award recipients were honored with a sign with every recipient's name and college; a League Awards Reception on Monday evening; and a medallion donning ceremony during the closing session, for which Mary S. Spilde, President Emeritus, Lane Community College, provided the keynote address. See the names of 2019 League Excellence Award recipients and their associated colleges here.