Community College Technology Students Awarded Scholarships at League's Innovations Conference
March
2020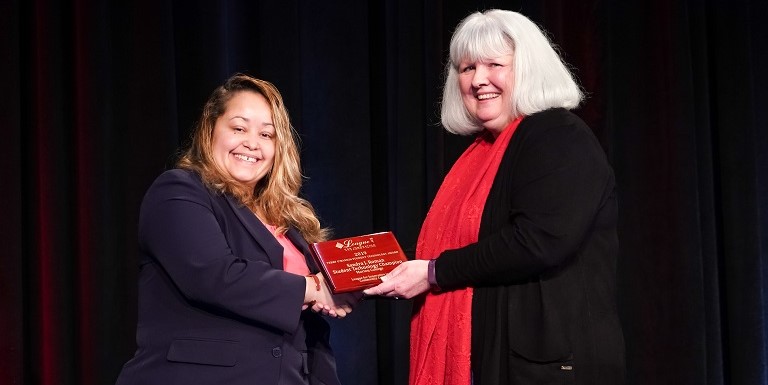 Three outstanding technology students were honored with Terry O'Banion Student Technology Awards at the League's Innovations Conference on Tuesday, March 3. Named for the League's president emeritus, Dr. Terry U. O'Banion, the two awards—Student Developer Champion and Student Technology Champion—celebrate the achievements of community college students pursuing careers in technology fields. Each honoree received a $2,500 scholarship and a commemorative plaque. 
The Student Developer Champion award, presented annually to a student preparing for a career in software development, was awarded to Thomas Soteros, a full-time computer science student at Johnson County Community College in Overland Park, Kansas. Maintaining a 4.0 GPA over the last three semesters and making the President's List, Soteros demonstrates his passion for technology and excellence in the classroom. His professor, Jacob Kier, describes him as knowledgeable, prepared, and friendly. "Though C++ is often considered one of the more challenging languages to learn, Thomas enjoys the intricacies and algorithmic detail that the language affords," said Kier. "It is a regular occurrence for Thomas to develop advanced, clever, and more efficient approaches to a problem. Often these are approaches I hadn't considered myself!"
Student Technology Champion awards were presented to two students seeking careers in other areas of technology: Sandra J. Roman, a computer science student at Morton College in Cicero, Illinois, and Ibrahim Sackey, an information technology networking hardware and software student at Cuyahoga Community in Cleveland, Ohio.
Roman is the current chapter president of the Morton College Society of Hispanic Professional Engineers (SHPE), a member of Phi Theta Kappa honor society, and dedicated to serving her community. Whether she is teaching kids code at Morton's summer STEM camp or organizing her SHPE colleagues for a hunger walk that donated 3,762 lbs. of food to a community food pantry, Roman uses her skills to lift those in need. She looks to build on her achievements and make technology her life's work and mission. As her instructor Carlos Dominguez confirms, "Sandra uses her growing knowledge of technology to address social problems; she is humble, hard-working, and deeply committed to the success of everyone in the community."
Sackey intends to transfer to a four-year university to complete his bachelor's degree in Network Operations and Security. He has earned ten professional certificates and demonstrates his leadership and knowledge as President of the Information Technology Career Advancement Club, a Phi Theta Kappa honor society member, and a Mandel Scholar. He is described by one of his professors as self-directed, focused, and independent, and "undoubtedly the best student" he has encountered in his 20-plus years of teaching. The youngest of four children and a first-generation college student, Sackey is attending Tri-C full time and working part time. He is surpassing expectations with a 3.95 cumulative GPA.
The League is pleased to recognize these students from Board and Alliance member colleges who show so much passion for technology careers and dedication to achieving their dreams. All three recipients possess exceptional qualities and have remarkable life stories to tell, all of which sparked the interest of the selection committee.
Read more about the winners here.