Community College Technology Students Awarded Scholarships at League's Innovations Conference
February
2019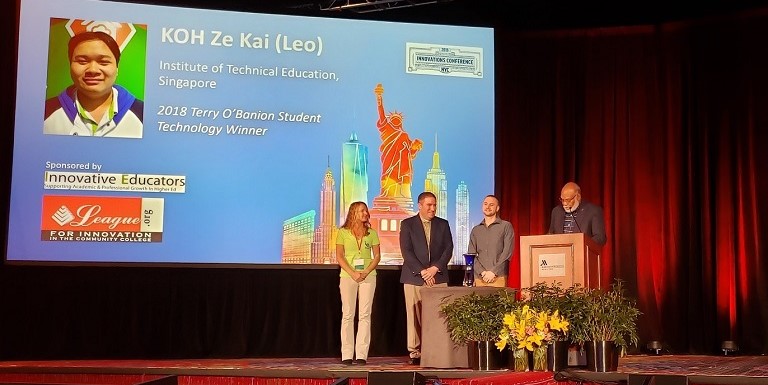 Three outstanding technology students were honored with Terry O'Banion Student Technology Awards at the League's Innovations Conference on Sunday, February 24. Named for the League's president emeritus, Dr. Terry U. O'Banion, the two awards—Student Developer Champion and Student Technology Champion—celebrate the achievements of community college students pursuing careers in technology fields. Each honoree received a $2,500 scholarship and a commemorative plaque. 
The Student Developer Champion award, presented annually to a student preparing for a career in software development, was awarded to Matthew Hartmann, who is enrolled in the information management systems program at Moraine Valley Community College (MVCC) in Palos Hills, Illinois. Young Matt would take apart his electronic toys, and eventually old computers, and put them back together. He built his first computer at the age of 12, completely self-taught, driven by curiosity. After overcoming challenging personal and home circumstances, Hartmann is determined to pursue his education and a career in computer programming. He financially supports himself while attending college full-time, taking public transportation to and from school. An outstanding student, Hartmann will receive four programming certificates from MVCC and plans to continue his education to become a software engineer, specifically in the cryptocurrency industry.
Student Technology Champion awards were presented to two students seeking careers in other areas of technology: KOH Ze Kai (Leo), a student at the Institute of Technical Education in Singapore, and Randy Felser, a student at Valencia College in Orlando, Florida.
Patient, tenacious, and helpful is how KOH Ze Kai is described by his professors at Institute of Technical Education. He believes that the combination of knowledge and technology should benefit others. He is currently leading a team's participation in the Lee Kuan Yew Technological Award Project Competition by developing a smart display system for the college. He will also be participating in the annual National Assistive & Rehabilitation Technologies Student Innovation Challenge. KOH has maintained a GPA of 4.0 and was awarded a gold Service Star Award 2018 for his achievements in the area of technology. Overcoming personal family circumstances early in life, he is a role model to his peers and is dedicated to his studies, family, and a bright future.
Randy Fesler is pursuing a career in information technology at Valencia College. He maintains a 4.0 average and is a member of the Phi Beta Kappa honor society, despite extraordinary personal family circumstances that would fell many. He worked in retail until January 2017, when hardship hit, and he was laid off from his job. In fall 2017, he enrolled in Valencia's IT program determined to make a better life for himself and his family. He concurrently works for Uber to support his family. His professor, Heith Hennel, points out that Felser's eye for detail and high work ethic, coupled with his selflessness in helping classmates on projects, makes him an asset to the college and a future asset in the computer technology industry.
League Membership and Social Media Director Sherry Sklar, who coordinates the Terry O'Banion Student Technology Awards process, noted, "This year's award-winning students have demonstrated a passion for technology, a commitment to their community and making the world a better place, and financial need. All three recipients possess exceptional qualities and have remarkable life stories to tell, all of which sparked the interest of the selection committee."
The League's Terry O'Banion Student Technology Awards are sponsored by Innovative Educators.