Community College Public Health Curricula Honored at League's Innovations Conference
March
2018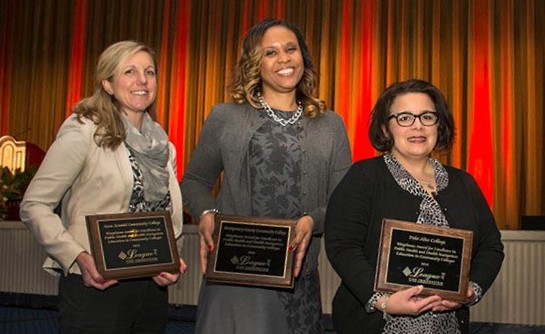 The Riegelman Awards for Excellence in Public Health & Health Navigation Education in Community Colleges were presented to three community colleges at the League's 2018 Innovations Conference in National Harbor, Maryland, to representatives from Anne Arundel Community College, Montgomery County Community College, and Palo Alto College.
The Riegelman Awards are bestowed upon colleges that have demonstrated excellence in
planning or enhancing associate degree or certificate programs in public health and health navigation education; or
providing public health/health foundations courses in allied health, nursing, first responder, health foundations, or related programs.
The awards were presented at the general session on Sunday, March 18, by Dr. Richard Riegelman, Professor and Founding Dean, Milken Institute School of Public Health, The George Washington University, and Linda Riegelman, retired Database Administrator and volunteer Immigrant Computer Educator. The awards are sponsored by Richard and Linda Riegelman and Jones & Bartlett Learning.
"The League is proud to recognize this year's Riegelman Award winners," said Dr. Cynthia Wilson, the League's Vice President for Learning and Chief Impact Officer. "The institutions being honored at the Innovations Conference on Sunday exemplify the connection between community colleges' longstanding role in preparing students for healthcare careers and the expansion of public health career paths into the community college sphere."
Representatives who received the awards on behalf of their colleges are Debbie Hammond, Assistant Professor, Health, Fitness, and Exercise Studies, Anne Arundel Community College; Natasha A. Patterson, Interim Dean, Health Sciences, Montgomery County Community College; and Alexis Lowe, Associate Professor, Kinesiology and Health, Palo Alto College, Alamo Colleges District.
Earlier in the day, college representatives participated in a forum titled, "Excellence in Public Health Education: A Conversation With Riegelman Award Winners," in which they discussed their plans and the progress they have made toward implementing them.
Wilson, who assisted in presenting the awards, announced that the application process is now open for the Riegelman Awards for Guided Learning Pathways to the Health Professions. The 2019 awards will showcase community college curricular frameworks and plans for the implementation and evaluation of guided learning pathways that lead to two or more health professions, such as nursing, allied health, and public health. Click here for more information.