College of Western Idaho Recognized for Development of Health Profession Pathways
February
2019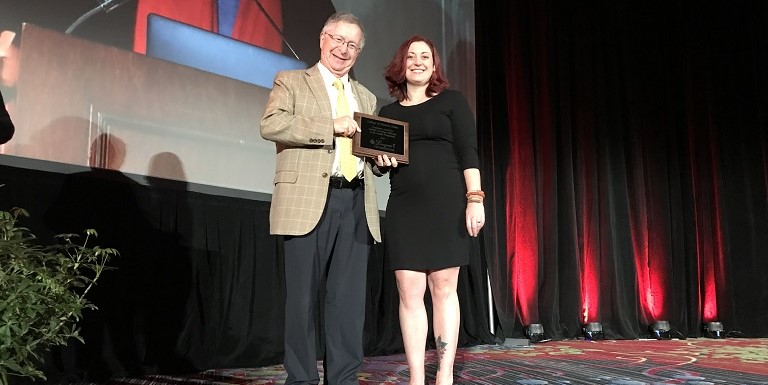 The Riegelman Award for Guided Learning Pathways to the Health Professions was presented to the College of Western Idaho at the League's 2019 Innovations Conference in New York, New York. Rhonna Krouse, associate professor in the Health Science department, accepted the award on behalf of the college.
This award honors a community college curricular framework and plan for the implementation and evaluation of guided learning pathways that lead to two or more health professions, such as nursing, allied health, and public health. The 2019 award was presented at the general session on Tuesday, February 26, by Dr. Richard Riegelman, Professor and Founding Dean, Milken Institute School of Public Health, The George Washington University, and Dr. Cynthia Wilson, Vice President for Learning and Chief Impact Officer, League for Innovation in the Community College.
Later in the day, Krouse and colleagues from Boise State University participated in a forum titled, "Career Pathways and the Health Care Sector: Aligning for Internships," in which they discussed how the initiative's educational, career development, social services, and industry partners in Idaho's Treasure Valley worked together to chart career pathways in the health care sector.
"The League is delighted to recognize this year's Riegelman Award winner," said Wilson. "The College of Western Idaho's Associate of Arts in Public Health and Health Science program showcases exemplary collaboration with a university partner. CWI's application describes working with Boise State University to develop curriculum, share faculty, conduct research, and communicate regularly, all to achieve a shared goal of providing community college students with seamless career pathways that ease transfer and value both associate's and baccalaureate degrees."
The Riegelman Award for Guided Learning Pathways to the Health Professions is sponsored by Richard and Linda Riegelman and Jones & Bartlett Learning.